Jeff's Home Page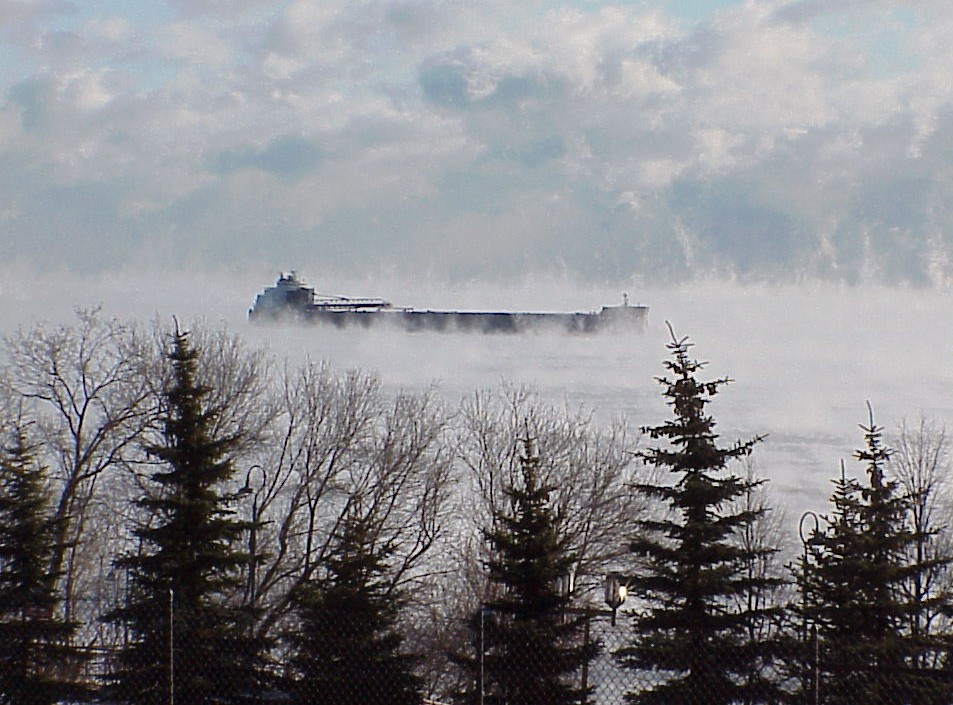 Inbound ore boat heading to the Duluth harbor. Taken outside Jeff's office door at SMDC.
Photo taken by Jeffrey Nast in Duluth MN on January 5, 2004.
---
Amateur Radio stuff and things


Solar Conditions
---
Links to more of Jeff's Amateur Radio stuff
---
Ham Radio Bio

I received my Technician License on 2/25/2002 (my birthday!). On 04/29/2003 I got my first radio, a Kenwood TH-D7A(G). Prior to this I relied on the generosity of my son Ted KC0MKU to let me borrow his ICOM T2H HT. My other son Andrew KC0MKT has purchased a Yaseu VR-7X HT and is enjoying the use of 6m/2m/70cm bands. The three of us are members of ARAC and ARRL. Since then I have earned my General Class exam (11/03/2004), 5 WPM code and General upgrade (11/02/2005) and Extra Class License (03/07/2007). On 11/10/2004 my lovely young bride earned her Technician Licencse. Now the whole family is licensed!

Since my upgrade to General, a number of radios have been purchased or given to me over the past few years... For the base station, I bought a Kenwood TS-520S from Paul KB0P in Ishpeming MI. Since then it has grown: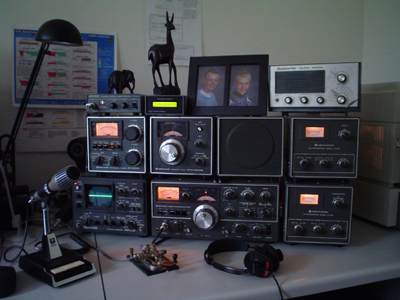 TS-520S Transceiver
AT-200 Antenna Tuner
SP-520 Speaker
MC-50 Microphone
VFO-520S Remote VFO
SM-220 Station Monitor
PC-1A Phone Patch Controller
DG-5 Digital display readout (never got it working)
TS520 Digital Display (Almost All Digital Electronics)
TV-506 6m Transverter
TV-502 2m Transverter
BAL-450 CWS Bytemark 50 ohm to ladder line balun
EDZ (Extended Double Zepp, home brew) Antenna at 35', extends 324', fed by ladder line
The following Drake equipment was given to me by my physician, Dr. Mark KB8NO. I am attempting to bring these radios back to life as time allows:
R-4B Receiver
T-4XB Transmitter
MS-4 Speaker
C-4 Station Console
L-4B Linear Amplifier
L-4 PS Power Supply
Shure 444 Desk Microphone
TR-3 Tranceiver
T-3 PS Power Supply
TV-1000-LP Low Pass Filter
For the mobile shack:
Kenwood TM-D700A (base/mobile)
Kenwood TM-D710A
Kenwood TS-480HX 200w 6m - 160m
Hi-Q 5/160 Antenna
N2VZ Turbo Tuner
And finally handhelds:
Kenwood TM-D7AG
Yaesu VX-170
Our home is on top a hill near Knife River MN. Being about 400 feet above Lake Superior we have a beautiful view of Lake Superior and the surrounding North Shore area. My beautiful young bride Diane KC0TIU and I built our home from the ground up with the help of family and friends. It is also a great place to plant antennas! Once I get my two sons through elementary and secondary school and now college (read $$$$), I'll be able to invest more into Amateur Radio.

I am also very active in our church as a leader (Senior Commander) for a boys ministry program called Royal Rangers. In a nutshell, Royal Rangers is the Christian version of Boy Scouts. See Minnesota District and National Office web sites for more info. I am also active in the Royal Rangers FCF North Star Chapter (Frontiersman Camping Fellowship). My given names are "Web Weaver" and "Dot Com" and my chosen name is "White Raven". I was PLTC/DTC Camp Commander for 8 years, and when there are enough trainees I assist with JTT. There are four Hams in our outpost with hopefully more on the way soon. Needless to say all this activity keeps me running!

Every summer we take a vacation out west, mostly to backpack with the young men that came up through our Royal Rangers outpost. We have so far been to:

I also enjoy photography, and the chance to go backpacking out west in the mountains is a fantastic opportunity to capture images. I use film and still consider it superior to digital. Digital does have it's advantages of fast turn around, but the chance to slow down, set up and capture an image on film is far more gratifying. Current cameras are 35mm Canon EOS, 6cm x 6cm Mamiya C330 (medium format) and (2) 6cm x 4.5cm Mamiya 645 Pro TL (medium format). I am also the current president of the North Shore Photo Club in Two Harbors, MN. Some of my favorite quotes:
You don't take a photograph, you make it. - Ansel Adams
There is nothing worse than a brilliant image of a fuzzy concept. - Ansel Adams
There are always two people in every picture: the photographer and the viewer. - Ansel Adams
Sometimes I do get to places just when God's ready to have somebody click the shutter. - Ansel Adams
A good photograph is knowing where to stand. - Ansel Adams
I have worked in the computer industry since 1978 and naturally have an interest in not only voice, but also digital communications, especially APRS. My computer background is hardware/software service for IBM Mainframes (water-coooled engines). Currently I am employed as a Senior Systems Administrator at SMDC Health System in Duluth, MN. My job responsibilities include UNIX Admin (IBM AIX, Linux), SAN Admin, AS/400 Admin and Tivoli TSM Backup and Restore.
God Bless and 73's!
-Jeff
White Raven (FCF Name) - Genesis 8:7, 1 Kings 17:2, Luke 12:24
(More or less the same info on www.qrz.com)

---
---