Vintage Bill Stroppe, Bob Lewis, & Parnelli Jones Decals
Back to Jason's Baja Bronco Page
UPDATE 10/13/10 -- Unfortunately, I recently discovered someone was using my images from this site to make low quality reproductions and selling them on ebay. I have decided to remove the larger versions of these decals. Contact me via email if you'd like to see a higher res version. Sorry for any inconvenience. But, you can thank a certain ebay seller for this. By the way, the seller IS NOT bajabronco or toddz69.
I have collected several vintage decals thanks to folks like Andrew Norton(of bajabronco.com),Uncle Bob Lewis (former Early Bronco racer!), and some folks on ebay. Here are a few of them.
Here is a Bill Stroppe & Associates oval decal. This is the exact same design as the ones I found on my rear shock mounts, except this one is 4"x6" and those were about 1"x2".

This is an old Holman-Moody-Stroppe decal and a Lewis Off Road Enterprises decal from Uncle Bob Lewis! Bob's off road racing stories are the best! Click here to read some of his stories and to see some awesome pictures of his race Bronco in action!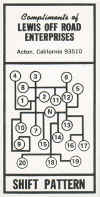 I believe this is one of the later Stroppe decals (~1975?) Thanks Andrew!

Here is a small (~1.5" diameter) Stroppe decal.

This is a larger Bill Stroppe & Associates decal.

And, here is the smaller one similar to it...

Another...

Another...

Finally, here are a couple Parnelli Jones decals that I've found.


Questions or Comments? Email jmray@frontiernet.net