Welcome to my list of MMB invertebrates!
The photos on this page are just a small sampling of the many thousands that I have taken here in the Mountain Meadows Basin (MMB), including the town of Westwood, in Lassen County Northeastern California. Touching a photo with the cursor should reveal its name.
The list on the left represents 2090 species that I have collected and/or photographed here in the Mountain Meadows Basin. Generally accepted common names, and some of my own invented common names, are listed first, and then followed by the nearest level scientific name of the species.
I have placed many of my invertebrate photos on the "Bug Guide" website. These photos may be viewed by clicking on those scientific names that are linked in blue. Links to thumbnail photos of all my MMB invertebrates can be accessed Here. My profile page at the Bug Guide website may be viewed Here.
One of the main problems in making a list of invertebrate animals is that most of them have no common name. Birds, mammals, reptiles, fish - they almost all have common names - which makes it simple to make an easy to understand "list" of their kinds in a particular area. Another problem is the vast diversity of different species, with 2090 species added to this list thus far from the MMB, of which makes for a rather complicated list without proper identification. My "guess" is that there are many more invertebrate species living in this Basin; so this list will continue to grow year after year.
Although I have not done as much bug hunting within the Lake Almanor Basin, six miles west of Westwood, most of the these species will most likely be found there also.
As you may know, all creatures have a Latin scientific name - which is the "scientific" way of classifying life forms for precise naming. A butterfly that ranges over many states and countries may have several common names - and in different languages. But it will generally have only one universally accepted scientific name. For those of you who are somewhat unfamiliar with the process of classifying and naming animals and plants I have included a sample classification of an insect farther down on this page.
Fortunately almost all butterflies and dragonflies and larger "pretty" insects have common names along with their scientific names, and are usually easy to identify. Also with the help of a growing online image-identification database I have been able to identify and name quite a few others as well. I wish to express my thanks to all the scientists, experts, and fellow amateurs, who have help to put names on most of these small invertebrate wild animals.
Generally most people are more impressed with the bigger more visible animals such as birds and mammals, and game fish. Little animals such minnows, mice, frogs, and of course all those "bugs" simply do not get much attention.
However, the roll of the little guys to the big guys is critically important to the balance of life in the MMB and LAB. Many of the "vertebrate" animals in this area are 100% dependent upon invertebrates, as food, for their survival. Many plants, in our area, are dependent upon insects for survival through pollination. Local invertebrate "pests" affect our own health, our homes, even our industries. Each invertebrate species has it's own unique "life cycle" that is lived out year-by-year right here in the Mountain Meadows Basin.
However, for most people, this vast diversity of life represented by wild invertebrate animals in our area is mostly unknown, not fully understood, and often unseen due to their small size and secretive ways.
However, with the age of the digital camera upon us that is changing! More and more people, men and women, kids, teachers, scientists, researchers, etc.., more and more of these folks are getting hooked into the wonderful world of macro photography. And they are posting their beautiful photos on a variety of websites on the internet. Some folks specialize on a certain kind of creature, like butterflies, or dragonflies. Some folks specialize just on their own backyard gardens. Others, like myself, specialize on a small region. The net effect is a growing awareness of the complex world around and about us. Hopefully, my efforts here with this list may help someone else in their efforts to understand and protect the whole web of life that exists here in the Mountain Meadows basin. I strongly urge other folks to do the same with your cameras!
Please enjoy
Sincerely, Jim Moore
&nbsp
---
&nbsp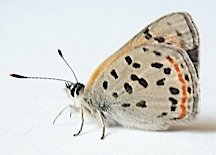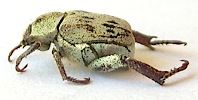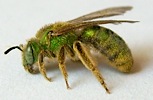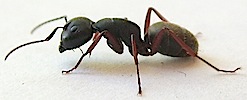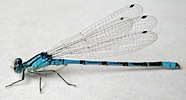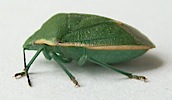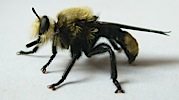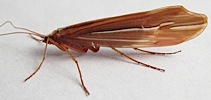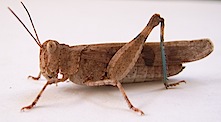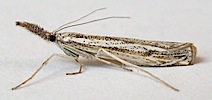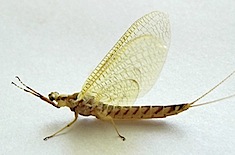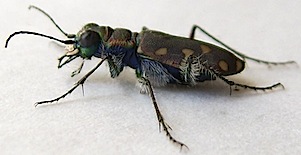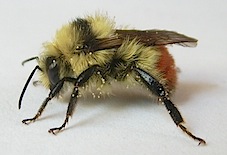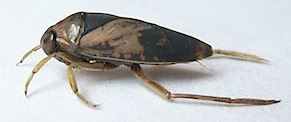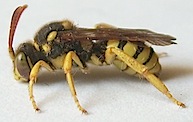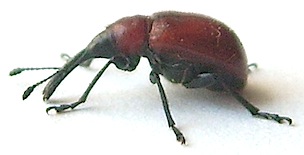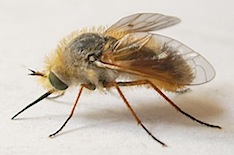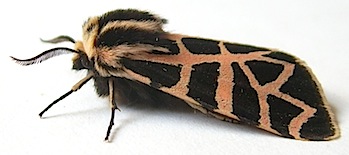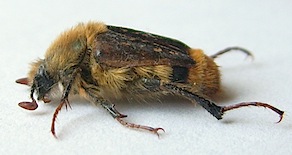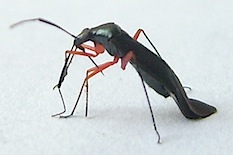 &nbsp
Listed below are links to thumbnail photos of select groups of MMB invertebrates that I have placed on the Bug Guide website (a good way to identify that bug in your yard or by your front porch light) :
&nbsp
&nbsp
&nbsp
A Sample Classification
Kingdom: Animalia (Animals)
Phylum: Arthropoda (Arthropods)
Class: Insecta (Insects)
Order: Hemiptera (True Bugs, Cicadas, Hoppers, Aphids and Allies)
Suborder: Heteroptera (True Bugs)
Family: Miridae (Plant Bugs)
Subfamily: Phylinae
Tribe: Pronotocrepini
Genus: Teleorhinus
Species: cyaneus
&nbsp
Species Scientific Binomial Name: Teleorhinus cyaneus
Species Common Name: No Common Name (but I call it the Red-legged Plant Bug)

&nbsp
On the list of names to the left:
If the Latin name ends with "idae" then the specimen has only been identified to Family level
If the Latin name ends with "inae" then the specimen has only been identified to Subfamily level.
If the Latin name ends with "ini" then the specimen has been identified only to Tribe level.
If the Latin name ends with the abbreviation "sp." then the specimen has been identified to Genus level; but not the species (sp.) level.
If the Latin name is composed of two separate names (Binomial) then this is the specimens species level Scientific Name (and is usually italicized).
If the Latin name is composed of three separate names then this means that the specimen has been identified to a "subspecies" level.
---
---
Interesting Facts About
Invertebrate Wild Animals
that Live Within the
Mountain Meadows Basin ~ MMB

The MMB invertebrate wild animal with the most legs is this millipede:


This millipede, which has about fifty segments, with 4 legs per segment - would have about two-hundred legs altogether!
&nbsp

Color-dimorphism sometimes favors the Males with a more showy coloration:

&nbsp &nbsp

Greenish Blue Butterfly - Plebejus saepiolus - The male is on the left, and the female is on the right. The name "Greenish Blue" refers to some greenish tinge on the underside of the male's wings. Sometimes small groups of these butterflies can be seen on wet muddy patches in MMB Meadows.
&nbsp

Male Twelve-spotted Skimmer Dragonfly - Libellula pulchella, a common Dragonfly in the MMB:


Only the mature males have the white spots!
&nbsp See "here" to view other MMB Dragonflies.


&nbsp

Xenodusa reflexa - a MMB Rove Beetle with a symbiotic, and yet parasitic, relationship with the Modoc Black Carpenter Ant:


This beetle has glands, on the back of it's exposed abdomen, which secrete a chemical substance that the ants like to eat. This substance both subdues the aggressive behavior of the ants, and causes the ants to adopt these Rove Beetles into their colony. The ants feed, clean, and protect the beetles and their larva. But, the Rove Beetles, being carnivorus, also prey upon the eggs and larva of the Carpenter Ants.
&nbsp See "here" to view other MMB Rove Beetles.
&nbsp

The Devastating Grasshopper - Melanoplus devastator:


Severe population outbreaks of this West Coast grasshopper has caused significant damage to rangeland in California in the past. Within the Mountain Meadows Basin swarms of these grasshoppers can sometimes be seen crossing the highway near Goodrich Creek in the MMB, and occasionally in the weedy alleyways of Westwood. See "here" for a detailed Species Fact Sheet on the Devasting Grasshopper.
&nbsp See "here" to view other MMB Grasshoppers.


&nbsp

The truth about Mosquito Eaters:


&nbsp 1. This specimen is called the 'Giant Western Crane Fly' - Holorusia hespera
&nbsp 2. This Crane Fly, and all other species of Crane Fly, do not ever eat Mosquitoes! In fact the adult rarely eats anything; except some species may occasionally sip some flower nectar. The adult only lives to mate and lay eggs: 10 to 15 days is about all. The larva live in damp soil, and eat decayed plant material, and sometimes roots.
&nbsp 3. This MMB specimen is the biggest of all the 1500 species of Crane Flies found in North America! The body length is 1.5 inches long, with vertical leg-span of 4.5 inches.
&nbsp 4. The smallest Crane Fly species are the size of a Mosquito!
&nbsp 5. less than 2% of Crane Fly larvae have ever been discovered!
&nbsp &nbsp 6.See "here" to view other MMB Crane Flies.
&nbsp

A tiny seldom seen MMB Hitchhiker - a Pseudoscorpion:


This little Pseudoscorpion was one of two that crawled off of a large Longhorned Beetle that I was photographing.
&nbsp This full grown Pseudoscorpion is just 2.5 mm long; and the Longhorned Beetle was 33 mm long. Pseudoscorpions use their claws to clamp onto larger flying insects - to get around to new food habitats. They also use their claws to catch and eat little bugs even smaller than themselves.


&nbsp

The Toad Bug:


This is the Big-Eyed Toad Bug - Gelastocoris oculatus.
After many years living here in the MMB, and walking the shore line of Walker Lake, I finally found my first Toad Bug. The lake level was way down due to the drought condition in this area - 2015. This bug was found on the exposed lake bed near to the receding waterline. It's color patterns were not well-camouflaged with the dark brown mud of the lake bed. But, I saw no others.
&nbsp Toad Bugs are so called because of their buldging eyes, general shape and warty appearance; and because they are quite the hoppers. They are associated with shoreline aquatic habitats, and feed on small insects.
&nbsp

BLACK:


Almost every insect has some black color on it; black spots, black legs, black eyes, black something! Many, especially beetles, are almost all black, and some, like this Blister Beetle, are 100% all black! I do not think a 100% all 'some-other-color' insect exists; but there might be.
&nbsp This MMB specimen is called the 'Punctate Blister Beetle' - Epicauta puncticollis.


&nbsp

And Now A Beetle Rainbow!

Red See

Orange See

Yellow See

Green See

Blue See

Purple See
&nbsp One of the pleasures of photographing MMB invertebrate wild animals is seeing the tremendus variety of COLORS and patterns of color displayed by these creatures.
&nbsp

The Velvet Ant is Not an Ant!


It is a Wasp! Females are wingless, and Males are winged:


The female Velvet Ant, like many female wasps, can inflict a very painful sting, so do not pick them up in bare hands. Within the MMB the females may occasionally be seen in dry sandy areas, and males on certain flowers.


&nbsp

In the begining there were none to be seen.


This is a European Paper Wasp. Polistes dominula, a non native species. In the 1980's this wasp was not to be found in the MMB. But sometime afterwards some made there way into the MMB, and begin to increase their numbers thereafter year by year, until now, in 2015, they are quite common.
&nbsp This wasp is an introduced species from Eurasia. It was first reported in North America in 1978 near Boston, Massachusetts; and has since spread to various locations across North America.
&nbsp

In the begining there were none to be seen.


This is a Sooty-winged Chalcoela Moth. Chalcoela iphitalis , a native species. In the 1980's this moth was not to be found in the MMB; but I begin to see this species fairly often after the year 2000.
&nbsp This moth is one of the very few moths on planet earth whose caterpillars are carnivorus! They are host specific on paper wasp larva, and primarily Polistes species, such as Polistes dominula, the wasp shown above!


&nbsp