2010
The link below will take you to the slide show that we showed at the Year in Review meeting held in January 2011.
Year in Review Slide Show (WMV file)

---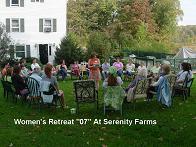 The Women's retreat in 07 was held at Serenity Farms in Greene, The Women's retreat in 08 was held at Integrative Body Works in Greene. Sorry no pictures yet.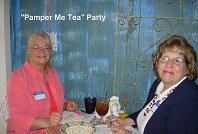 Chris Guidelli, Denise Blaisure & Aleica Driscoll at the Pamper Me Tea. The afternoon included talks on life coaching, skin care, massage services, & lots of prizes & yummy food.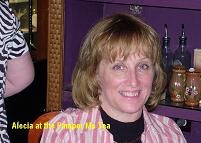 Ashley Kenyon from Smithville with her magical wands for sale that she created with me.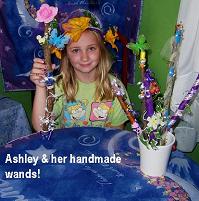 My favorite elementary art teacher with one of her master pieces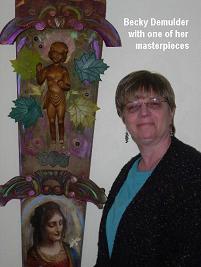 Newark Valley Girl Scouts dressed for the Fairy Tea Party one lovely Sunday afternoon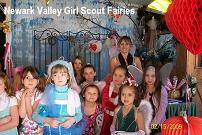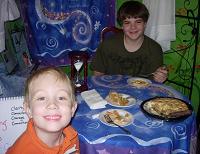 Richie sharing Apple pie with Cam at Polka Dots & Moon Beams in the fairy castle.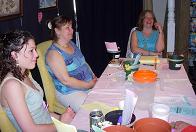 A Bloom where your planted workshop with Renee being enjoyed by Gaill Bagg & her niece.
---
First Friday Art Walk Binghamton June 2009
First Friday June 5th at Alchemy Transformation in Downtown Binghamton. We had many spectators that came out to see our interactive sampling of "crafts for the spirit" Jonie Bassett showed off some of her paintings made with Recycled Items. Megan Harrington was on site to help those interested in making thier own pair of earrings. Susan Schweizer was doing soul portraits, & I was there with Fairy items, transformational tools & other inspirational goodies. Mean while Erick was outside demonstrating the real Alchemy-Working with Iron. What a great night we all had.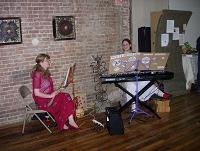 Celtic Dreams entertained us with beautiful gaelic music. Notice the orb floating above Dawn's head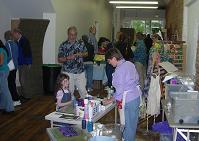 Sharon Digennarro of Wild Flowers Silks & Pottery offered make & take hand dyed scarves.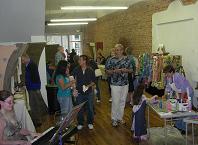 Sue Hammond of Eggsquisite Enticements showed people how to paint on Eggs Ukranian Style.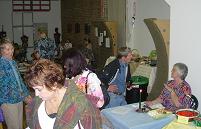 ---
Georgia Guidestones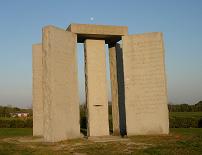 These are the Georgia Guidestones that Erick, Richie & I visited in April of 2008. We had heard about them on a movie based on the predictions of 2012 by Barbara Hand Clow. Talk about a vortex of healing energy. The history behind these monuments are amazing. If you want to read more about them at Wikipedia,Georgia Guidestones.
In addition here is what was inscribed on each large tablet in eight different languages. These guiding principles are surely something that we all can live by.
Maintain humanity under 500,000,000 in perpetual balance with nature
Guide reproduction wisely-improving fitness & diversity
Unite humanity with a living new language
Rule passion- faith and tradition all with tempered reason
Protect people of all nations with fair laws and just courts
Let all nations rule internally resolving external disputes in a world court
Avoid petty laws and useless officials
Balance personal rights with social duties
Prize truth- beauty and love seeking harmony with the infinite
Be not a cancer on the Earth-leave room for nature-leave room for nature
---
Fairy Festival in Glen Rock,PA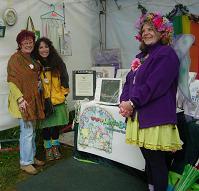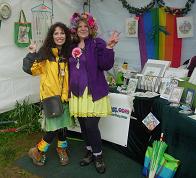 Linda Ravenscroft & Linda Biggs two internationally known fairy artists. Me & Linda Biggs the International Rainbow Fairy Artist & One of my absolute favorite fairy friendss. It was a rainy soggy day but nothing can keep us from having fun with the fairies. This all took place at the yearly fairy festival on Spoutwoods Farm in York PA on May Day weekend.
---
Back to Top

"Live, Laugh, Share and Grow"
Heart Centered Living on Facebook