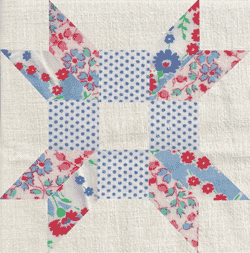 I wanted to choose the name of a quilt block for my business. I thought the Farmer's Daughter quilt block was my best choice, but knew I couldn't get the regular spelling on the internet, so that's how I came up with the Farmer's Dotter. And it's been lots of fun with all the polka dots!!!

---
I am a farmer's daughter and I love polka dot fabric. I also love to quilt and collect things. We have an empty nest. So, I've decided to open our home to share with people who love the same things!
Please come be my guest in our country home in S.W. Iowa for a wonderful weekend of sewing, quilting, and shopping (if you like) with inspiration all around. Every room has lots and lots of quilts and antiques! I have four rooms that I sew in and three extra bedrooms that I would love to share with you for a fun filled weekend!
Your quilt retreat would include sewing all weekend long, arriving Friday afternoon or Saturday morning and leaving Monday after brunch (these times are negotiable to better suit your needs). Every meal is homemade and served around a big antique table with neat old vintage dishes. Sew all day long, take a walk in our timber, or go shopping if you like! At night you would slumber under vintage quilts!
We live just 2.5 miles from Bedford, which is a neat little antique town with several antique shops. Or we live within 25 to 35 miles of two quilt shops and another one about 60 miles away! This area is also known for its beautiful countryside. While you are here, please feel free to take a walk around our 10 acre property. There is a lot of beautiful scenery with birds and wildlife for you to enjoy. I love to garden, so you can enjoy my flowers all around the house and hopefully fresh vegetables to eat. We definitely have 4 seasons here and I love to decorate for each one, so come be our guest in the different times of the year!