Fulton Reunion June 1995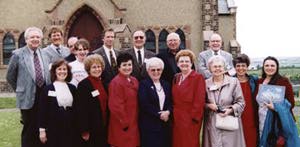 ---
In June, 1995, a group of Fultons from across the United States joined in a "Fulton Reunion" in Northern Ireland and Scotland. Although they did not know how they were related, they shared the Fulton name in their ancestry and a love for genealogy. They visited places in Ireland and Scotland of historical significance to the Fulton ancestors and continue the adventure today in their quest to understand the Fulton legacy.
---

First Dunboe Presbyterian Church, Castlerock, Northern Ireland

Bottom Row Left to Right: Patrice (Fulton) Stark, Arlene Sigle, Carolyn Proctor, Diane Knox, S. Ann Irwin, Kathleen Fulton, Roberta (Fulton) Hirth, Florence (Fulton) Wolfe.

Top Row Left to Right: Dean Sigle, Hal Tompkins, Donald N. Proctor, Price Stark, Paul D. Stark, Willis Knox, Homer J. Fulton, Rev. George P. Fulton.

Not Pictured: Blanche Tompkins, Forest and Irene Fulton, James and Dorothy Fulton, Eleanor McCallum.
---
Return to our Fulton Homepage