Odyssey to the Fulton Settlement in Bethel, Sullivan Co., NY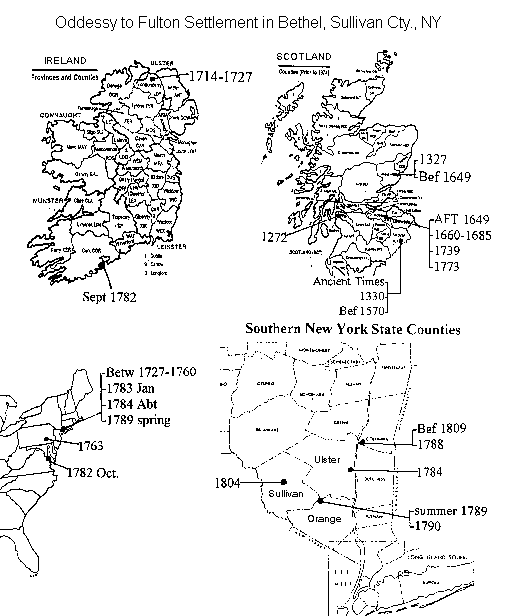 Legend
Ancient Times: Foultoune, a village in Roxburghshire, Scotland about 2.5 miles south of the parish of Bedrule near the river Rule and across from the 'dark Ruberslaw' (1392 feet). It is about 6 miles southwest of Jedburgh. Although it is not listed on modern maps, the town appears in Blaeu's Atlas, 1654, which was reproduced in Upper Teviotdale and the Scotts of Buccleuch by J. Rutherford Oliver, Hawick, 1887. There are now scarcely any vestiges of its ancient consequence, except some remains of its tower. Ordinance Gazetteer of Scotland - A Graphic and Accurate Description of Every Place in Scotland, by Francis H. Groome, Vol. 1, London, 1903, p593.
1272: Thomas de Fultoun of Paisley, Scotland "The family gradually extended throughout Ayrshire, into Renfrewshrie, and several members probably a complete family, traveled eastward and settled in Fifeshire about 1650. From Fifeshire, they spread into Forfarshire, and across the Forth to Midlothian." Memoirs of the Fultons of Lisburn edited by Sir Theodore C. Hope, Chapter I The Fulton Family, Section 4, 1903, p10. Privately published. Copy at Belfast Public Library, Ireland .
1327: Robert I granted to Galfridus de Foullertoune the land of Foultertoun in the sheriffdom of Forfar, with the office of falconer within the sheriffdom. The estate was held by the family for at least 120 years, after which they transferred themselves and their name to the lands in the parish of Meigle, still called Fullarton. The Surnames of Scotland - Their Origin, Meaning and History by George F. Black, Ph.D., New York Public Library, 1933, p282-283.
1330: Richard of Rutherfurde witnessed a charter by Cyril Saddler in 1330, a deed of gift by Thomas Vigurus, burgess of Roxburgh, to Sir William of Fultoun, and another by the latter to the monastery of Dryburgh, circa 1338. The Scots Peerage Founded on Wood's edition of Sir Robert Douglas's Peerage of Scotland edited by Sir James Balfour Paul, Vol. VII, Edinburgh, 1910, p366.
Bef. 1570: In Roxburgh, Scotland, Fulton Tower ruin stands on a moorland above the Rule River. The tower was held by Margaret Home in the 1570s before her marriage to William Turnbull. It consisted of a main block 9.3m by 7m over walls 1.2m thick. The Castles of Lothian and the Borders, Mike Salter, Folly Publications, Worcs, England, 1994, p144.
Bef. 1649: James Fulton's grandfather lived in County of Angus. Ancestor James Fulton of Fulton Settlement, Bethel, New York, and Descendants, Compiled by Rev. Chas. N. Sinnett, 1922, p2:22, (New York State Library, Albany, NY, 929.2qF9741).
Aft. 1649: James Fulton's grandfather moved to Dalkeith because the neighbors in Angus were Royalists and he was pro-Cromwell. (Sinnett p2:23-26).
1660-1685: James' father, John Fulton and John's half-brothers, Henry and Robert, were born in Dalkeith, Scotland. (Sinnett p2:28).
1714-1727: Henry Fulton, James' father's half-brother, moved from Dalkeith, Scotland to Londonderry, Ireland. (Sinnett, p1:30) Later, James' half brother Henry and half sister, Mary, also went. (Sinnett p3:1).
1727-1760: John Montgomery, the grandfather of James' first wife Mary Montgomery, of Edinburgh, was appointed governor of the Colony of NY by George II (Sinnett p4:34-35). Richard Montgomery, Mary's father, attended Kings College in NYC with James Duane. Kings College was founded in 1754 and today is known as Columbia University.
1739: James Fulton was born August 7, 1739 in Dalkeith (near Edinburgh) Scotland (Sinnett p1:23)
Aft. 1739: Robert Fulton, James' half-uncle, was lost at sea in the Bay of Biscay on the way to the West Indies (Sinnett p2:31-33).
1763: Robert Fulton, son of Henry, sailed to Philadelphia and settled in Lancaster, PA. (p1:35; p2:12) James' half-sister, Mary, went to America with Robert (Sinnett p3:2-4)
1773: James worked in building the Heriot's Office and new college. (Sinnett p3:21-23). James and Nancy Cunningham, his second wife, lived on Leith Street, Edinburgh until 1782. (Sinnett p:21-23).
Sept 1782: James and family sailed on brig Arrow to America. A storm forced the ship back to Cork, Ireland. (Sinnett p4:17-18)
Oct 1782: The brig Arrow landed at Somers/St George's Island off Virginia. (Sinnett p:4:14, p4:21-22)
Jan 1783: James and family lived at 116 King George Street in NYC. King George Street became Washington Street. James Duane owned the house. (Sinnett p3:7, p4:31, p5:5)
1784: James Fulton worked in Kingston for 2-3 years repairing buildings damaged during the Revolutionary War. (Sinnett p5:11,15)
Abt. 1784: James Duane later became mayor of NYC in about 1784. (Sinnett p5:9)
1788 (spring): James Fulton employed by Livingston brothers at Livingston Manor, Redhook. (Sinnett p5:24-25)
1789 (spring): James' family saw George Washington in NYC. (Sinnett p5:28)
1789 (summer): James built a log cabin in the Burlingham area, Ulster Co. (Sinnett p6:3)
1790: James moved his family from NYC to Burlingham area, Ulster Co.(now Sullivan Co), 1790 Federal Census shows them in Orange Co. (Sinnett p6:4)
1804 (April): James moved his family from Burlingham to Fulton Settlement, Ulster County (now Sullivan Co). He built a log house and a sawmill. (Sinnett p7:23-24) (p6:16)
Bef. 1809: James Fulton met Robert Fulton, the steamboat inventor, on the Hudson River on the way to Red Hook. They determined they were cousins. (Sinnett p2:14)