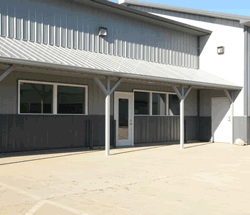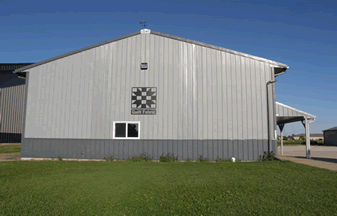 The Warehouse is a retail store for name brand quilt fabrics. We are not a fabric wholesaler even though our prices are about 35% lower that most quilt shops.
The Quilt Fabric Warehouse is conveniently located in central Illinois near the airport in Bloomington. It is easily accessible from Interstates 55, 74 and 39. If you are travelling through central Illinois on any of these interstates, you won't be far from us. If you are a quilter, you can't afford to miss visiting us.
If you are traveling on an Interstate, follow the signs for the airport. When you are in front of the airport, look for the control tower. It will be to your left and behind the airport terminal building. Drive toward the control tower. We are about 2 blocks straight south of the tower in a gray steel building with large metal barn quilts on it.
If you are using GPS, the address is 414 Olympia Drive, Bloomington, IL . To get to the warehouse, go east on Route 9 past the airport terminal building to Towanda-Barnes Road. Turn right and go to the next stoplight which is Oakland Avenue. Turn right and go about 2 and a half blocks. The street dead ends into the new airport fire station. Turn left at the last street to the left. This is Olympia Drive. The warehouse is on the left side of the street with a large barn quilt sign.