Meyer & McGuire
Classics · Originals
<![if !vml]>

<![endif]>Eclectic Acoustic Music at its Almost Finest
(Reflective of such greats as Jimmy Buffett, Bob Dylan, Willie Nelson, John Prine, and Jim Croce)
Listen to our albums, singles, and playlists on Spotify.  Provide a username and password, and you'll be good to go with a free Spotify account: Spotify
<![if !vml]>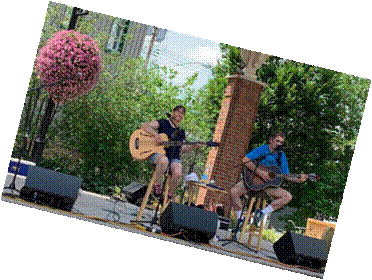 <![endif]>Upcoming Performances:
Thu., Aug. 5:   Billsboro Winery, 4760 West Lake Road (Rte 14), Geneva, NY 6 PM to 8 :30 PM (315) 789-9538 (Guest Perry Cleaveland on mandolins and fiddle!)  (Pizza on the Patio!) (Sold out; call to check for cancellations!)
Fri., Aug. 6:     Woody's Bar and Grill in the Quality Inn, 2468 Mound Rd, Waterloo, NY, 6 PM to 9 PM, (315) 220- 8250 (guest Perry Cleaveland  on mandolins and fiddle!)
Sat., Aug. 7:    Brew and Brats at Arbor Hill, 6461 Route 64, Naples, NY, 6 PM to 9 PM, (585) 374-2870 (Concert)
Whether their presence is unobtrusive or conspicuous, Meyer & McGuire generate a great deal of energy in their shows.  While some of their songs invite listening, most of them encourage audience participation...Those who attend a Meyer & McGuire performance will often find themselves singing and clapping along to the sounds of classic folk, country, rock, bluegrass, blues, Irish, Caribbean, and original tunes.  Their performance will generate an unpretentious warmth that will open the heart and soul.
                                                                                                                                         <![if !vml]>

<![endif]>
E-mail us at McRiley@Frontiernet.net