Old Civil Air Patrol Ribbons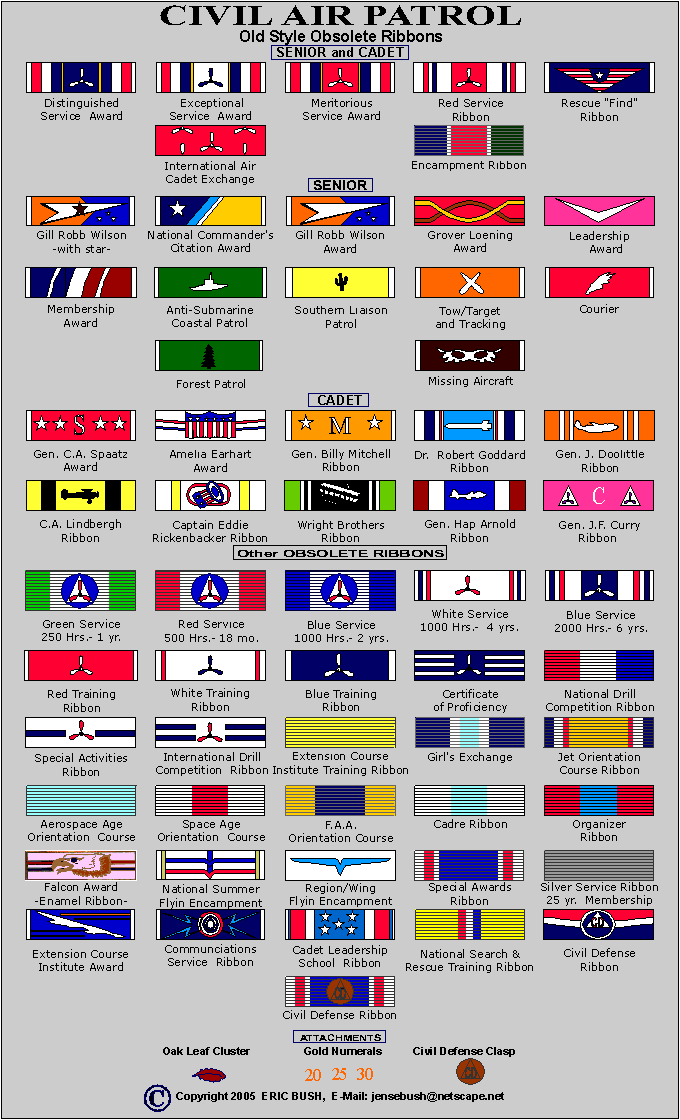 ---
I recently had this question referred to me and the answer is what I think about it, if there are further comments that may help in this area, it would be appreciated.
The various types of CAP ribbons? I've been going through all the different variations and there seems no end to them. The early GEMSCO ribbons like the fat Exceptional Service ribbon seems to be heavily embroidered on silk. The Meritorious Service seems to be heavily embroidered. The later ribbons for both seem to be what I would call plain "cloth" or woven ribbon.
ALL the cloth versions of the W.W.II Wartime Activity ribbons seem to be the coarser style. The Certificate of Proficiency ribbons are in 3 cloth variations: Silk, coarser type and coarser type with a wide white edge. I've noticed this wide white edge on several ribbons.
I've also noticed different metal backs. The standard ribbon slide in steel and brass, and then a brass slide that is crimped over the end. Is there a specific name for this type ribbon?
Finally in plastic there seems to be a embossed plastic and a plastic coated cloth ribbon.
My comments
What you are seeing is ribbons made at different times by different makers.
It may be that when someone new gets in they either want a different look or maybe to get the price per ribbon bar cheaper.
Allot of times when you get a design made up by someone, as in silk-screening or embroidered work, the company keeps the art work,
even if they used you design, so if you go to another company, they will have to re-make the design. This may explain why the graphics on the ribbon are different in some cases.
The CAP ribbons with graphics were either silk or the coarser type and these were not made the same as present day CAP ribbon.
The top is the coarser type, bottom the silk type.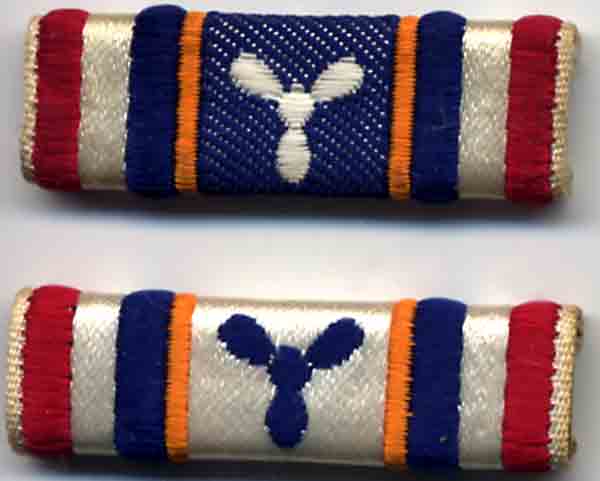 The silk, I think, was cheaper to make.
The old NS Meyer company came out with what they called fetha-wate slide mounts, a pre formed one that used less ribbon to make up a bar,
1 inch in most cases vs 1.25 in. and then Wolf-Brown company followed suit.
The difference between the 2 is shown, the top with rippled metal is N.S. Meyers and the below with a flat surface is Wolf-Brown.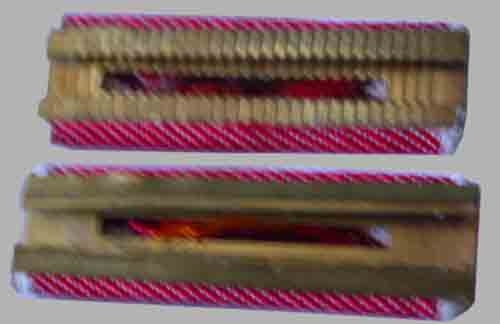 Also early ribbon was made for the old 1/2 in. mount vs 1.375 in. as today.
The silk ones seemed to have a white edge, in some cases, as in the Leadership Award.
As far as I know Wolf-Brown made the Plastic ones and others followed later on.
Some of the Wolf-Brown plastic have their name on the underside of the ribbon.
I have seen ribbon made through the years with a plastic film layer over the ribbon, ribbon like an oil cloth, waxy type finish,
flat plastic glued to a mount, all I guess for damp weather and to help keep them clean.
It seems they have given up on all that type of activity, I guess we are rich enough now to just replace them,
or else the competition in the business died away.
Today there are very fewer Companies making up Ribbon for Medals, bars.
The best is Bally Mills and ribbons is not their main line.
Also you may have noticed that the designs are different and in some cases with the plastic, a shorter length.
A great amount of variety.
Maybe variety isn't such a bad thing as it keeps many happy searching for the next one they don't have.