Medal Mounts and their parts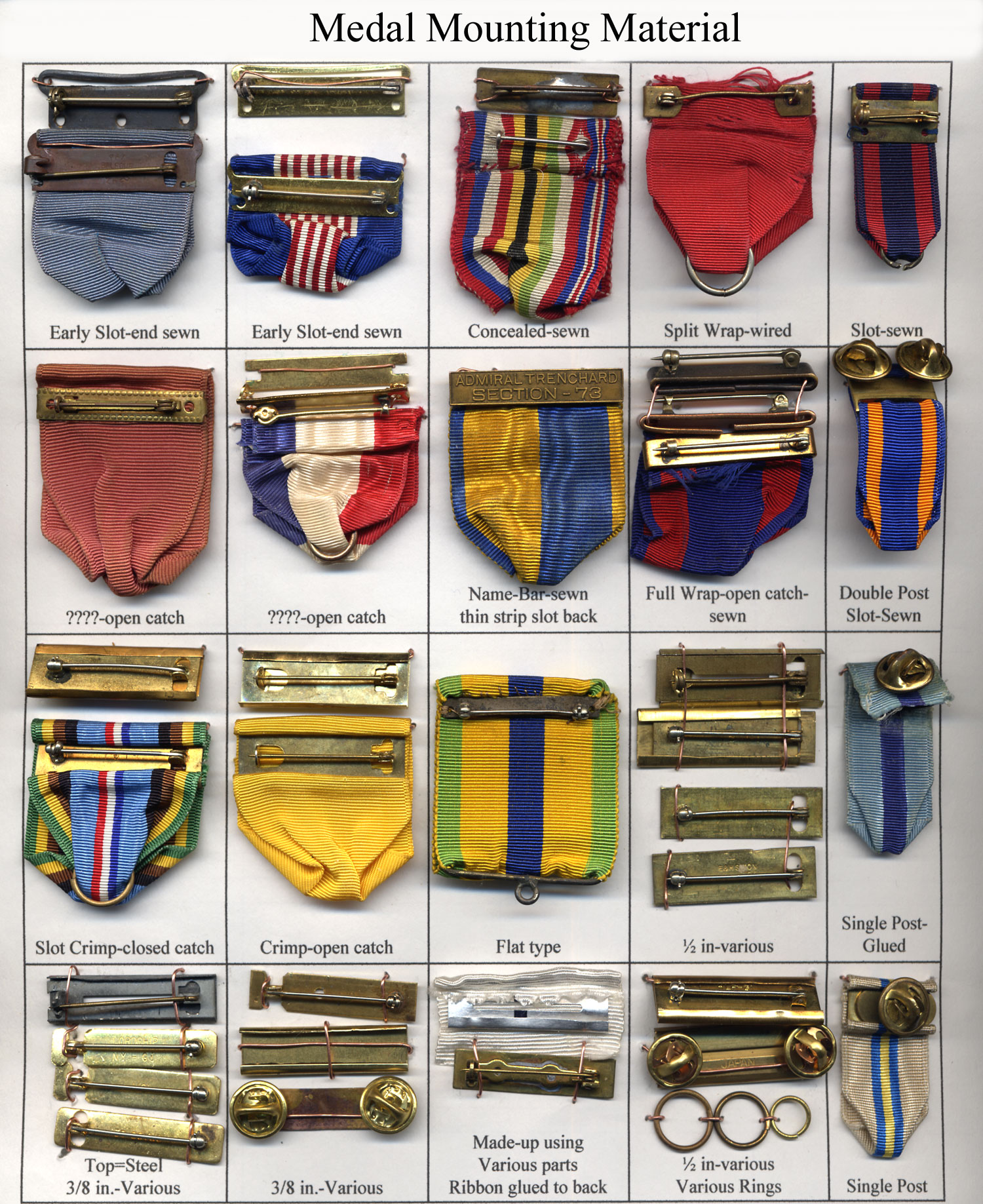 ---
Medal Mounting Hardware and examples of the various forms used over time in attaching the Ribbon to the Medal and how it could be attached to clothing.
1st Row
The oldest type shown in the display is the Top 1st Row/Column "Early Slot", thru which the Ribbon is inserted and the sides of the ribbon are sewn to the Metal piece.
Next [3rd over] is where the attaching pin is covered and is sewn and a Mini-Medal drape with slot-end and sewn
2nd Row
next 2 are ???? ( Do not have a name for this type ) open catch which has bendable parts to hold the Ribbon in place, example shown.
one with a Name Bar with a slot to hang the Ribbon which is then sewn in place,
next is a Full Wrap, hardware shown in which the Ribbon is still sewn, and Mini-Medal with a Double clutch back.
3rd Row
shows 2 examples of the present day form of a U channel shaped piece which the Ribbon is placed in, a flat Metal piece placed on the Ribbon and the sides then crimped down to hold it in place, and then a flat type Drape.
½ in. Various mounts, 1-early type, 2-hallmark is 'O' with Arrow thru it--GI, next
GI=E.H. Simon Co./Simco, E.H. Simon, Mini-Medal single Post, Glued to ribbon
4th Row
3/8 in. Various mounts, Steel at Top, Lordship-NY-GI, LIGI=His Lordship's Products, GRACO,
PIGI=Princeton Industries, Plain, Plain.
Made up piece glued to Ribbon, ½ in. His Lordship's Products, Japan, various size Rings, Mini-Medal Single Post clutch back.