The Galoot's Shaving Pony
A shaving Pony is a mini shaving horse. You can build all you want. You can give away all that you build. Please contact Robb and me if you want to sell them. All rights reserved by Dave Matthews and Robb Young.
Photos provided by Robb Young and Tom Holloway. Thanks guys.
Robb Young's implementation of the Western NY Shaving Pony.
This is based on enhancing the really ugly pony that Dave Matthews designed to shave Windsor chair spindles.

The uprights are a 2x4 ripped into 1x4s. Pins are wooden dowels. The foot pedal is laminated from two 2x4s. Notice the disgustingly clean shop.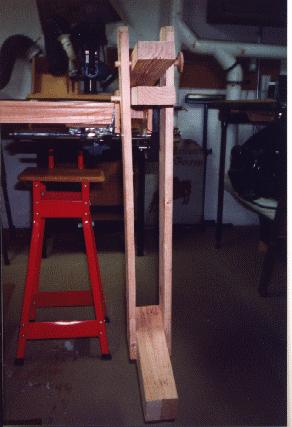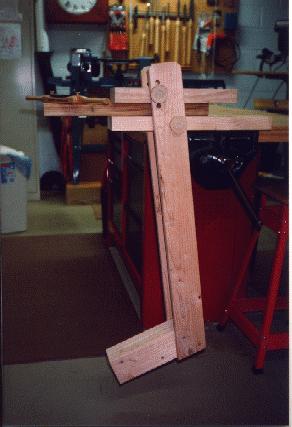 A shot showing the grooves in the jaw. They keep the work from rolling around. The right side shows the clamping action. The critical part of this is that the top pivot point must be forward of the bottom pivot point. This causes the jaws to close when you stomp on the pedal.
For those of you that feel a need for something approaching plans here are the measured drawings.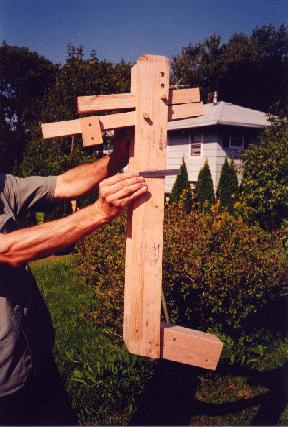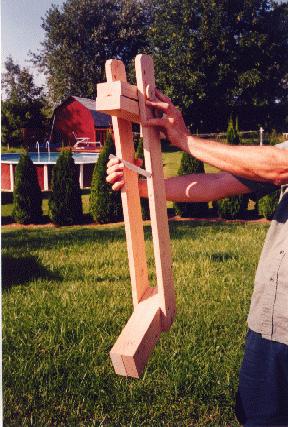 Hand modeling services provided by Erik Von Sniedern. The ruler is 6" long. Note block in back for the vise to grab. Mine used a 2x4 inset into the side.
And now for the third version.....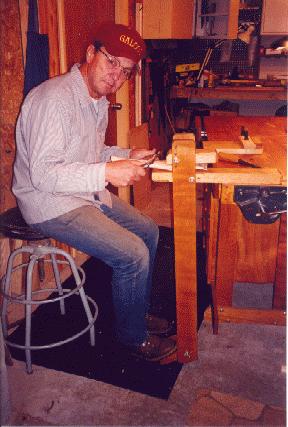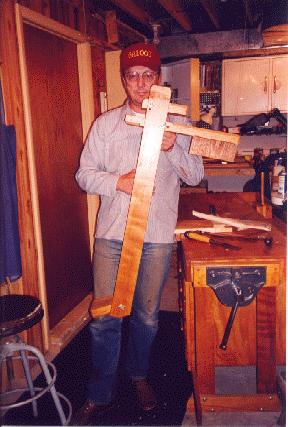 Tom Holloway with his oak and maple rendition. Wonder where he finds those 2x4s? Tom used 5/16"x6" carriage bolts and wing nuts for his pins. Tom is making something useful - a chisel handle.
Details of Tom's design:
Jaws - 2x4 oak
Uprights - 1x4 maple
Clamp Block - 1"x9" oak fitted into a groove
I will try to get a photo of the Mark I to show you that you really don't have to go this fancy. Mine took 15 minutes to build with sheetrock screws and glue. I used 1/4" bolts for pins because they were within reach.
And now for a little daddy vanity.
Junior Galoot Tim using Esther's lathe at the Western NY Galootapalooza '98. SWMBO is getting a little exercise at the same time.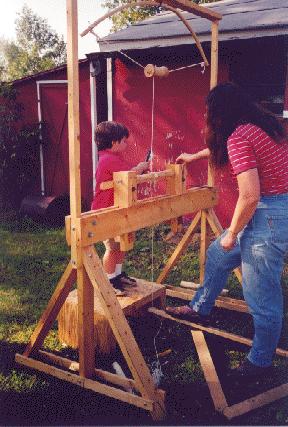 Feel free to send me mail at dmatt@frontiernet.net