Welcome to the
Wittman Family Genealogy home page

Willkommen auf der
Wittmann Familienforschungsseite
From what I have been told but have not been able to confirm. My family originated from Baden-Baden, Germany the Elsass-Lothringen (Alsace-Lorraine) area. Point of export unknown but told that they came into a port near Philadelphia, Pennsylvania. As far back as I know a John Wittman was first into America and married a Catherine Wiesner (date & origin unknown) and they had 10 children.

Now for what I have found out in the past month (as of May 1, 1998). John Wittman was from Mitgenfeld, Bavaria, Germany according to his marriage information. He married Catherine Wiesner of Rochester, NY on April 22, 1862. I do not have exact birth or death dates for their 10 children but have rough approximates from Federal and NY State Census records.

(September 20, 1998) I have drawn the conclusion that my current Surname of 'Wittman' was originally 'Wittmann'. From the marriage record of John Wittman to Catherine Wiesner, his fathers surname is shown as 'Wittmann' and so is John's, but death notice and tombstone show 'Wittman'. If anyone has an idea how I might go about finding if he legally changed this or just dropped the second 'n'.

Surnames in my Family Tree
Updated: May 20, 2006


---
Java capable Wittman Family Tree
---
---

Wittman's of Scottsville, NY
In Loving Memory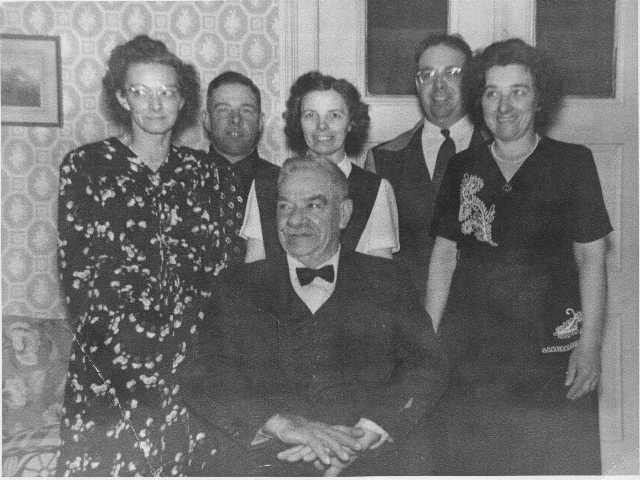 Joseph Wittman and his children
Left to right Cecelia Burns, Andrew Wittman, Helen Torpey,
Eugene Wittman, Marion Callan Photo taken 1944.
---
My Grandparents: Lewis and Helen Wittman.

---
I am in the process (slow) of collecting, borrowing old family photos and scanning them into
the computer for a permanent digital record. All photos will be documented as to who or
what they are showing and possibly who contributed them. I am able to restore the image
quality to some extent. The photos are scanned in at a resolution that will enable myself or
others to reproduce the image as close to its original as possible. File size is not an issue so
that "quality" is not compromised! If you would like to contribute to this project please feel
free to e-mail me and we can discuss it. Click here to preserve old photos...

---

Cyndi's List of Genealogy Sites on the Internet
---
---

Back to Main Page.
View My Guestbook

---
Lineages—Free Genealogy Queries and Family Pages
---




wittman@frontietnet.net