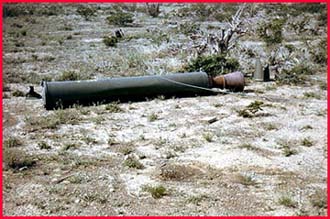 Photo: Bill Shaw 1958
HEADS UP!
"I was with C Btry 739th AAA Msl Bn at Bristol, Rhode Island. Regarding ASP at Red Canyon, all I can remember is that we left the Providence, RI, airport in a chartered civilian twin engine, prop driven C3. We landed in Oklahoma City where they told us they had to fix the radio. I didnít know the radio was underneath the engine cowling but that was what they had off. After landing in El Paso, they bused us to Red Canyon.
Monday morning early we started to work, and by Wednesday morning we had aligned and collimated the radars and checked out the computer. The Launcher crews had also completed their checks. All systems were GO. We fired 3 missiles, and one was at night. We had a really good crew and I don't remember ever missing the RCAT. But I do remember a booster that blew off course on a night shot and landed right next to our collimator mast, tearing it down (see photo above). That was too close for comfort! The equipment at Red Canyon was pretty well maintained and we didnít have too much trouble getting it aligned and ready to fire. Nights we spent drinking beer and keeping old Nike pretty well juiced up. Saw him leaning up against a building quite a bit. Shame on us.
We usually got our three kills real quickly, then spent the rest of our time in El Paso and south of the border, hoping that everyone would show up when the plane left to go back to Rhode Island. Thinking back, I remember everybody back at the Site in RI wanted us to bring a bottle or two from Juarez for them. We often kidded that if the plane ran out of gas we had enough alcohol to fill the tanks." Bill Shaw