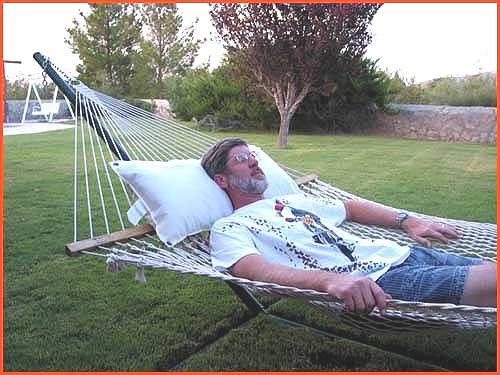 Jim Eckles
Designated an Honorary RCRC Vet for his assistance and support on our behalf.
Photo: When not at work in the Public Information Office (PIO) at White Sands Missile Range or riding his mountain bike, Jim enjoys soaking up some rays at his home in Las Cruces, NM.
Although not a veteran of Red Canyon Range Camp, I am certainly a veteran of the veterans of Red Canyon Range Camp. Early on I encouraged JP with his book and put him in contact with the missile range museum's gift shop so he would have a place to sell it. I even wrote a glowing review of the book for the post newspaper for which he paid me handsomely - a free copy of said book.
Then I tried to help him with the reunion - NCOs don't need a hell of a lot of help. I have seen a lot of reunions come through White Sands and the thing I have learned is that they need a sparkplug - someone with enthusiasm and organization to make it happen. You guys have got it with JP.
Since the reunion I have used facts about the camp and a few of the stories in a talk I give called "Ghost Towns on the Missile Range." I start with Estey City - an old copper mining camp that operated before 1910 and is just southwest of Red Canyon - and finish with Red Canyon.
Mostly I am a veteran of White Sands Missile Range. I arrived in Sept. 1977 and have seen some great events and places. I have crawled into the cracks and fissures of Victorio Peak and I got to see Space Shuttle Columbia land at our Space Harbor on March 30, 1982.
It's been mostly fun. Working with groups like the vets of RCRC is what keeps it interesting and keeps me thinking about delaying retirement in 2005.
Jim Eckles