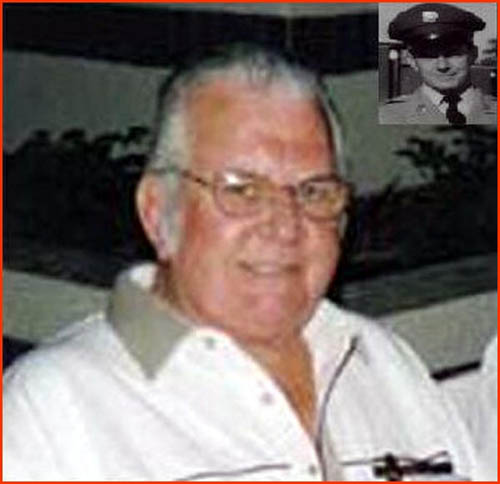 Jack Love
Sergeant Major, Field Artillery, US Army Retired
[Active duty 1947-1974]
I attended ADA School 1952, served at Red Canyon Range Camp from1952 to 1954; detailed to construction crew for RCRC as a young Staff Sergeant driving a 5-ton Dump Truck building the main road through the camp.
ASPs at RCRC: 1955 Best Unit Shoot, 1956, 1958. Best Battalion Shoot, 1959.
Served with:
1947, Coastal Artillery Command (CAC), M-1 90 MM Guns;
1952 ADA School, Electronics 223;
1952-1954 RCRC,
1954-1957 Missile Tech & First Sergeant, 52d ADA, Chicago Gary Defense;
1957-1960, 2d Bn, 56th Artillery, [1st Nike Ajax & Hercules unit in Germany @ Landau];
1960- 1963, Fort Sill, OK, retrain in Field Artillery;
1963-1964, First Sergeant, 1st Msl Cmd, USASETAF, Vicenza, Italy
1964-1966 First Sergeant, 5th Bn, 30th Artillery Italy; also served at the Royal Artillery Range, Benbecula Island, The Outer Hebrides, Scotland.
1966 First Sergeant, Plieku RVN, 6th Bn 14th Artillery, 175MM SP Howitzer.
1966-1967, First Sergeant, An Khe RVN, 3d Bn 18th Artillery 1st Cav Div, 8" SP Howitzer;
1966-1967, Sergeant Major, 3d Bn, 18th FA, Chu Lai, RVN, Americal Div;
1968-69, Provisional Battalion Sergeant Major, support for the Detroit Riots.
1969-1970 Phu Cat, RVN 7th Bn 13th Arty, 105MM Towed Howitzer;
1971-1972 Chun Chon, Korea, Operations Sergeant Major, 4th Missile Command;
1972-1974, Regimental Sergeant Major, University of Michigan, ROTC;
1974 Retired.
Bachelor of Science in Business Management, minor in Management Information Systems, Specialized training in Contracting, Contractor Evaluation, Business Law and Analytical Decision Making
Awarded BSM w/OLC, ACOM w/OLC, MSM, GCM w/3SK,NDSM w/OLC, AFEM, VCG w/Palm, VSM w/5 battle stars. Badges: PUC, MUC, VCG w/p
1975 Civil Service, Chief Production Planning & Control, Logistics, Fort Sill, retired in 1993.
Born in Chelsea, Massachusetts.
Married to Mary, for 53 years, 4 children [2 girls, 2 boys] and we now have 6 grandsons, 1 granddaughter and 2 great granddaughters, 2 great grandsons and another on the way.
Presently, I am President of the 30th Field Artillery Regiment Association and a member of the Field Artillery Association.
In addition I am Also President of the Lawton Noon Lions Club, International Public Relations Chairman for the Lions of Oklahoma, LionNet OK Webmaster managing the main website and 230 Club websites and Technology Chairman plus being a member of the Constitution & By-Laws Committee.
Jack Love