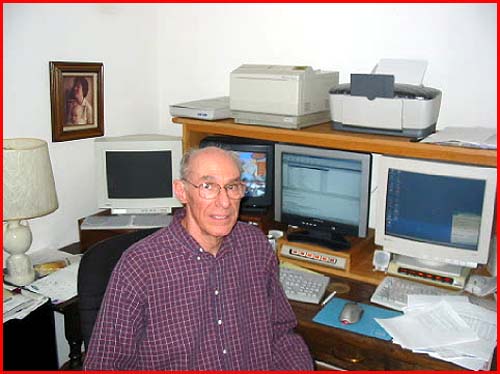 George
Williams
Photo: George Williams at his home command post. 08/09/2003
I was assigned to RCRC while waiting for training in Package 20 during the summer of 1954. We were sleeping in the tent cabins. My job was to run the camp generator. After completing the training and waiting to be sent to Detroit, I was transferred to Battery A, 495th AAA Missile Bn. (Nike) in the adjacent building. We spent half of our time at RCRC, other half at the Nike set in the desert near the Biggs AFB, until I was "separated" in Feb 1956. My rank was SP3 and time in the Army was 21 month and 23 days. They let me out early to start college.
Then I graduated from Northrop University in Inglewood, CA in 1961 with a BS in Aeronautical Engineering. Worked in engineering at the North American Aviation facility at LAX on the B-70 and left when it was canceled. The B-70 was to be the replacement for the B-52. Then I worked in electronic sales until retiring in 1998. In the meantime we raised four children who have delivered eight grandchildren so far.
Hobbies are playing with the PC and woodworking. Presently living in our retirement home Irvine, California with my beautiful wife. We celebrated our 50th anniversary last March.
George Williams