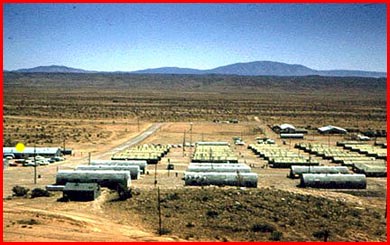 Photo: Joe Spivey 1959
GREAT VIEW OF CAMP
Looking due east across the echelons of admin. and barracks buildings. That is the main road on the left, Avenue D. It goes down and joins the front gate/down range road. The largest mound on the horizon is probably Carizo Mountain, also known as Razorback Ridge. It is near Carrizozo.
See the little shack in lower left? That looks like one of the original eight-holer latrines for the officers. Center right are a couple of large roofs in the motor pool.
Originally Avenue D joined the front gate road right next to the north side of the motor pool. You can still see the outline of it. It came up to the first row of huts and did a 45-degree bend to the north then another 45 to the west to bring it up into the admin. area. It passed along admin. row, then turned left and snaked back down to the main road on the right side of the motor pool.
The Recreation Center is marked with a yellow dot.