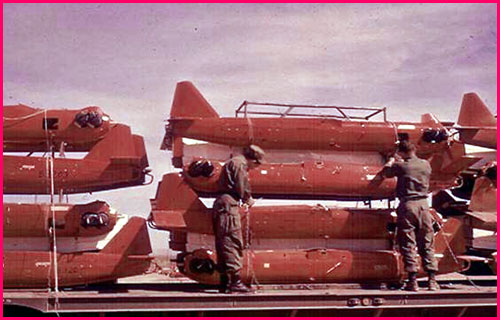 Photo courtesy MSgt Leroy Lewis
RCAT SHIPMENT
This is how we received our RCATS, 24 at a time on flatbed trailers.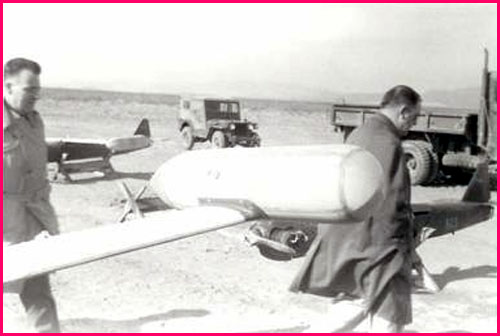 This is of one of the new corner reflectors. The two men are from Radioplane Co. They stopped by one day and wanted to know if we would try them out. I said yes. I liked the pods for two reasons. One was because there were no ridges. 2, They had much better mounts.
Radioplane got the next contract.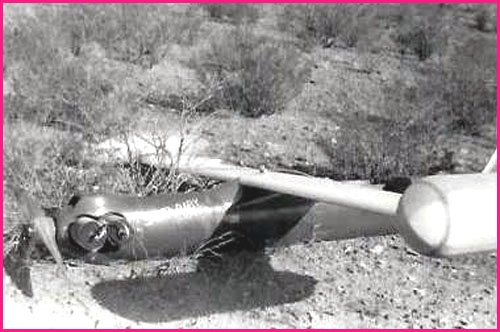 This is a picture of the Drone with new pods. We flew it and this what it look like after it landed,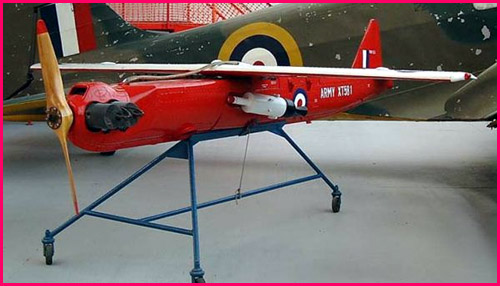 RCATS were in use all around the world, mainly for AAA gunnery training. However, this beauty with JATO bottles on each side for launching is a SD-1 reconnaissance drone. A camera is housed in the bulge between the engine and the wing.
I flew the SD-1 over in Germany in 1960 and 1961.
The unit was part of the 24th Aviation Co. 24th Infantry Division.
The SD-1 had a much better guidance system than regular RCATS. We also had different kind of plotting board than the M-33. When the Radar crew set up the radar they would put a map of the area where we were located on the plotting board. A small light would shine through the map. That light was the Drone. To take a picture one would move the light over the target and take the picture.
The Division needed pictures of a river crossing site. The Lt. in charge of our section took an L-19 out to get the picture. He had to go back two or three times to get the right target. I told him if they had given that mission to us we would have got it the first time. When you take pictures with manned aircraft, you need landmarks. With the SD-1 you don't need landmarks
Thank you for viewing, I hoped you enjoyed this tour of Oscura Range Camp and its RCATS.
Leroy Lewis