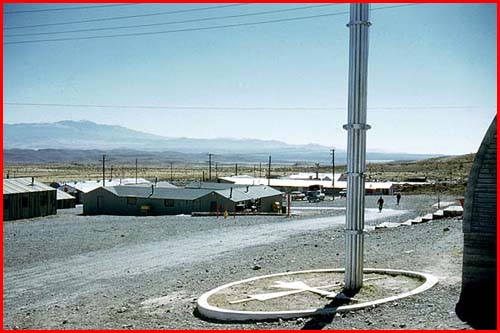 Rally Round The Flag, Boys!
Photo: David Bohl Nov. 1959
Dave was assigned to RCRC around September 1959 as a medic. The last Nike Ajax missile had blasted skyward on 17 June, 1959. Now the teardown of the camp began. Approximately fifty Engineers and three medics were assigned to the camp to remove all temporary buildings, which meant everything except the chapel. Dave took a dozen slide photos of the camp before leaving in November, 1960. They are published here for the very first time.
This view looking SE shows the flagpole with the crossed missiles at its base. The large building in the foreground is Supply (S-4). The wide set of steps to the right of S-4 lead into the chapel. The long shiny roof in background is the messhall. Above the left corner of S-4 is the PX. In the distance beyond the messhall is the Engineer's area.
I believe Red Canyon Range Camp was mentioned in the movie Rally Round The Flag, Boys.