Links and More
In working with so many great products and companies I decided to list those that I recommend to help others find their way on the web. If you have any questions relating to the information posted please feel free to contact me.
Phillips Foodservice is excited to launch a new line of authentic Thai and Indian sauces under the Steve Phillips World Cuisine™ brand. Bold, exotic ingredients blend together to give you a high-quality finishing sauce with no prep required.

They have taken advantage of their longtime presence in Asia to provide their customers with truly delicious, truly ethnic sauces to build your own signature dish-made to their exacting standards for taste and quality using original recipes and the freshest local ingredients. For genuine taste with no prep time or labor, satisfy your customers` growing appetite for ethnic cuisine with Steve Phillips World Cuisine™. Taste the culture.
Indian Sauces:
Roganjosh Sauce,Bhuna Sauce, Makhani Sauce, Tikka Masala Sauce
Thai Sauces:
Thai Yellow Curry Sauce, Thai Green Curry Sauce, Thai Red Curry Sauce, Massaman Sauce
If you would like more information on the sauces including recipes please click here.
Carr Valley Cheese is one of America's finest specialty cheese plants. From traditional classics like expertly aged Cheddar to award-winning American Originals like Cocoa Cardona and Gran Canaria, their skilled cheesemakers turn milk delivered fresh from local dairy farms into more than 50 delicious cheese varieties.
In the past three years alone, Carr Valley cheeses have won more than 60 top awards in U.S. and international competitions. Many of these have been won by Sid's one-of-a-kind American Originals - artisan cheeses you won't find made anywhere else in the world. In addition to cow's milk cheeses, they also produce goat's milk cheeses, sheep's milk cheeses, and combination milk cheeses. They have cheese for every taste.
For more than 100 years, they've built a business on a unique blend of old-world craftsmanship and creative cheesemaking innovation. I think it's a combination you're going to love! See their pdf brochure.
In Wisconsin, the cheese making legacy runs deep and examples of third-and fourth generation Wisconsin cheese makers carrying on the family tradition are common. Joe Widmer, of Widmer's Cheese Cellars in tiny Theresa, Wisconsin, is one such third-generation example. Born into the craft and raised with his six siblings in quarters above the cheese plant, Widmer has succeeded in building the business with a combination of strict adherence to tradition and savvy marketing.
Widmer's best known for producing Brick cheese and traditional stirred-curd Colby, both Wisconsin original created in small towns nearby. More recently, Widmer has gained fame for his four-year cheddar, a 2002 ACS winner and, according to Joe, a specialty that's fast become a signature product, changing demographics, in a part, are credited with the tipping of the scales in term of sales and production from brick to cheddar.
Hog Wild BBQ Company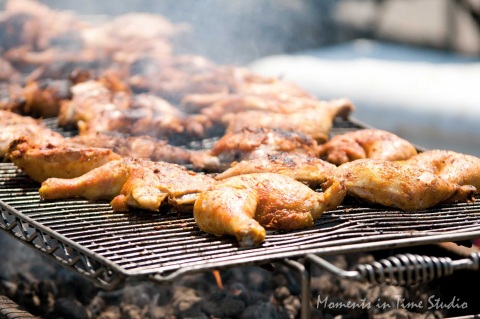 The best barbecue north of the Mason-Dixon. The twelve-time national award-winning Wells Hog Wild BBQ, based in Warren, Pa., is northwestern Pennsylvania's premier caterer for Southern-style barbecue. They slow roast our pork shoulders, whole pigs, beef briskets, chicken and ribs over a low hickory wood fire until it's lip-smacking tasty and so tender if falls off the bone.
The Carolinas, Memphis, Texas, Kansas City--they got it all rolled into one at Hog Wild. The 'cue is authentic, and all the sauces and sides are homemade. From small parties to functions of over 1,500, Hog Wild is the perfect choice for catering weddings, reunions, corporate functions, graduation parties, church events, golf tournaments, etc. in northwestern Pa. and southwestern N.Y.

Keurig

Brewing excellence, one cup at a time.
They strive for excellence. You see, "keurig" is actually derived from the Dutch word for excellence, and it's also their promise to you. From start to finish, it's our benchmark. Be it their patented single cup brewing technology, our gourmet brands of beverages or our customer service, it's simply something you'll come to expect.
Today, they're the leading single cup brewing system in North America, and couldn't be happier to provide gourmet coffee drinkers with the perfect cup, day in and day out.
Why do they think the single cup brewing technology is so great?
They believe that coffee should always be served fresh, just like a gourmet coffee house, wherever you are. Period. So why brew coffee a pot at a time when we drink it a cup at a time? It was from this question that their revolutionary concept of a K-Cup® pack was born.
Introduced in 1998, Keurig's innovative single cup brewing system lets people brew the perfect cup of gourmet coffee in less than a minute, without having to grind beans, measure coffee, handle filters or clean up. It's as simple as it gets.
Choose. Brew. Enjoy.®
Fromagination is a new specialty cheese market celebrating Wisconsin Artisanal Cheesemakers and highlighting artisan cheeses from around the United States and the world. In addition to our fine selection of cheeses and perfect companions, we offer catering, lunches, gift baskets, classes on cheeses, and a unique venue for private events. We promise to taunt your taste buds whether you're an experienced foodie or making your first foray into artisanal cheeses. Learn more about us and our passion for quality.

Wisconsin Cheese Mart has grown from a small cheese shop to leader in selling Wisconsin Cheese online. Delicious cheese and Wisconsin, It's a natural partnership. With the Dairy State's healthy combination of fertile land and balanced climate, milk production excels. And Wisconsin's milk is not only impressive in terms of quantity, but also in quality. When the finest milk in the country is put into the hands of skilled and knowledgeable cheese makers, the end result is nothing less than exceptional cheese. Wisconsin Cheese Mart has been part of this tradition since 1938. We search out the best cheeses we can find throughout the state of Wisconsin. We carry over 200 varieties of cheese in our display cases and sell by the pound in our store as well as ship cheese to all 50 states. We use nothing but real Wisconsin Cheese in our gift baskets.
Dudley Pearson founded the Pearson Ranch in the mid-1950s, realizing a long-held dream of his family. Located in the San Joaquin Valley of California, the richest agricultural region in the world, the pristine groves nestle close to the foothills of the Sierra Nevada Mountains. Today the Pearson Ranch continues to be a family-run business dedicated to growing and selling the best oranges in the world.
Biting into a Pearson Ranch orange gives you a burst of flavor sweet with a delicate tartness and fragrant with a clean citrus scent. The memory of the orange blossom remains long after the fruit is eaten. It is an orange unlike any other, satisfying a citrus lover's fondest desires. Elegantly round, with a smooth red orange skin and delicately formed sections, it offers extraordinary eye appeal.
Anything you've ever wanted to know but were afraid to ask about grilling can be found here. Search recipes, product demo, video and even drop a comment or two to one of the guest chefs or ask "CB" directly.
The Friedr. Dick Corporation has has been manufacturing quality chefs knives and utensils since 1778. Today they use the latest scientific testing procedures to create superb quality cutlery. F. Dick knives are assembled with perfect balance to meet the demands of the commercial kitchen. From professional chefs and butchers to the home cooking enthusiast, everyone can enjoy the precision of F. Dick knives.
Brands in the F. Dick product line include:
* Ergogrip and Eurocut
* Master Grip
* Premier Plus
* Superior
If you are in serious need of some refreshing frozen concoctions then head to Margaritaville. A one stop shop for food, beverages, recipes, clothing and a more relaxed way of life. Find that lost shaker of salt and grab a refreshing beverage before you "Escape to Paradise"