Meyer & McGuire
Classics · Originals
Eclectic Acoustic Music at its Almost Finest
(Reflective of such greats as Jimmy Buffett, Bob Dylan, Willie Nelson, John Prine, and Jim Croce)
<![if !vml]> <![endif]>
Preview "Set Yourself Free," our pick of the week:
<![if !vml]>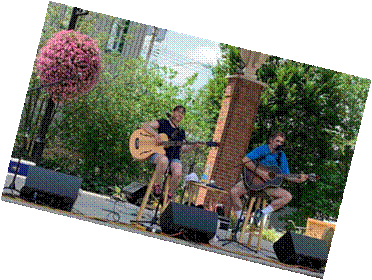 <![endif]>Upcoming Performances:
Mon., Oct. 15:   M.M. Ewing Continuing Care Center, 350 Parrish Street, Canandaigua, NY, 2:30 PM to 3:30 PM, (585) 396 6021 (Concert for the residents!)
Sat., Oct. 20:     Rio Tomatlán, 106 Bemis Street, Cdga., NY, 6:30 PM to 9:30 PM (585) 394-9380
Sun., Oct. 21:    Quiote by Rio Tomatlan presents Quiote's Songwriter Concert Series Featuring The Michael Yacci Trio in the upstairs of Rio Tomatlán, 106 Bemis Street, Cdga, NY, 3 PM to 5 PM, (585) 394-9380 (No cover charge, but donations for performer gratefully accepted)  (Event produced by Meyer and McGuire, 585-394-8929)
Whether their presence is unobtrusive or conspicuous, Meyer & McGuire generate a great deal of energy in their shows.  While some of their songs invite listening, most of them encourage audience participation...Those who attend a Meyer & McGuire performance will often find themselves singing and clapping along to the sounds of classic folk, country, rock, bluegrass, blues, Irish, Caribbean, and original tunes.  Their performance will generate an unpretentious warmth that will open the heart and soul.
E-mail us at McRiley@Frontiernet.net