Just because my owners go on vacation and have a good time, doesn't mean I can't too!

Ferret Sitters not only provides a clean and safe environment with a knowledgeable caregiver, your ferret has at least 30 sq feet of running room along with multiple sleeping areas. Your ferret will be showered with much love and attention. Don't worry, if you have an older ferret on meds we will take him/her in too at no additional cost. Your ferret is provided with fresh food and water, play toys, tube, clean litter pans, and hands on care. A cage is provided unless overbooked.

Unlike boarding at your vet for costs ranging from $9 - $12 per day and not much play time, our cost is $5 per ferret per day. We also have flexible drop off and pick up times.

There is no minimum or maximum stay.

If you don't mind driving to the Penfield/Fairport area, then call Michele at 388-1864. A weeks advance notice is appreciated.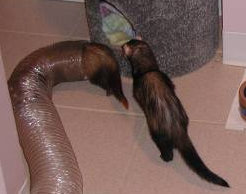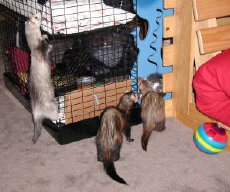 A couple pictures of our happy guests at play.