There are twelve pictures on this page.
If they don't all come in, please
e-mail
.
Thank you.
Adventure at the
Rosamond Gifford Zoo
at Burnet Park in Syracuse, NY

July 10, 2005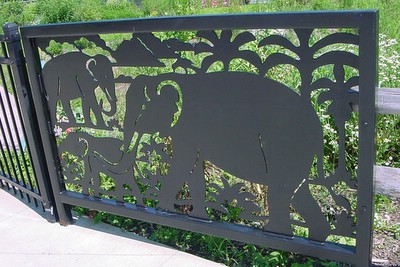 July 10, 2005, was a beautiful day, after several gloomy, rainy days. It was too nice to stay home, so we set off to the zoo in Syracuse..
Their page: Rosamond Gifford Zoo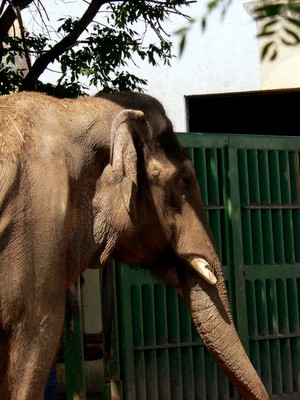 Gotta love these guys, decorated the same front and back.

There is a new penguin exhibit.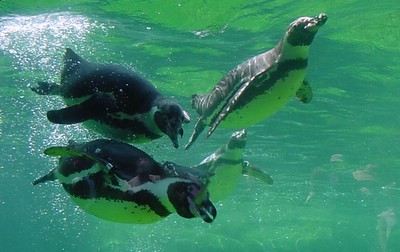 The meercats are always entertaining. This one is basking in the heat lamp.
And the lemurs are also always entertaining.
There was a raptor exhibit.

| | |
| --- | --- |
| | There is something special happening about every hour. There are elephant demonstrations, and chances to get up close and personal with the raptors. The penguin feeding was especially popular. There is a snack bar, which used to be Burger King, and is similar to that, but it was quite crowded at noon, as you would expect, and we had a cooler in the car with a picnic lunch, so we wandered back to the car after having our hand stamped with a lion, so that we could get back in after eating. We found a shady spot near the car and enjoyed bread, cheese, and fruit. There are lots of snack machines scattered around the zoo for ice cream, soda, water, candy, and salty snacks, but they remind you: |






There are lots of birds.

The zoo is a sensible size, with lots of shady areas. There are pleasant walkways through the animal habitat areas. Some are pavement, and some are boardwalk.




We enjoyed the walking, but by the end of the day, we felt like this, too.





Time to go home.


No photos of the real tigers - they were lounging at a distance in the shade.
We had a great day! This has been a spring and summer of getting around.


e-mail us here.

Here's a link to all the rest of the grandkids' pages.

This has been a spring and summer of getting around.

You can see those pictures:
We went to the Utica Zoo
Wickwire House in Cortland
A trip to babysit the grandkids
A visit to Boston to see a Red Sox Game
Drive through Edmeston area to see the animals
Ithaca Herbert F. Johnson museum trip
Skaneateles
And there are lots of pictures of our trip out west.

Published 7/3/05
Photos by Leslie or David


Send comments, please. We love to hear from folks.