Maine Flowers - Probably Annuals, but perhaps Perennials
Need help identifying.
Any thoughts, please
e-mail
Number 1: This is some kind of pea: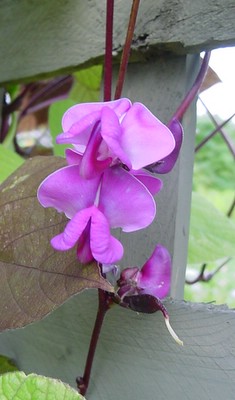 ---
Number 2:

This one is shown with David's hand: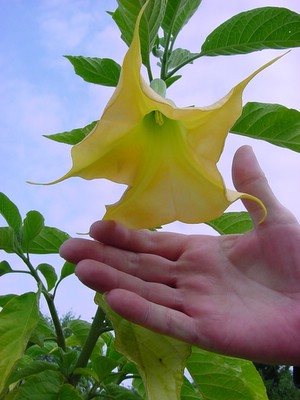 I did take pictures of the labels, but it isn't clear what label goes with which plant. This label is Brugmansia.
ANSWER:
Thanks, Judy!
#2 is indeed Brugmansia, also known as Datura, or Angel's Trumpet.  In
California and Florida it forms a small tree after several years, but
---
Number 3:
Isn't this lovely. At first it looks like a flower: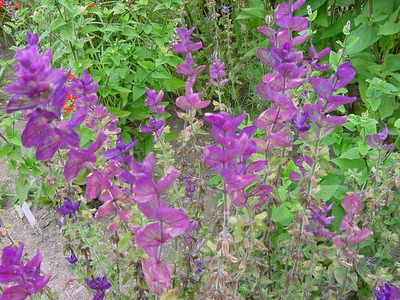 But then you look again, and I think it is the leaves that have turned pink or purple (like pointsetta?) Here's one showing seedheads.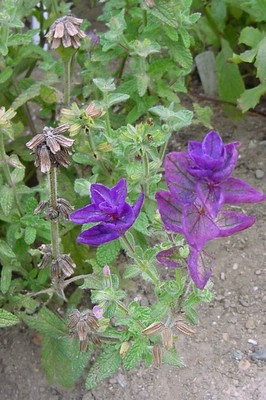 The label I photographed is Salvia Viridis, "Marble Arch" Is this Salvia?
---
Number 4:
~
I have no clue what this is, but it is interesting. Strange flowers, with the seed pod beginning in the center, and very interesting seed pod: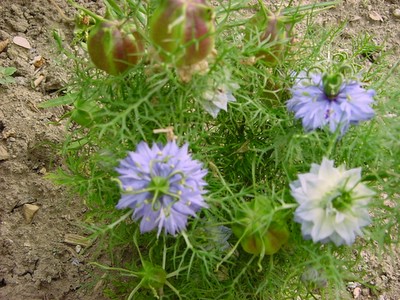 Note the odd centers.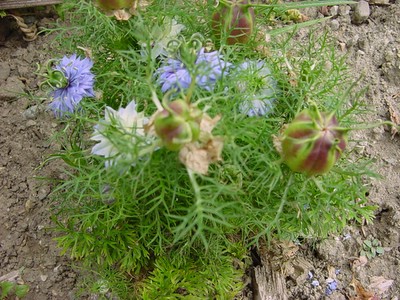 ANSWER:

  Thanks, Judy!
#4 is Nigella, also known by the old English name of Love-in -a-Mist because of the finely dissected foliage..  It's an easily grown annual
---
Number 5:
This is a tall plant that looks a bit like an astilbe or budillea (sp?)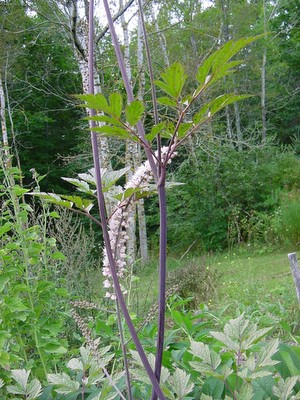 Around the same time that I was photographing this, I noted a label:
Cimicifuga Ramosa "Atropurpurea" Bugbane.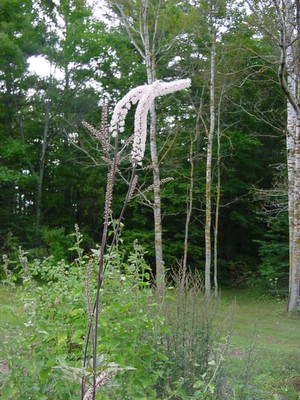 ANSWER

: Yes, it is Bugbane. It's a perennial. More information can be found at the Cornell website::
---
I could use your help identifying these flowers.
If you know what any of them are, please let me know and I can add the information.
Thanks.
Leslie
e-mail
Pictures of our Maine vacation
begin here
.
Pictures of Merryspring Nature park are
here
.