There are seven pictures on this page.

If they don't all come in, please

e-mail

.

Thank you.

BABYSITTING FOR THE GRANDKIDS



Peri's parents had to go to a wedding. Frankie's parents had to go to a pig-roast. Someone had to watch the kids. It's a hard job, but someone has to do it.

Grandpa took the kids to play in the nearby cemetery while I got dinner ready for them. When it was ready, I walked over. Peri saw me and came running up. I was quite flattered by the attention, but she only wanted to tell me,


"Frakkie spwashed me. He got me wet in the mud puddow."


Note the mud.

Later she told me she was wearing her new dress.

Frankie came running up. "You gotta see this," he said.

What I "gotta see" was the mud puddle,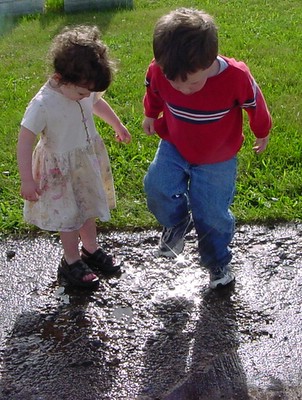 so that I could watch how they could stomp in it and splash and how they could "frow" stones in the water.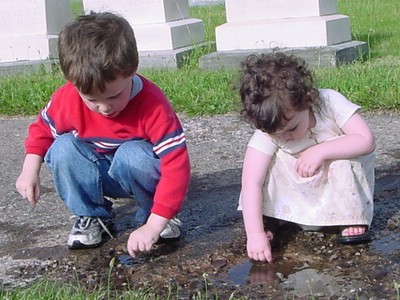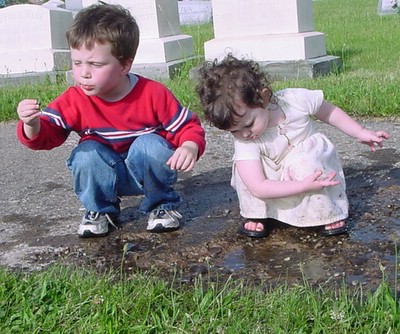 .


Peri found a special little white stone.
"It's a star rock," she told me.
"No," said Frankie, "it's a chicken bone rock."
(Peri's mother later explained - they sang a song that goes

"Chicka-boom, chicka-boom, chicka-boom, boom, boom."
The kids understood it as "chicken-bone".)

Frankie shows Peri another wonderful thing.
Then it was time to go in to eat.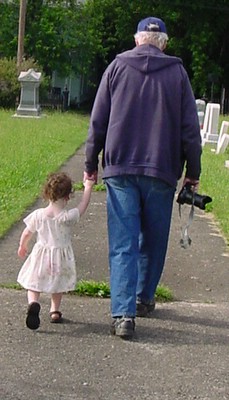 .
Krappa read from the dinosaur book.
I wish I had a tape recorder as he explained that the brachiosaurus was the size of a house and two cans of tuna fish. (and that's the only one I remember.) And the kids were repeating "allosaurus" and "tyrannosaurus rex", and doing quite a good job. But Grandpa doesn't have much experience reading upside down or sideways, and one of the huge names he told them was named "Charlie", which they dutifully repeated - "Charlie".
We had a great day!

e-mail Grandpa here.

Here's a link to all the rest of the grandkids' pages.
Other recent pages include our trip to Skaneateles.

Published 6/19/05
Photos by Leslie or David

Send comments, please. We love to hear from folks.