Austin College A reader of the WebPage asked a question of me about Bissell College that used to be in Effingham and what was the story about it. I had always heard of the college and read about it from time to time but never thought much beyond that, until I started searching my source material and what I thought I knew and what I really knew were very different indeed!

First and foremost Austin College was not a part of the Illinois College of Photography (I.C.O.P) at the beginning although the former building would later be bought by the I.C.O.P and the man who founded it was a Mr. Louis H. Bissell. He also was one of Austin College's promoters and founders as well. Are you as confused as I was yet? Well let's see if we can clear up some of the confusion about some of Effingham's forgotten past.

According to early records:

"On a sunny afternoon of 1889 four men met on the old wooden bridge which spans the classic stream of "Stink Run" on Church Street in Effingham. In discussing the future of their city it was suggested tat a college is the greatest moral, intellectual and financial enterprise that any town can secure. Why could not Effingham have a college?"1

The four men on the bridge were Prof. W. H. Diets, Dr. J. B. Walker, Pres. L. H. Bissell and Mr. Phil Crooker. Mr. R. B. Truesdale and Mr. George M. LeCrone joined them later and all of them began in earnest in securing an interest in the college for Effingham. An organization was formed to incorporate the college under the name of the Effingham Collegiate Institute and Conservatory of Music on the 4th of January 1890. They formed a commission whose members were as follows: Edward Austin, Alfred Bliss, S. G. Barbee, L. H. Bissell and Phil. E. Crooker. These in turn after the incorporation formed a board of directors which was composed of the following: Rev, Alfred Bliss, Pres.; Edward Austin, vice Pres.; S. G. Barbee, J. B. Walker, L.H. Bissell, Phil. E. Crooker, S. F. Gilmore, E. N. Rinehart and A. W. LeCrone and it was they that built and equipped the building and hired the faculty. Its opening day was July 6, 1891

There was a severe finical panic in 1893 and it seemed that the newly founded college would fail. However, prominent Effingham lawyer Henry B. Kepley organized a movement that saved the college. Appealing to friends and alumni of the school they were able to raise twenty thousand dollars in one week and saved the college from failing. A new charter was obtained and a new board was elected which included the Austin Brothers Calvin and Edward in whose honor the college was renamed. They had three fully equipped laboratories, biological, physical and chemical; a reference library of four thousand volumes; full lines of maps and charts, a large geological cabinet; musical instruments and typewriters, astronomical and surveying instruments. The Effingham Democrat carried articles about how the room colors and wallpapers was selected by students and staff and how tasteful they were. The campus itself was situated on four acres of land which is bounded today by the streets Crawford Avenue, which was called College Avenue then on the north side, Park Street on the east side, Lawrence Avenue on the south side and Banker Street on the west side. The grounds themselves today have been bisected by allowing Clark Avenue to continue on through the old college grounds.

By 1903 the college had granted one hundred fifty Bachelors' Degrees and fifteen higher degrees, and more than three hundred diplomas were granted in other courses. In addition forty state teachers' certificates were conferred up to that date. An article from 1903 states that three thousand young men and women had received either their full or part time education at Austin College and the annual income of the students educated at Austin College was estimated to be about two million dollars. In reading early newspaper articles it seems that Austin College seemed to put its stamp upon the learned members of the community. There were rhetorical societies, symposiums, lyceums and what not occurring on a regular basis. The articles were always wishing that the college could secure an endowment of some kind for its financial health seemed to be worrisome. By June of 1903 things had became too difficult for Austin College to continue and so the grounds and buildings were sold to the Christian Churches of Illinois and they continued until 1905. After their two-year tenure W. L. Bissell bought the building and grounds and it became a part of the Illinois College of Photography. It would remain a part of the Illinois College of photography until the Great Depression when it would close its doors for good in 1931. The Austin College building would stand until 1937 when a fire destroyed it. After Bissell purchased the Austin College building the local residents referred to the College as Bissell College instead of its formal name the Illinois College of Photography. At the present time I am not aware of a list of graduates of Austin College and the newspaper accounts of the time period are sketchy at best. Also once in awhile a catalog of classes that were available to students comes up on the market but alas they are too pricey for me.

As Austin College would become a part of the Illinois College of Photography I plan to do a follow up article on it as well. I am looking at source material that might very well change what we local folks think we know about it as well.
Fiftieth Anniversary Souvenir of Effingham Illinois 1853-1903, The Effingham Democrat, Effingham, Illinois, May, 1903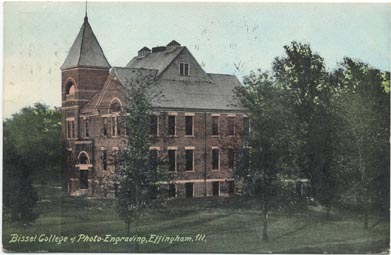 Austin College Building in 1907 after it was renamed Bissel College of Photo Engraving.