People Power
Objective: To calculate power generated by humans.<![if !vml]>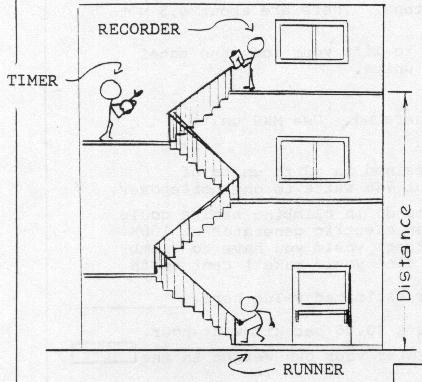 <![endif]>
Equipment: stopwatch, stairs

Important: If you have a medical condition that prevents you from climbing stairs, notify your instructor prior to performing the lab.

Methods:




1.  Record your mass in kilograms.




2.  The vertical height of the stairs from the basement to the second floor landing is 7.0 meters.




3.  Climb the stairs safely with a stopwatch, recording your ascent time to the nearest 0.1 second.

Analysis:




1.  Calculate your weight.




2.  Determine the work you did against gravity (i.e., vertically) during the climb.




3.  Calculate your power in watts, then convert to horsepower (1 hp = 746 watts).




4.  Using your calculated power, determine the vertical component of your velocity up the stairs. (P=Fv)




5.  How long would a 60 watt bulb have to burn to produce the energy you used climbing the stairs?




6.  Assuming 100% of your energy can be converted to electrical power, and electricity costs $0.10 for one kilowatt-hour, how high should you climb to make one penny's worth of electricity?  Show all work & units.




7.  If one food Calorie (equals 1000 chemistry calories) equals 4184 J, how far up could you go on one cream-filled Oreo cookie containing 50 Calories?
---
Back to the Brockport High School Science Department