Al Stewart at The Point, Bryn Mawr, Pa - Nov 17, 2002

What a great place to see a fine performer! Not far from the family home in Philadelphia, The Point provides a very intimate setting for artists to play.
---
We have been fans of Al Stewart since the mid 70's when his music first came to be played here. His epic ballad Nostradamus is undoubtedly my favorite; however The Year Of The Cat is perhaps his best known. Well it happened that on a weekend my brother Billy and his daughter Brianna were in from Denver visiting that Al Stewart was also putting on a couple of shows. Looking for something to do, Mom, Billy, Bree, other brother John along with his wife Fran, purchased the remaining tickets for the afternoon presentation. Their luck continued as they managed to snag seats at the edge of the stage.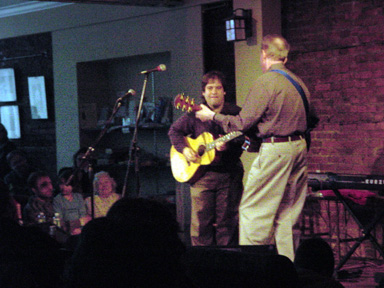 Bill, Brianna and Mom watching Al performing her favorite song Carol, he was accompanied throughout by Dave Nachmanoff.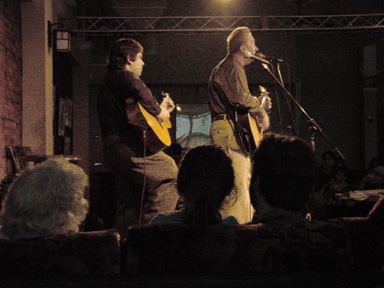 They tell me Al and Dave put on a great show, the songs sounding as good as ever; sure sorry I missed this event.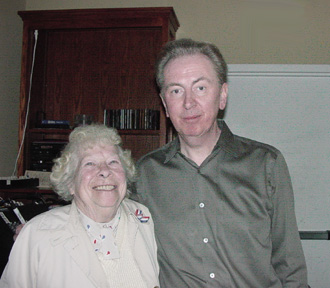 Long time fan Isabel Mahoney looking very pleased as her picture is taken with acclaimed British folk rocker Al Stewart.

Don't let that rock-star-smitten-groupie-grin fool you though, Mom is a veteran concertgoer! Her live music experiences began long before her children started bringing her to concerts and has fond memories of seeing Benny Goodman, Gene Krupa, and The Andrews Sisters among others.

Over the last dozen years or so....

Daughter Margo has delightfully kept her two-stepping along as together they have seen The Mavericks, Marty Stewart, Mary Chapin Carpenter, Joe Diffie and Neal McCoy , one of her favorites. They even put their cowboy boots away for one night to attend a Billy Joel concert. Her sons have tried to provide entertainment as well, with John and Fran she saw renowned Canadian artist Garnet Rogers and the talented Philadelphia musician Caryn Lin. Billy took her and our father to see Sammy Davis Jr in Atlantic City in the early 90's; and on a visit to Rochester I brought them to an East End Fest showing of the Rype Band.

Many thanks to our Mom for passing along to us her love for music.

Return to Family or Home Page