About Jazzercise
Jazzercise, created by Judi Sheppard Missett, is the world's leading dance-fitness program with more than 6,000 instructors teaching 20,000 classes weekly in the U.S. and around the globe. Since 1969, millions of people of all ages and fitness levels have reaped the benefits of this comprehensive program, designed to enhance cardiovascular endurance, strength, and flexibility.
Since 1992, Dalia Oliver, Certified Jazzercise Instructor, has worked in the Webster area to develop her own Jazzercise business. Oliver invites the Webster and surrounding communities to Join her program to Jazzercise your way to a new you.
Welcome to Jazzercise of Webster

Please enjoy the video to the right. It will start automatically in a moment. Please be patient.

Length: 1:06 Minutes
Classes are now held at our new dedicated facility in the Webster Woods plaza at the Southwest corner of Five Mile Line Road and Ridge Road in Webster. Each class lasts 60 minutes and includes a gentle warm-up, aerobic activity, floor routines for toning and strengthening, and a stretch/cool down period. We are a dance-based fitness program, and we incorporate Pilates technique, Yoga stretches and kickboxing moves in a very fun and friendly environment. The instructor faces the class and is elevated so everyone can see each move. There is no memorization of routines and each class is follow the leader style, enabling you to begin anytime. In addition to cardiovascular fitness, Jazzercise focuses on coordination, balance, flexibility, posture and muscle tone. We aim to improve TOTAL fitness through a gradual process of body conditioning. Jazzercise combines no-impact, low-impact and impact movements. You pick the movement BEST for you!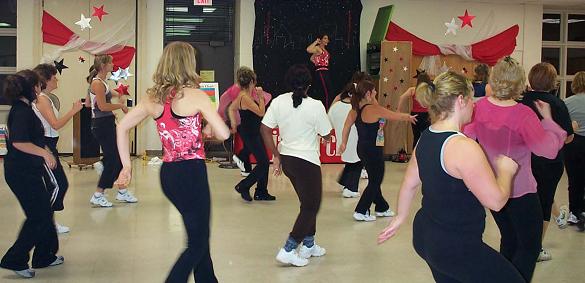 Our Mission: What We Do
We teach Jazzercise, an effective fitness programs that enhance the well-being of people of all ages.
Our Philosophy: What We Believe
We believe fitness is an important aspect of well-being and enhances the overall quality of people's lives; therefore, Jazzercise is committed to helping people understand and value the importance of health and fitness.
Our Vision: We Strive To
Educate: Inform the public about the physical and emotional benefits of Jazzercise.
Understand: Embrace customer information that will enable us to anticipate and deliver on customers' needs.
Innovate: Expand our product and service offerings with creative and effective fitness solutions.
Inspire: Draw upon our passion and enthusiasm to motivate others to maintain a healthy lifestyle.
Affect: Make a difference in the lives of the people we touch on a daily basis.
About Jazzercise of Webster
Jazzercise of Webster is a Franchised Jazzercise business with certified instructors and and a dedicated staff to serve you. Come join the fun in Webster.