Who's Who (and what's what)
Movers and Shakers of the Literary World

James Wood (critic)
From Wikipedia, the free encyclopedia
James Wood (born 1965 in Durham) is an English literary critic and novelist. He is Professor of the Practice of Literary Criticism at Harvard University and a literary critic at The New Yorker.
Biography
Wood was born in 1965, in Durham, England, where his father was a professor of zoology at Durham University. He was educated at Durham Chorister School, Eton College, on a music scholarship and Jesus College, Cambridge, where he read English Literature. In 1990, he was the winner of the British Press Young Journalist of the Year Award.
In August 2007, Wood became a staff writer at The New Yorker, leaving his post as a senior editor at The New Republic, which he joined in 1995. Wood was the chief literary critic of The Guardian in London, from 1992-1995. In 1994 Wood served as a judge for that year's Booker Prize for fiction; the winner was James Kelman's "How Late It Was, How Late." He is also an editor at large of The Kenyon Review. Wood's reviews and essays have appeared frequently in the New York Times, The New Yorker, the New York Review of Books, and the London Review of Books where he is a member of its editorial board.
Wood began teaching literature in a class he co-taught with the late novelist Saul Bellow at Boston University. Wood also taught at Kenyon College in Ohio, and since September 2003 he has taught half-time at Harvard University, first as a Visiting Lecturer, and then as Professor of the Practice of Literary Criticism.
He is married to Claire Messud, an American novelist. They live in Somerville, Massachusetts, with their two children.
Critical views
Like the critic Harold Bloom, Wood advocates an aesthetic approach to literature, rather than more ideologically-driven trends in academic literary criticism. In an interview with the Harvard Crimson, Wood explains that the "novel exists to be affecting...to shake us profoundly. When we're rigorous about feeling, we're honoring that." The reader, then, should approach the text as a writer, "which is [about] making aesthetic judgments."
Wood is noted for coining the genre term hysterical realism, which he uses to denote the contemporary conception of the "big, ambitious novel" that pursues vitality "at all costs." Hysterical realism describes novels that are characterized by chronic length, manic characters, frenzied action, and frequent digressions on topics secondary to the story. In response to an essay Wood wrote on the subject, author Zadie Smith described hysterical realism as a "painfully accurate term for the sort of overblown, manic prose to be found in novels like my own White Teeth…"[1]
In reviewing one of his works, Adam Begley of the Financial Times wrote that Wood "is the best literary critic of his generation," a sentiment that has also been expressed by writers and critics William H. Pritchard, Susan Sontag, Harold Bloom, Cynthia Ozick, Christopher Hitchens, and Saul Bellow. In an interview with Clive James, Martin Amis described Wood as "a marvellous critic, one of the few remaining."
In 2008, Wood was named one of the top 30 critics in the world by Intelligent Life, the lifestyle publication from The Economist[2].
In the 2004 issue of n+1, the editors criticizing both him and The New Republic said, "Poor James Wood! Now here was a talent—but an odd one, with a narrow, aesthetician's interests and idiosyncratic tastes... In the company of other critics who wrote with such seriousness, at such length, in such old-fashioned terms, he would have been less burdened with the essentially parodic character of his enterprise."[1] James Wood wrote a lengthy reply in the Fall 2005 issue explaining his conception of the "autonomous novel," to which the n+1 editors, rather than argue directly, decided to respond by devoting a large portion of the journal's next issue to a roundtable on the state of contemporary literature and criticism.
Works
Wood is the author of three books of criticism:
The Broken Estate: Essays on Literature and Belief

(Modern Library, 2000)

The Irresponsible Self: On Laughter and the Novel

(Farrar, Straus and Giroux, 2004)

How Fiction Works

(Farrar, Straus and Giroux, 2008)
He has also produced an autobiographical novel:
Wood has written introductions to:
Elizabeth Hardwick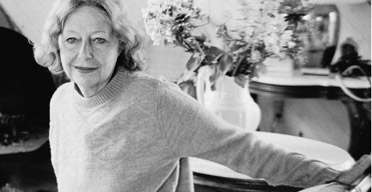 "The greatest gift is a passion for reading. It is cheap, it consoles, it distracts, it excites, it gives you knowledge of the world and experience of a wide kind. It is a moral illumination."
Elizabeth Hardwick (July 27, 1916 – December 2, 2007) was an American literary critic, novelist, and short story writer.

Hardwick was born in Lexington, Kentucky, and graduated from the University of Kentucky in 1939. She was awarded a Guggenheim Fellowship in 1947. She was the author of The Ghostly Lover (1945), The Simple Truth (1955), Seduction and Betrayal (1974), and Sleepless Nights (1979).

In 1959, Hardwick published in Harper's, "The Decline of Book Reviewing," a generally harsh and even scathing critique of book reviews published in American periodicals of the time. The 1962 New York City newspaper strike helped inspire Hardwick, Robert Lowell, Jason Epstein, Barbara Epstein, and Robert B. Silvers to establish The New York Review of Books, a publication that became as much a habit for many readers as The New York Times Book Review, which Hardwick had eviscerated in her 1959 essay.

In the '70s and early '80s, Hardwick taught writing seminars at Barnard College and Columbia University's School of the Arts, Writing Division. She gave forthright critiques of student writing and was a mentor to students she considered promising.

From 1949 to 1972 she was married to the poet Robert Lowell; their daughter is Harriet Lowell.

Wikipedia
by Melissa Turner
Margaret Anderson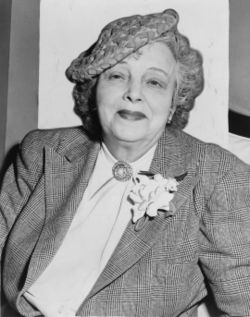 1886–1973, American author, editor, and publisher, b. Indianapolis, Ind. As editor and publisher of The Little Review (1914–29), one of the most famous of the American little magazines, she included articles on controversial subjects and pieces by such writers as Vachel Lindsay, William Butler Yeats, Ernest Hemingway, Ezra Pound, and André Breton. From 1917 to 1920, The Little Review published excerpts from James Joyce's then unpublished novel Ulysses (1922). Because of their alleged obscenity, the U.S. Post Office burned four issues of the magazine containing the excerpts; in 1920, Anderson and her associate Jane Heap were convicted of publishing obscene matter, fined $100, and fingerprinted. After 1923, Anderson lived in France.
Read about Margaret Anderson at
Malcolm Cowley
\
Read about Malcolm Cowley at Spartacus International
Harold Bloom (born July 11, 1930) is a literary critic. Bloom defended 19th-century Romantic poets at a time when their reputations stood at a low ebb, has constructed controversial theories of poetic influence, and advocates an aesthetic approach to literature against feminist, Marxist, New Historicist, post-modernist (deconstructionists and semioticians), and other methods of academic literary criticism. Bloom is currently a Sterling Professor of the Humanities at Yale University.[1]
Read more about Harold Bloom on Wikipedia
Watch an interview with Harold Bloom on Charlie Rose
A Conversation with Harold Bloom author of How To Read and Why
Click her to read about literary critic Lionel Trilling (July 4, 1905 – November 5, 1975) in the Atlantic Online
Click here to read about
Click here to read about literary critic Leslie Fiedler (March 8, 1917–January 29, 2003)
Click here for "Norman Mailer, Literary Giant" on All Things Considered -- NPR
NEW YORK MAGAZINE
The Influentials: Books
Nicole Aragi
Agent, Aragi, Inc.
Andrew Wylie has the deep, distinguished list, Morton Janklow has the money, and William Morris and ICM agents do the big deals. But Aragi turns talented young writers into literary stars. Working more like the great editors of bygone days, Aragi, 44, discovers only one author or two a year—but what authors they are: Junot Díaz, Jonathan Safran Foer, Edwidge Danticat, Colson Whitehead. She's done more to introduce us to this past decade's greatest young ethnic writers than any editor or publisher. (A stated goal is to have a client win a Nobel Prize.) All aspiring novelists dream of a healthy six-figure advance, a lot of buzz, and maybe an excerpt in The New Yorker. If they can get Aragi, they're on the way.
Sessalee Hensley
Fiction buyer, Barnes & Noble
Editors like to attribute the surprise success of books like The Lovely Bones and The Historian to "word of mouth," but the word that matters most is Hensley's. She can banish a new title to the bottom shelf, showcase it in the window, or, like Bones or Historian, promote it through the chain's sales-boosting Discover |Great New Writers program. (She also gets credit for touting a certain erstwhile mid-list writer named Dan Brown.) Backed by CEO Leonard Riggio's virtual monopoly on bookstores, she even has the power to change covers. "She's right up there with Oprah," says Sara Nelson, editor-in-chief of Publishers Weekly.
Steve Rubin
Publisher, Doubleday/Broadway
The momentum in New York's most important publishing house isn't coming from the charismatic Sonny Mehta (old news) or the free-spending Ann Godoff (moved to Penguin). Instead, Random House's considerable power now lies with Rubin, the expansionist publisher of the Doubleday/Broadway imprint. He has used the riches amassed from The Da Vinci Code (and A Million Little Pieces) to keep the business growing in a downsizing era. In the biggest publishing shake-up of 2005, he grabbed Cindy Spiegel and Julie Grau, the founding editors of the prestige Penguin imprint Riverhead. They'll publish 30 books a year—some commercial, some highly literary. As one insider put it, "Lock up your editors."
Steve Ross
Publisher, Crown Forum
If Hillary gets Swift-Boated, Ross may well be responsible. The editor's three-year-old conservative imprint, Crown Forum, will publish two anti-Hillary books in the next six months alone, including John Podhoretz's Can She Be Stopped? Ross, 47, started Crown Forum by pillaging the scrappy right-wing publisher Regnery, poaching its top editor and many of its best writers. To the largely apolitical Ross, it just made business sense. With his first title, Ann Coulter's best-selling Treason, he established Crown as the leading player in the conservative-book boomlet, once considered a minor-league game. Other big houses have followed (Penguin's Sentinel and Mary Matalin's Threshold at Simon & Schuster), but they've got some catching up to do.
Jane Friedman
CEO, HarperCollins
Pushing an antique industry into the digital age. While other publishers fight Google over the text it puts online, she's busy digitizing her company's 25,000 titles, to bypass the search-engine altogether and drive readers to her site instead. Rather than giving up on specialized titles in favor of mass sellers, she's using the Web to target niche audiences with pinpoint precision. She's not above self-promotion, but you tend to believe the hype because she already knows how to defy grim expectations, having made HarperCollins one of the business's most profitable houses year after year.
Malcolm Gladwell
Author, The Tipping Point, Blink
He's 42 and his name has already become an adjective. The New Yorker's one-man Department of Big Ideas has done more than reinvent the genre of the management book: He's changed the way people think about the obvious. In a desert of Seven CEO Strategies I Learned From Fishing books, The Tipping Point (which has sold about a million copies) vaulted the gaping divide between the world of ideas and the world of how-tos. A couple of years and many $40,000 lecture payments later, his follow-up, Blink, sold just as well, alongside a growing number of Gladwell-inspired, pop-thinking books, including Freakonomics.
Jonathan Lethem
Author, Motherless Brooklyn, Fortress of Solitude
Brooklyn writers crop up like weeds these days, but no one is as deeply rooted to the borough as Lethem. A few years back, when "literary" was synonymous with "domestic," Lethem's fiction, like that of many Brooklynites after him, roughed up the careful polish of M.F.A. grads with the exuberance of the autodidact. His forays into sci-fi, fantasy, noir, and comics popularized the idea that a genre book could be literature. His work has meanwhile circled back to the once-downtrodden block he grew up on. Now that Heath and Michelle have moved there (Dean Street, to be exact), the writer who rediscovered Brooklyn as a creative muse is at the center of the boom.
Gertrude Stein (1874-1946)
American writer, an eccentric whose Paris home was a salon for the Cubist and experimental artist and writers, among them Pablo Picasso, Henri Matisse, Georges Braque, Juan Gris, F. Scott Fitzgerald, Sherwood Anderson and Ernest Hemingway. Stein, a brilliant conversationalist, became a legend with her Roman senator haircut and verbal facility. Against all odds, she survived the persecution of sexual minorities and Jews during the German occupation of France in World War II.
"Most of us balk at her soporific rigmaroles, her echolaliac incantations, her half-witted-sounding catalogues on numbers; most of us read her less and less. Yet, remembering especially her early work, we are still always aware of her presence in the background of contemporary literature - and we picture her as the great pyramidal Buddha of Jo Davidson's statue of her, eternally and placidly ruminating the gradual developments of the process of being, registering the vibrations of a psychological country like some august human seismograph whose charts we haven't the training to read." (Edmund Wilson in Axel's Castle, 1931)
Gertrude Stein was born in Allegheny, Pennsylvania, of educated German-Jewish immigrants. Her father, Daniel Stein, was a traction-company executive, who had become wealthy through his investments in street railroads and real estate. His business took the family for four years to Vienna and Paris, when Stein was a child. In 1879 the family returned to America. With her parents, she made subsequently several cultural trips to Europe. After the death of her mother and father, Stein and two of her siblings lived with her mother's family in Baltimore.
In 1893 Stein entered Harvard Annex (now Radcliffe College) in Cambridge. She studied psychology under William James (1842-1910) and experimented with automatic writing under his direction. James also visited Stein in Paris in 1908. After studies at Johns Hopkins medical school, Gertrude Stein moved to Paris without taking the M.D. degree. She lived there from 1903 with her brother Leo, and from 1914 with her life companion, Alice B. Toklas, an accomplished cook for the salon's guests at the 27 Rue de Fleurus flat, near Luxembourg Gardens. Her salon attracted intellectuals and artists to discuss new ideas in art and politics. In the atmosphere of creative energy, Stein wanted to produce modern literary version of the new art. In addition, she and her brother started to collect early works by such contemporary painters as Matisse and Picasso, who later described her as his only woman friend. Picasso met her first time at an informal art gallery established by Clovis Sagot, a former clown. He also painted a portrait of Stein in a brownish-gray monochrome. "Masculine, in her voice, in all her walk," described Picasso's lover Fernande Bellevallée her. "Fat, short, massive, beautiful head, strong, with noble features, accentuated regular, intelligent eyes."
Stein's first novel, Q.E.D. (1903), remained unpublished until after her death-perhaps because of its intimate, lesbian nature. As a writer Stein made her debut with THREE LIVES (1909), clearly influenced by the Jameses, novelist Henry and psychologist William. Stein's book was based on a reworking of a late Flaubert text called Trois Contes. Stein also tried to connect theories of Cubism to literature, as in the essay COMPOSITION AS EXPLANATION (1926), which was based on her lectures at Cambridge and Oxford. After differences emerged between the Cubists and the post-Impressionists, Stein sided with the former while her brother Leo championed the latter. Leo, who was left on the shadow of his sister, once bursted: "She's basically stupid and I'm basically intelligent." In her book about Picasso (1938) Stein recalled that in 1909 the artist showed her some photographs of a Spanish village to demonstrate how Cubist in reality they appeared. According to Stein, Picasso's paintings, such as 'Horta de Ebro' and 'Maison sur la colline' were almost exactly like the photographs.
Her modernist literary style Stein lauched with THE MAKING OF AMERICANS, a family history and history of whole humanity. It was written between 1906 and 1908 but not published until 1925. Stein tried to translate in it Cubism's abstraction and disruption of perspective into a prose form and present an object or an experience from every angle simultaneously. The effect was reinforced by minimal use of punctuation-"... if writing should go on what had colons and semi-colons to do with it, what had commas to do with it" ('from 'Poetry and Grammar', in Lectures in America, 1935). As a result, her sentences grew longer and longer. Automatic writing, a technique favored by the Dadaists and Surrealists, also inspired her.
From the United States Stein's friend Mabel Dodge wrote in 1912 with enthusiasm about the Armory Show, calling it "the most important public event that has ever come off since the signing of the Declaration of Independence". The show opened in February 1913 and presented to the American public modern, revolutionary art from post-Impressionism to Cubism and Matisse. One of its most notorious exhibits was Marcel Duchamp's Nude Descending a Staircase. Dodge's article, which compared Stein's writing to Picasso's Cubism, appeared in the magazine Art and Decoration. Although Stein met Dodge only a few times, their correspondence lasted over 20 years.
The poetry collection TENDER BUTTONS (1914) was a series of still live studies, such as 'A Chair', 'A Box', 'Roastbeef', 'End of Summer' and 'Apple'. Each of these is characterized by unexpected phrases. Her aim was to search ways to name things, "that would not invent names, but mean names without naming them." Thus 'Apple' reads "Apple plum, carpet steak, seed clam, coloured wine, calm seen, cold cream, best shake, potato and no gold work with pet, a green seen is called bake and change sweet is bready, a little piece please."
When England declared war on Germany, Stein was visiting the philosopher Alfred North Whitehead in England, with her lover Toklas. After a brief trip to Majorca in 1915, they returned to Paris, joining the American Fund For French Wounded. She and Toklas received the French government's Medaille de la Reconnaissance Française in 1922. After the war Paris became a city of "the lost generation" as Stein would describe them, and replaced Vienna as the cultural center of avant-garde art, music and literature.
'Miss Furr and Miss Skeene', originally published in GEOGRAPHY AND PLAYS (1922), told of two women who live together. Within deliberately limited lexicon, Stein played with the meaning of the word "gay", but its underground meaning became more widely known when Vanity Fair reprinted the story in 1923.
In 1934 Stein travelled to New York. Her opera, FOUR SAINTS IN THREE ACTS, music composed by Virgil Thomson, had become a huge success with an all-black cast. The procection was co-ordinated by John Houseman, who later cooperated with Orson Welles. Thomson's second opera, THE MOTHER OF US ALL (1947), was also based on Stein's text. Stein toured America, taught for several weeks at the University of Chicago, became a lifelong friend of Thornton Wilder, returned to France next year. In 'Poetry and Grammar', originally one of the lectures she gave, Stein published her most famous statement: "A rose is a rose is a rose is a rose."
Toklas and Stein were both Jews, but they remained in France during World War II, living under the protection of Pétain in various country houses. "America is my country and Paris is my home town and it is as it has come to be," Stein had once said. "After all anybody is as their land and air is. Anybody is as the sky is low or high, the air heavy or clean and anybody is as there is wind or no wind there. It is that which makes them and the arts they make and the work they do and the way they eat and the way they drink and the way they learn and everything" (from 'An American and France,' 1936) In December 1944 she returned to Paris.
We cannot retrace our steps, going forward may be the
same as going backwards. We cannot retrace our steps,
retrace our steps. All my long life, all my long life, we do not
retrace our steps, all my long life, but.
(A silence a long silence)
(from The Mother of Us All, concluding aria)
Stein's best known work, THE AUTOBIOGRAPHY OF ALICE B. TOKLAS, is actually her own autobiography. Her later memoirs were EVERYBODY'S AUTOBIOGRAPHY (1937) and WARS I HAVE SEEN (1945). The last years of her live Stein suffered from cancer. She died on 27 July 1946 in Neuilly-sur-Seine, France. Toklas lived on until 1967. Her memoirs, What is Remembered, appeared in 1963. Although Stein's works were highly modernistic and experimental, she also had a strong influence on such popular writer as Ernest Hemingway, who combined her use of repetitive patterns with vernacular speech.
Ford Madox Ford (1873-1939)
Novelist, poet, literary critic, editor, one of the founding fathers of English Modernism. Ford published over eighty books. A frequent theme was the conflict between traditional British values and those of modern industrial society. Ford was involved with a number of women, including the novelist Jean Rhys, who described their unhappy relationship in After Leaving Mr. Mackenzie.
"But for the judging of contemporary literature the only test is one's personal taste. If you much like a new book, you must call it literature even though you find no other soul to agree with you, and if you dislike a book you must declare that it is not literature though a million voices should shout you that you are wrong. The ultimate decision will be made by Time." (from The March of Literature, 1939)
Ford Madox Ford was born Ford Madox Hueffer in Merton, Surrey. His father was an author and the music editor of The Times, his grandfather was the Pre-Raphaelite painter Ford Madox Brown, and his uncle William Michel Rossetti. Ford's literary-artistic milieu included Dante Gabriel and Christina Rossetti, Algernon Swinburne, Edward Burne-Jones, and William Morris. Partly because of family connections in Germany and France, Ford traveled on the Continent several times in his youth. He was educated at the Praetorius School at Folkstone. When his father died, the family moved to London. Ford continued his education at University College School, but he never went to college. However, he spoke fluent French and German, some Italian and Flemish, and had good knowledge of Greek and Latin. At the age of nineteen he converted to Catholicism
Ford's first book was The Brown Owl (1891), a fairy tale, which was illustrated by his grandfather. Ford was just 18 when the book was published. In 1894 Ford married Elsie Martindale. The marriage was unhappy and broke up in 1908, but Ford never divorced her. According to some sources, he had nearly twenty major relationships with women over the course of his lifetime. Ford was not especially handsome but looked very ordinary-he was fat, had a mustache and blond hair. He smoke Gauloises and had bad teeth. His memory was exceptional. He could quote long passages from classics and he once started a French translation of his work without a copy of the book or a note. Scandals around Ford-he an affair with his wife's sister-the social ostracism, ill-health, and financial anxiety led eventually to a nervous breakdown in 1904.
"Only two classes of books are of universal appeal: the very best and the very worst," Ford wrote in Joseph Conrad (1924). He had met the author in the late 1890s and collaborated with him on The Inheritors (1901) and Romance (1903). Conrad's use of mediating narrators impressed Ford deeply. Later he used the technique in The Good Soldier. The Soul of London (1905) was an experimental work, in which Ford tried to capture the spirit of the metropolis through impressionistic perceptions. Ford's first major work, the Fifth Queen trilogy, appeared in 1906-08. It was based on the life of Catherine Howard, the fifth wife of Henry VIII.
In 1908 Ford launched the English Review, which attracted such contributors as Thomas Hardy, H.G. Wells, John Galsworthy, Henry James, and Anatole France. Ford lost control of the Review in 1910, a time of crisis in his life, which was associated with his romance with the writer Violet Hunt. In the same year Ford was ordered to pay his wife funds for the support of their two daughters. When he refused he was sent to Brixton prison for eight days.
At the age of forty-two, Ford published The Good Soldier, which is generally considered his his masterpiece. The story about adultery and deceit revolves around two couples, Edward and Leonora Ashburnham, and their two American friends, John and Florence Dowell. Ford presents the story through the mind of John Dowell, who recounts the events of their life, Florence's affair with Edward, the "good soldier," and her subsequent suicide. Through Dowell's confused and perhaps unreliable narrative Ford attempts to recreate real thoughts. "You may well ask why I write. And yet my reasons are quite many. For it is not unusual in human beings who have witnessed for the the sack of a city or the falling to pieces of a people to desire to set down what they have witnessed for the benefit of unknown heirs or of generation infinitely remote; or, if you please, jut to get the sight out of their heads." (from The Good Soldier) The technique was a forerunner of such works as Samuel Beckett's Molloy (1951) and J.M. Coetzee's In the Heart of the Country (1977). The Good Soldier was also Ford's own favorite of his early books. Before writing it he had noted that he had "never really tried to put into any novel of mine all that I knew about writing."
During World War I Ford served as a lieutenant in the Welch Regiment. Ford wrote the poem 'Antwerp' which T.S. Eliot considered the only good poem he'd met with on the subject of war. During the Battle of the Somme in 1916 Ford was shell-shocked and in 1917 he was invalided home. Ford's war experiences inspired some of his poetry and propaganda pieces.
After the war Ford lived in isolation in the country for a time. He then became bored and moved with the painter Stella Bowen to France. In Paris, he founded The Transatlantic Review. Hemingway was its deputy editor. They published works by Ezra Pound, James Joyce, Gertrude Stein, e.e. cummings and Jean Rhys. In 1919 Ford changed his name from Ford Madox Hueffer to Ford Madox Ford. In 1925 his lover, Violet Hunt, was legally restrained from describing herself as Ford's wife.
His ironic view of the British society Ford expressed in No More Parades (1925), in which he stated: "No more hope, no more glory, not for the nation, not for the world I dare say, no more parades." Between the years 1924 and 1928 appeared Ford's most ambitious work, the four-volume novel Parade's End. W.H. Auden wrote that "there are not many English novels which deserve to be called great: Parade's End is one of them." The central character is Christopher Tietjens, whose struggle of a public and personal survival is pictured with impressionistic technique. Tietjens's wife is unfaithful, he is betrayed by friends, and his deepest values are threatened. In A Man Could Stand Up (1926) and Last Post (1928) Tietjens frees himself from the outdated ethical values and tries to make a separate peace with the world.
Although Ford has not been regarded as a true Imaginist poet, he participated in their anthology in 1930. However, his Impressionist ideas had inluenced Ezra Pound, a central member of the movement. The last decade of Ford's life was divided mainly between the U.S. and southern France. In later life he lived with a much younger artist, Janice Biala, an American. In 1937-38 he was visiting lecturer in literature at Olivet College in Michigan. There he began to plan his last work, The March of Literature (1939). It was written for general readers and explored what is valuable in literature, starting from ancient Egypt and China and continuing up to modern times. The first half of the book was written during the summer of 1937 in Michigan , where he stayed with his friends Allen and Caroline Tate. He then went with Janice Biala, his last consort, to Paris and after return to Michigan in April 1938, he finished the work by July. Ford died at Deauville, France, on June 26, 1939. It is generally agreed that Ford's finest literary achievements were made as a novelist, but he also was significant as an editor who discovered and promoted new writers. Ford's own literary tastes were unpredictable and far from academic. He often considered critics hopelessly pompous or pedantic. In The March of Literature he wrote that Defoe was "an utterly humdrum writer", Dostoevsky "has the aspect of greatness of an enormously enlarged but misty statue of Sophocles", and the excitement in reading Joyce comes almost "entirely from his kill in juggling words as a juggler".
For further reading: Ford Madox Ford by Richard A. Cassell (1961); Ford Madox Ford: The Essence of His Art by R.W. Lid (1964); The Limited Hero in the Novels of Ford Madox Ford by Norman Leer (1966); The Life and Work of Ford Madox Ford by F. McShane (1965); Ford Madox Ford by C.G. Hoffman (1967); The Saddest Story by A. Mizener (1971); Critical Essays on Ford Madox Ford, ed. by R.A. Cassell (1987), Ford Madox Ford by A. Judd (1990); Ford Madox Ford: A Dual Life by M. Saunders (1996); The Art of Ford Madox Ford by Kenneth Bendiner (1997); Ford Madox Ford: A Reappraisal, ed. by Robert Hampson and Tony Davenport (2001); Ford Madox Ford and the Regiment of Women: Violet Hunt, Jean Rhys, Stella Bowen, Janice Biala by Joseph J. Wiesenfarth (2005); Ford Madox Ford and the City, ed. by Sara Haslam (2006) - See also: Joseph Conrad and Ford Madox Ford: The Collaborative Texts ; The Ford Madox Ford Homepage ; Dedicatory Letter to Stella Ford
H.L. Mencken
American literary critic, humorous journalist, essayist, whose comic skepticism about human progress, expressed with penetrating style, is a continuing resource for all lovers of extravagant language.
[Henry Louis] Mencken wrote - according to some estimations - 3 000 newspaper columns. During the 15-year period following World War I Mencken set the standard for satire in his day, and his essays are still widely read.
Mencken was born in Baltimore, Maryland. He studied at the Baltimore Polytechnic Institute (1892-96), continued to study literary with a private tutor, and worked in his father's cigar factory (1896-99). From 1899, when his father died, Mencken was a reporter or editor for several Baltimore papers, among them Baltimore Morning Herald. He later joined the staff of the Baltimore Sun, for which he worked throughout most of his life. From 1916 to 1918 he worked as a war correspondent in Germany and in Russia.
From 1914 to 1923 Mencken coedited with drama critic George Jean Nathan (1882-1958) The Smart. With Nathan he cofounded Parisienne, Saucy Stories, and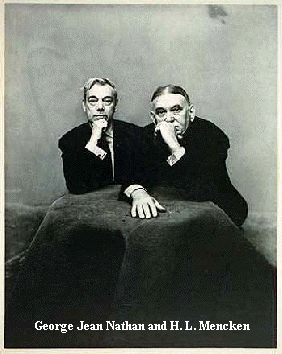 Black Mask pulp magazines in the late 1910s, and cofounded and edited American Mercury (1923-33).
In 1919 he published THE AMERICAN LANGUAGE, a quide to American expressions and idioms, which grew in the following years with each reissue and had also several supplements. From 1917 Mencken was literary adviser at Knopf publishers. From the mid-1920s his work became increasingly political, and his reputation as the scourge of public men grew to national proportions.
Mencken was one of the most influential American critics in the 1920s, and helped such newcomers as Theodore Dreiser and Sinclair Lewis. As an editor he published manuscripts by such young writers as Eugene O'Neill and Dorothy Parker, and reviewed major works of Upton Sinclair, Henry James, F. Scott Fitzgerald, whose first published story appeared in the Smart Set. He contributed to Chicago Tribune (1924-28), New York American (1934-35), and the Nation (1931-32). He was columnist in Evening Mail in New York (1917-18), and 'The Free Lance' in Sunpapers (1919-41) in Baltimore.
In his [autobiography] Newspaper Days, Mencken writes, "a newspaper reporter, in those remote days, had a grand and gaudy time of it... it was the maddest, gladdest, damnedest existence ever enjoyed by mortal youth." He abandoned books for life itself, "at large in a wicked seaport of half a million people, with a front seat at every public show, as free of the night as of the day, and getting earfuls and eyefuls of instruction in a hundred giddy arcana."
Mencken gained a reputation in the trade as a boy wonder, for he was industrious and fertile and learned all there was to learn about a newspaper in a few years. He advanced with alarming rapidity, becoming city editor and two years later managing editor of the Herald. In 1906 when the Herald ceased to exist, Mencken went to the Sunpapers as Sunday editor, became an editorial writer, and in 1911 started his column, the Free Lance, in the Evening Sun. He began another series of weekly articles in 1919 and was associated with the Sunpapers, except for one short break, until 1948.
At sixty-two Mencken had spent forty-three years as a newspaperman, forty as a writer of books, twenty-five as a reviewer, and twenty as a magazine editor. "I edited both newspapers and magazines, some of them successes and some of them not, and got a close, confidential view of the manner in which opinion is formulated and merchanted on this earth... Like any other man I have had my disasters and my miseries, and like any other author I have suffered from recurrent depressions and despairs, but taking one year with another I have had a fine time of it in this vale of sorrow, and no call to envy any man. "
Mencken suffered a cerebral thrombosis in 1948, from which he never fully recovered, and died on January 29, 1956
Copied from http://www.msu.edu/course/mc/112/1920s/Mencken/index.html
Here are other websites with further information on Mencken:
http://www.quotationspage.com/quotes/H._L._Mencken/(many quotes from Mencken on a variety of subjects)
http://www.kirjasto.sci.fi/mencken.htm (brief overview of his life and list of publications)
http://www.mencken.org/(a complete webpage on Mencken, with many resources)
http://www.io.com/~gibbonsb/mencken.html (more on Mencken)
http://www.prattlibrary.org/locations/mencken/index.aspx?id=7960&mark=mencken (complete page with various sources, essays, reviews and life overview)