! --- BODY BGCOLOR="#008000" ... Green>

The Collection of Major George Bray III
Canopy Bed, Marquis Tent And Field Desk


---
Besides being recognized as an authority on the French and Indian War, George Bray is a collector of many original historical pieces. Major Bray also owns several reproduced pieces that were built to the original specifications. Major Bray brings a good selection of his collection to events in order to share them with the public and allow visitors to get a better idea of the lifestyle of an officer of the 1750-1760 period.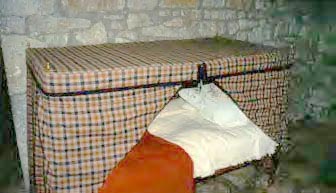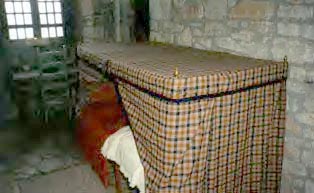 This is Major Bray's reproduction campaign bed. It is fashioned after the canopied field bed of George Washington. The bed breaks down into individual pieces and the main frame accordians closed into a very compact and portable item. Checked material was a popular choice for bed hangings in a military environment. Modern day canopy beds, particularly the bell canopy style, began as military field bedsteads in the 18th century. The acorn finials on the bed posts are brass.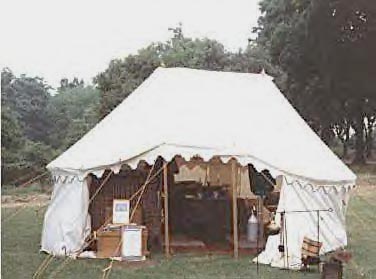 This Major Bray's marquee tent, which is typical of what an officer of the period would reside in while in the field. It is supported by two standard poles and a ridge pole, with 24 ropes around it. Two additional poles have been added to the entrance to help raise the 4' wall to facilitate moving in and out of it. Inside you will find the canopy bed to the left, the office/administration area in the center, and the dining area to the right. To light the interior in the evening, a chandalier hangs from the ridge pole, and lanterns and candlesticks are used.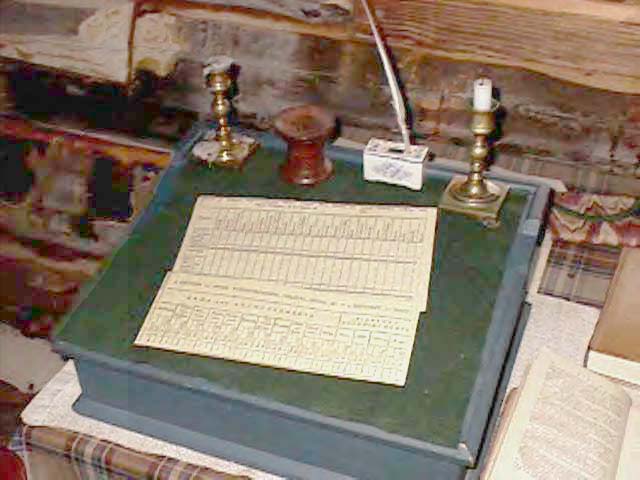 (Photo taken at Fort Stanwix, Rome, NY, 1998)
This is the Major's lap desk with ink well, quill, sander and 2 candlesticks on top. On the desk are copies of some military return forms, and the book that is open is an original of the Field Engineer.
The links on the navigation bar will take you to other pages that will show some of Major Bray's original items in his collection. Some of them he takes to the field or garrison to show to the public and better illustrate what some items of the period actually looked like.
---
This page lasted updated: 21 March 2011