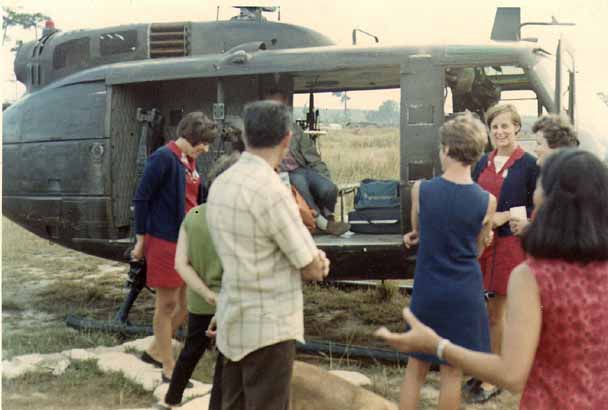 Click here for the complete story of that Christmas Day in Vietnam.
One of our favorite, though infrequent, missions was to take American Red Cross recreational workers, called "Donut Dollies" to visit troops out in the field. They normally wore light blue uniforms, but the two young ladies had blue and red uniforms, above, just for the Holiday season. While on that Christmas Day mission, we stopped at the PCI clinic at Da Mpao ( pronounced Dam Pow ) to deliver donations collected from the men of the 192nd Assault Helicopter Company on Christmas Eve.
Project Concern International, 3550 Afton Road San Diego, CA 92123 is still doing similar humanitarian work in Asia, Central America, and several US cities.
---
flewhuey@FrontierNet.net10Feb1999