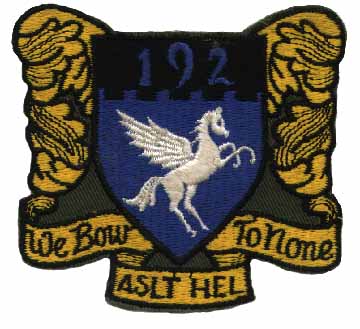 Crest of the 192nd Assault Helicopter Company
When the 192nd AHC was first deployed to Vietnam, we were assigned to support the White Horse Division of the Army of the Republic of Korea.

The radio call sign for the 192nd slicks, "Polecat" was in honor of a skunk named Waldo. Waldo was a pet of one of the men and came over on the same boat as the men and aircraft in October of 1967.

It can be assumed that Waldo was de-scented, as he had not been tossed overboard.
---
This image is available in these file sizes and file types:
flewhuey@FrontierNet.net 22Sep98