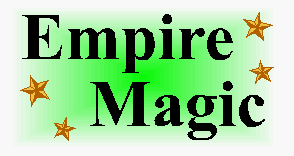 Magic Supplies for the Amateur and Professional
---
Empire Magic has moved to a new web location at . . .
Click on the new name above for a convenient link to the new site.
---
Remember to add our new home to your
"Bookmark" or "Favorites" list
---
For Inquiries ~ (585) 227-9760
Toll Free Hotline (ORDERS ONLY) ~ 1-800-859-9166
FAX Order Line ~ (585) 368-9569
---
This web site was inspired by MagicDan, our original Web Mentor.
We recommend you visit his site. It is specifically devoted to the Magical Arts.
Copyright © 2003 by Empire Magic. All Rights Reserved.