The Jammers, a 6 piece band from LeMars and Sioux City, Iowa playing the
best mix of 50's & 60's music with a bit of 70's thrown in for fun.

2018 Inductees into the Midwest All Music Association Hall of Fame



The Jammers

Gene TJ Jim
Dan Denny Bill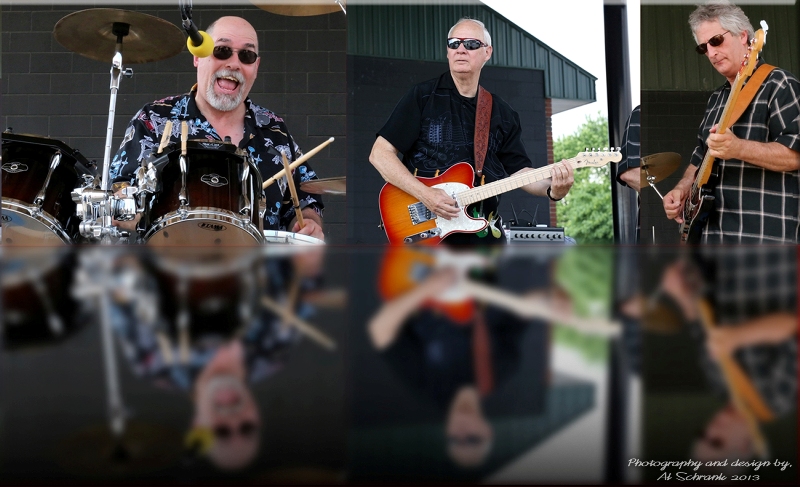 The members of the Jammers have over 300 years
experience playing in bands.


Dan & Gene started playing together in 1968 playing the local LeMars scene.
Though Gene did not play in many bands Dan went on to play in such LeMars
groups as Galaxy, Switch, Rambler, RPM and Second Avenue.
Denny is from Sioux City and started out in 1958 in The Screamers. The Screamers
later changed their name to the Flairs then the Velaires. Denny along with The Velaires
was inducted into the South Dakota Rock 'N Roll Hall of Fame on Apr 13th, 2013.
TJ started playing guitar and in 1968, he joined The Jammers in 2009. TJ brings many
years of experience to The Jammers and has been nicknamed The Sultan of Strings.
Bill is the second newest member of The Jammers joining the band in 2011.
Bill was inducted into the Iowa Rock N Roll Hall of Fame in 2005 with The Last Chapter.
Our newest member Jim Schroeder playing Keyboards & Saxophone. Jim joined
The Jammers in late 2012.
---
The Jammers are 2018 MAMA Hall of Fame inductees!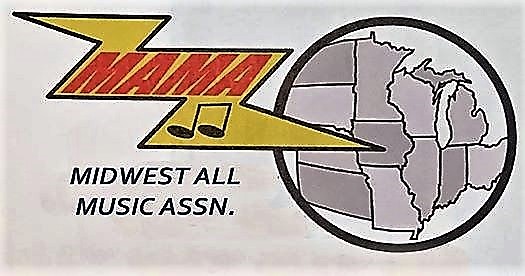 Here is a link to an article about The Jammers from the LeMars Sentinel:
Welcome to the Hall of Fame
The Jammers MAMA Hall of Fame Induction
Saturday October 13, 2018
Electric Park Ballroom - Waterloo. Ia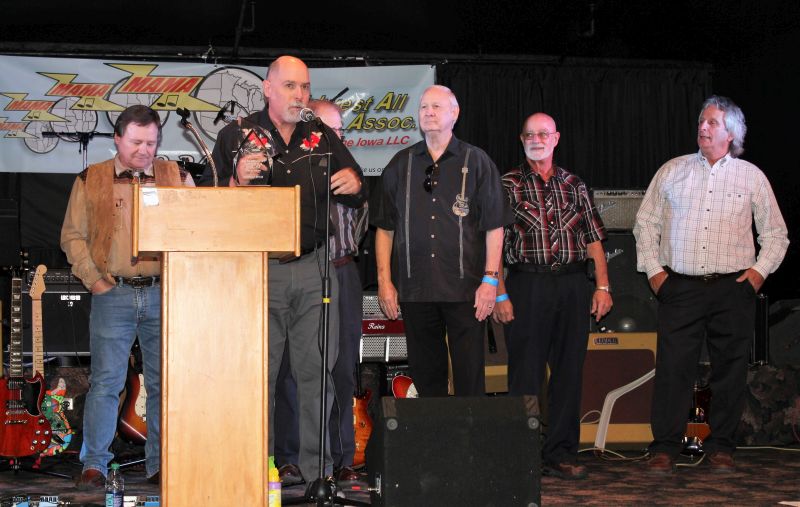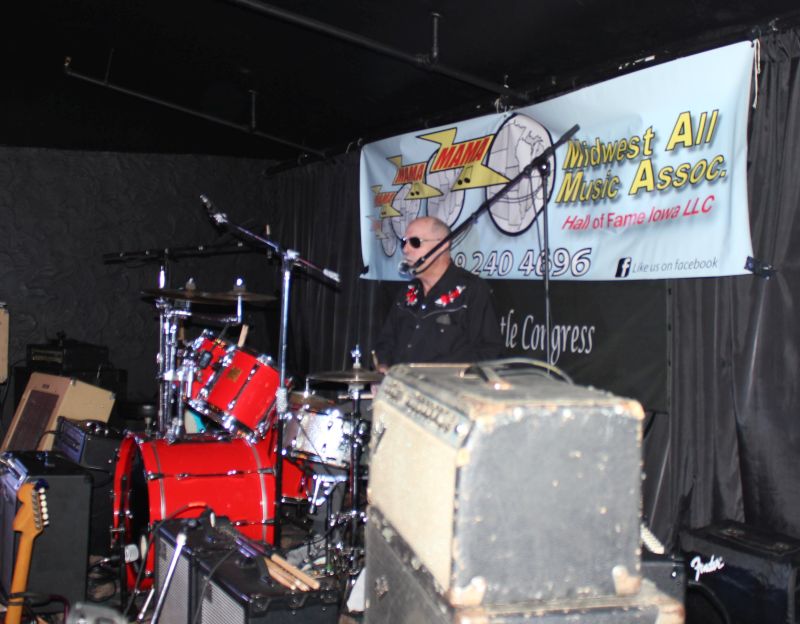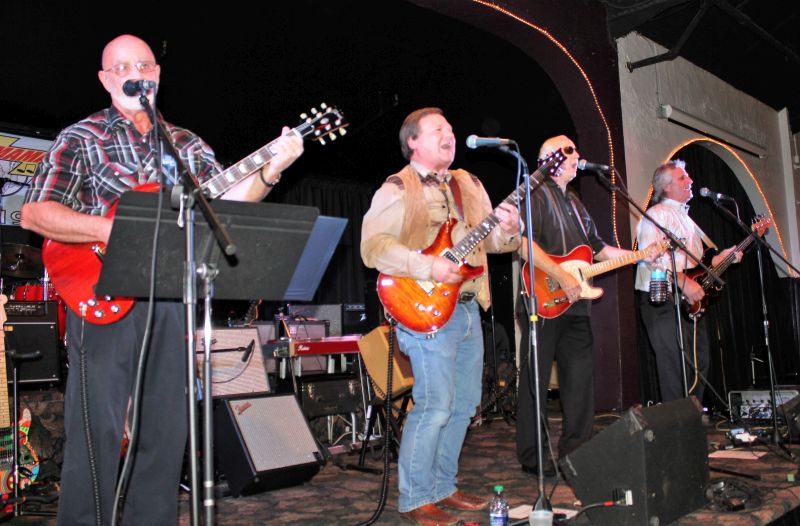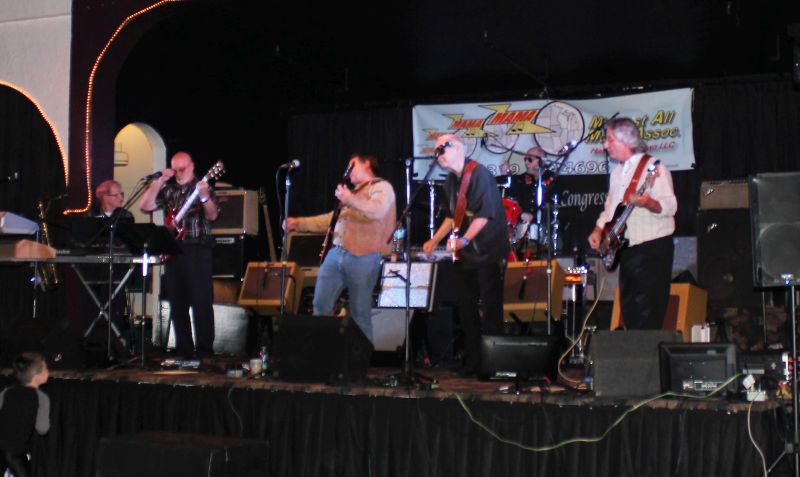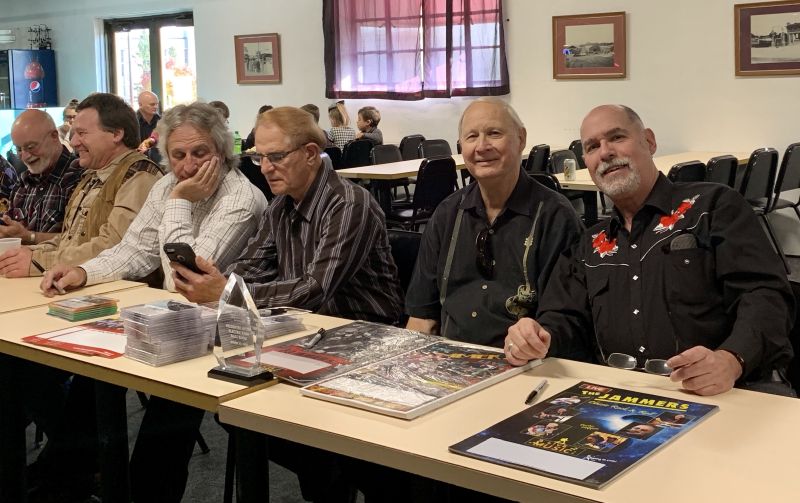 Check out our new poster HERE


The Jammers at Boji Bay Legacy Park July 2017 in
Milford, IA opening for the 1910 Fruitgum Company




To see more pictures of the Boji Bay show click HERE


The Jammers playing at the Roof Garden in Okoboji for Rock the Roof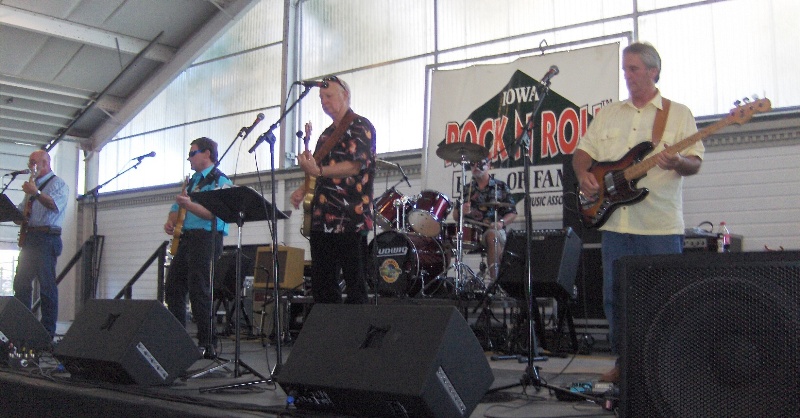 Here is another picture of the Jammers from the Roof Garden stage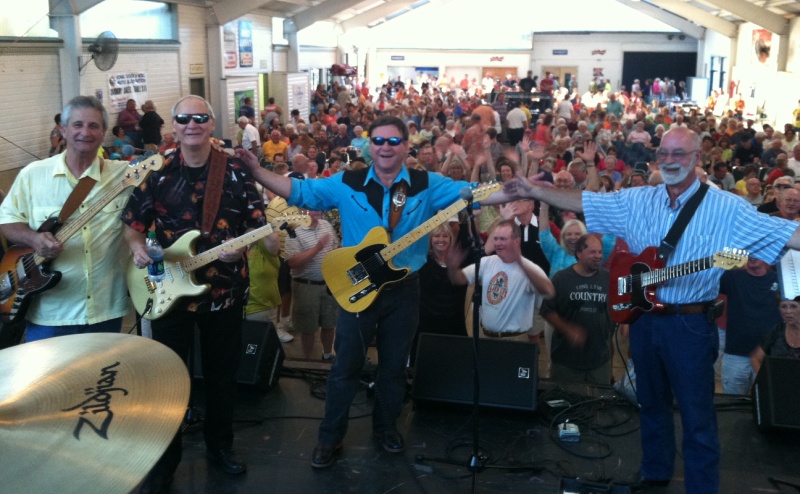 To view more photos of the Roof Garden show click
HERE

Here are The Jammers playing at the Grand Falls Casino
The Jammers playing at Ice Cream Days in LeMars, IA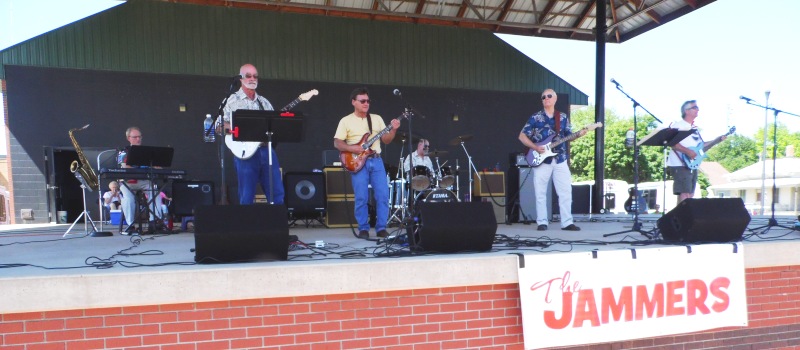 See the Jammers live

Upcoming Jammers Gigs

Monday Dec 31, 2018 - Private New Years Eve Dance - Dakota Dunes, SD - 8:30 pm - 12:30 am
Friday Jan 11, 2019 - Grand Falls Casino - Larchwood, IA 8:30 pm - 1:00 am

Saturday Jan 12, 2019 - Grand Falls Casino - Larchwood, IA 8:30 pm - 1:00 am
Saturday Jan 19, 2019 - South Sioux City, Ne Eagles Club - 8:00 - 11:30pm
Sat Feb 1, 2019 - Mahoney State Park -Private Party - Omaha Ne.

Friday June 14, 2019 - LeMars All School Reunion - Ply County Fairgrounds Pioneer Village - 7:00 - 10:00 pm
Sunday July 28, 2019 - Plymouth County Fair Pioneer Village 3:00 & 7:00 pm shows
Friday Aug 2, 2019 - Woodbury County Fair - August 2019 - 12:00 - 2:00 pm


Completed 2014-Present Gigs
Fri Jan 10, 2014 - Grand Falls Casino, Larchwood - 8:30 pm - 1:00 am

Sat Jan 11, 2014 - Grand Falls Casino, Larchwood - 8:30 pm - 1:00 am

Sat Feb 1, 2014 - Firemans Dance - Hawarden, IA - 9:00 pm - 1:00 am

Sun Mar 2, 2014 - Grand Falls Casino, Larchwood - 2:00 - 6:00 pm

Sat Mar 15, 2014 - Rhonda's Speakeasy Sioux City - 9:00 pm - 1:00 am

Sat March 29, 2014 - Eagle Ball - Bronson, IA - 8:00 - 12:00 pm

Sat April 19, 2014 - Kingsley - Wedding Dance - 9:00 pm - 1:00 am

Sat Apr 26, 2014 - Rhonda's Speakeasy Sioux City - 9:00 pm - 1:00 am

Sat May 10, 2014 - VFW Club - Sioux City - 9:00 pm - 1:00 am
Sun May 25, 2014 - Rock the Roof - Roof Garden Arnolds Park - 6:00 - 8:30 pm

Sat May 31, 2014 - Rhonda's Speakeasy Sioux City - 9:00 pm - 1:00 am

Mon June 9, 2014 - Grand Falls Casino - Larchwood, IA - 4:00 - 8:00 pm
Sat June 21, 2014 - Ice Cream Days - LeMars - 3:00 pm - 6:00 pm

Thur July 3, 2014 - Pop N Docs - Decatur, NE - 8:00 - 12:00 pm
Sat July 12, 2014 - LeMars Country Club - 8:00 - 12:00 pm

Sat Aug 2, 2014 - Hartley, Ia - All School Reunion - 8:00 - 12:00 pm

Wed August 13, 2014 - Scoop the Loop - Olson Center LeMars - 6:15 - 8:15pm

Sat Sep, 13 2014 - VFW Club - Sioux City - 9:00 pm - 1:00 am

Sat Oct 11. 2014 - Doxx Warehouse - Sioux City - 9:00 pm - 1:00 am

Thurs Nov 6, 2014 - Boji Bay Funhouse - Milford Ia - 7:00 - 9:00 pm

Sat Dec 6, 2014 - VFW Club - Sioux City - 8:00 pm - 12:00 am

Fri Jan 23, 2015 - Doxx Warehouse - Sioux City - 9:00 pm - 1:00 am

Thu Feb 12, 2015 - Blackbird Bend Casino - Onawa - 7:00 pm 12:00 pm

Sun Feb 15, 2015 - Grand Falls Casino - Larchwood - 2:00 - 6:00 pm

Sat Feb 28, 2015 - Doxx Warehouse - Sioux City - 9:00 pm - 1:00 am

Sat Apr 11, 2015 - Doxx Warehouse - Sioux City - 9:00 pm - 1:00 am

Sun Apr, 19, 2015 - Wesley United Church Camp Fundraiser - 4:00 pm
Thurs Apr 30, 2015 - Boji Bay Funhouse - Milford Ia - 7:00 - 9:00 pm

Fri May 22, 2015 - Pop N Docs - Decatur, NE - 8:00 - 12:00 pm

Fri June 5, 2015 - Doxx Warehouse Bar - Sioux City - 9:00 pm - 1:00 am

Sat June 20, 2015 - Ice Cream Days - LeMars, Ia - 3:00 pm - 6:00 pm

Thurs July 2, 2015 - Battle Creek IA - 150th Celebration - 6:30 - 10:30 pm

Fri July 3, 2015 - Pop N Docs - Decatur, NE - 8:00 - 12:00 pm

Fri July 10, 2015 - Doxx Warehouse Bar - Sioux City - 9:00 pm - 1:00 am

Sat July 25, 2015 - Valley, Ne - Wedding Dance - 8:00 pm - 12:00 pm

Sat Aug 8, 2015 - Knoepfler Show & Shine Tyson Event Center - 5:00 - 7:30 pm

Wed August 12, 2015 - Scoop the Loop - Olson Center LeMars - 6:15 - 8:15pm

Fri Aug 21, 2015 - Pop N Docs - Decatur, NE - 8:00 - 12:00 pm

Tues Sept. 22, 2015 - Leeds Elementary School - 6:30 - 7:30 pm

Sat Sept 26, 2015 - Doxx Warehouse Bar - Sioux City - 9:00 pm - 1:00 am

Sat Oct 10, 2015 - Baconfest/Habitat for Humanity - Hard Rock Battery Park 12:00 noon

Sat Nov 7, 2015 - S Sioux City Eagles 7:00 - 11:00 pm Fundraiser for
Center for Active Generations with The Embers

Fri Nov 20, 2015 - Doxx Warehouse Bar - Sioux City - 9:00 pm - 1:00 am

Sat Jan 23, 2016 - Sgt Bluff American Legion - 8:00- 11:00 pm

Fri Feb 26, 2016 - Doxx
Warehouse Bar - Sioux City - 9:00 pm - 1:00 am
Fri Mar 25, 2016 - Grand Falls Casino, Larchwood - 8:30 pm - 1:00 am

Sat Mar 26, 2016 - Grand Falls Casino, Larchwood - 8:30 pm - 1:00 am

Thurs Apr 14, 2016 - Avalon Ballroom Remsen, Ia with Spectacle - 7:00 pm
Thurs April 21, 2016 - Boji Bay Funhouse Milford, IA - 7:00 - 9:00 pm

Sat June 11, 2016 - Leeds Days - 9:00 pm 12:00 pm

Sat June 18, 2016 -
Ice Cream Days - LeMars, Ia - 3:00 pm - 6:00 pm
Fri Jun 24, 2016 - Grand Falls Casino, Larchwood - 8:30 pm - 1:00 am

Sat Jun 25, 2016 - Grand Falls Casino, Larchwood - 8:30 pm - 1:00 am
Sat July 30, 2016 - Heelen Class of '71 Reunion - Jolly Rogers - 8:00 - 11:00 pm

Sat Aug 13, 2016 - Riverside Casino - MidAmerica Music Association 8:30 - 12:00 pm
Fri Aug 26, 2016 - Private Party Dakota Dunes - 7:00 - 10:00 pm
Sat Sept 10, 2016 - Central Class 50th Reunion - SC Country Club 8:00 - 11:00 pm
Fri Sept 16, 2016 - SnS BBQ LeMars, Ia 7:00 - 11:00 pm

Sat Sept 17, 2016 - SnS BBQ LeMars, Ia 7:00 - 11:00 pm

Thurs Nov 3, 2016 - Boji Bay Fun House - Milford IA 7:00 - 9:00 pm

Fri Dec 9, 2016 - Christmas Party @ SC Country Club 7:00-10:00 pm

Sat Dec 31, 2016 - Private Party @ Sioux City Iowa

Sat Feb 4, 2017 - Heart Ball - Marina Inn South Sioux City
Sat Feb 11, 2017 - 185th Air Guard Military Ball - Marina Inn South Sioux City

Thurs Apr 20, 2017 - Boji Bay Funhouse Milford, IA 7:00 - 9:00 pm
Sat April 22, 2017 - Krause's Tap - Hinton, IA 8:00 - 12:00 pm
Sun Apr 23, 2017 - Wesley United Methodist Talent Show

May 17, 2017 - Orange City Tulip Festival - 5:30 - 7:30pm Car Show CANCELLED due to weather

Sat June 3, 2017 - Latham Park, Sioux City - 7:00- 9:00 pm

June 17, 2017 - Ice Cream Days - Olson Stage LeMars, IA 3:00 - 6:00pm
Sat July 22, 2017 - Private Party - Homer NE.
July 28, 2017 - Boji Bay Pavilion Milford, IA - with 1910 Fruitgum Company - 7:00 - 10:00pm
Fri Aug 4, 2017 - Woodbury County Fair - Moville, Ia 12:00 - 2:00 pm
Sat Aug 12, 2017 - Sioux City VFW Benefit - Details coming
Sat Aug 19, 2017 - Street Dance Hinton, IA - Krause's Tap - 8:00 - Midnight

Sat Dec 9, 2017 - Private Christmas Party - Sioux City, IA

Sunday Dec 31, 2017 New Years Eve - Krause's Tap - Hinton, IA 9:00pm - 1:00 am

Saturday Jan 6, 2018 - VFW Club - Sioux City - 9:00 pm - 1:00 am

Saturday Feb 10, 2018 - VFW Club - Sioux City, IA - 8:30 pm - 12:30 am

Saturday Mar 17, 2018 - VFW Club - Sioux City, IA - 8:30 pm - 12:30 am

Friday March 23, 2018 - Private Party - S Sioux City, NE - 8:00 - 11:00 pm

Saturday Apr 14, 2018 - VFW Club - Sioux City, IA - 8:30 pm - 12:30 am
Saturday Apr 21, 2018 - VFW Club - Sioux Falls, SD - 8:00 pm - Midnight

Monday May 28, 2018 - Memorial Day - Grand Falls Casino, Larchwood IA - 2:00 - 6:00 pm

Wed July 4, 2018 - Private Party - Dakota Dunes Country Club - 7:30 - 11:30 pm
Sat July 7, 2018 - VFW Club Sioux City, IA 8:30pm - 12:30 am

Friday Aug 3, 2018 - Woodbury Co Fair - Moville, IA - Free Stage at 1:00 pm

Saturday Oct 13, 2018 - MAMA Induction Ceremony - Electric Park Ballroom - Waterloo IA

Sat Nov 3, 2018 - Rock 4 Vets Merrill, IA Dinner and Dance - 7:00 - 11:00 pm

Saturday Dec 8, 2018 - Private Christmas Party - Sioux City, Ia

You can check out the Jammers on Youtube, just click on the link
LeMars Jammers You tube Channel
Email the Jammers
Or Contact Dan Ruden at
712-540-1572 for bookings