Woody's Backcountry Canoe Camping Site
---
One of the most enjoyable ways to camp and explore in the Backcountry is by canoe! This style of camping is gaining in popularity recently, as more people discover the magic of moving quietly through pristine waters, surrounded by gorgeous vistas and abundant wildlife.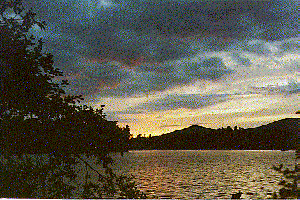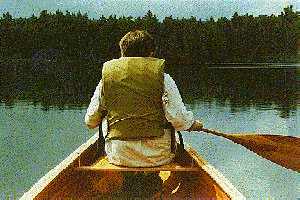 If you're already enjoying tent or backpack camping, why not take it to the next level and take your canoe along? The canoe allows you to take more or bulkier / heavier gear & supplies than usual, and it will carry it for most of the trip, allowing you to go from here to there on the path less traveled, in a more rewarding way! Children & adolescents seem to get as much fun out of canoe camping as adults do! Give them pleasant memories of "exploring" a "lost lake", witnessing a Bald Eagle catch a fish, sitting by a warm & glowing campfire as the call of a Loon welcomes nightfall, the scampering antics of a chipmunk - memories they will cherish for many, many years!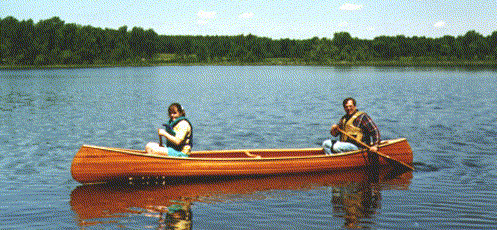 ---
Suggested Canoe To Use For Camping:
A Cedar Strip Canoe is the perfect choice for canoe camping, hunting, fishing or recreational use! "Strippers", as these canoes are called, are beautiful handmade wooden canoes which are can be altered during construction to satisfy the needs of the most particular canoeist.

I build strippers in the contemporary method (cedar strips sandwiched between inner and outer layers of clear fiberglass cloth and epoxy resin), for the serious canoe camper, angler and recreational canoeist. You may decide to build your own. E-mail me for more information.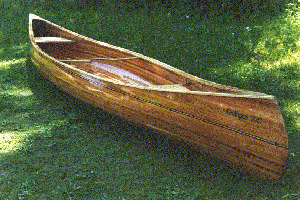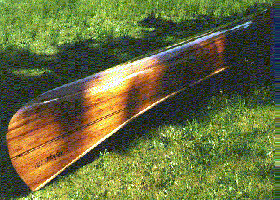 My suggested camping canoe specifications are:
18 to 20 feet long - For greater load/passenger carrying capacity and speed.
36 to 48 inches width at center - Plenty of room for the packs, gear & passengers. This nice width also helps increase the load capacity.
12 to 15 inches depth at center -With a loaded canoe, you should have enough "freeboard" (6 inches of the canoe above the water, measured at the center) for safety.
Slight to moderate "rocker" -This is the shape of the bottom of the canoe from bow (front) to stern (rear), similar to the bottom of a rocking chair. More rocker (curvature) would help the canoe turn very quickly, but this allows the canoe to turn very nicely and is easier to keep directed in a straight line of travel.
Thin, knife-like bow & stern - For a more level ride through small waves, rather than bobbing up and down (over them), like a roller coaster. This shape also allows for easier paddling!
Relatively flat bottom - The center 1/3 (length) of the canoe bottom has a slight curve side to side (shallow arch hull) for stability and compatable stowage space for packs & gear.
Curved, upswept stems - For that "classic " appearance (at the bow & stern), reminiscent of Native American canoes from the past.
A broad, deep curved yoke - Makes the "portage" or "carry" of the canoe by one person (on the trail or to the automobile) a much more comfortable experience!
A load carrying capacity of 700 to 1400 pounds! - The above specificactions will assure this!
Constructed of wood strips & epoxied fiberglass -Very few canoe construction methods & materials can come close to these for durability, sound deadening, flexibility (when hitting obstructions), temperature comfort, grace in the water and sheer beauty!
---
Camping gear I like for canoe camping: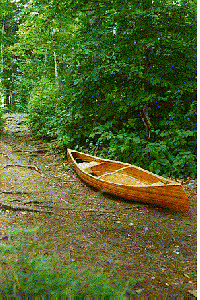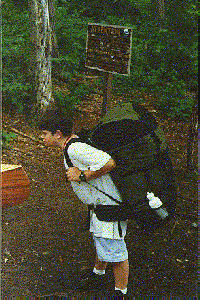 "Canoe or Tripper Pak" - CampTrails brand. A nice large waterproof fabric backpack designed for the canoe camper! It's features include: over 6000 cubic inch capacity - similar to a large "Duluth Pack"; a roll-up, then fold, then snap latch shut waterproof top seal; large top flap with adjustable cinch straps; side cinch straps for compressing the pack; large mesh panel & smaller pockets on outside of pack; broad, adjustable, padded shoulder straps and hip belt; sternum strap; internal padded frame; dark green color. Perfect for keeping all of your gear dry in the canoe and comfortable on your back while on the trail!
"Boundary 70 HD" Dry Bag - Seal-line brand. White water rafting enthusiasts are familiar with this type of pack. This will definitely keep things dry! This is a soft, PVC coated material shaped in an oval-cylinder form. The attached shoulder straps are a real advantage when you are on land. It also features the waterproof top seal like the bag mentioned above. Capacity is about 3940 cubic inches.
"Peak 1 (442 Featherwieght) Unleaded Backpack Stove" - Coleman brand. A nice one burner stove which uses Coleman Fuel, White Gasoline or Unleaded Gasoline. High heat output, small size, long burn time and infinitely adjustable flame makes this my choice for a stove.
Blaze Orange Fanny Pack - I use the largest that can be found at a sporting goods or hunting supply store. The many pockets allow for separating the First-Aid and medical supplies from the emergency survival gear, etc. The blaze orange color makes it hard to misplace and easy to find in low light levels.
9 ft. X 9 ft. Dome Tent - A 3-season tent with rain fly &"bathtub floor". This size is great for 4 persons, with plenty of room for the gear.
"2-1/2 gallon Collapsable Jug" - Coleman brand. Great for your water supply at the campsite. After filling it from the water, I hang it from a tree limb or set it on a stump. Purified drinking water,cooking and washing water is taken from this jug easily, thanks to it's built in valve / spout.
Kerosene Oil Lantern - The medium size (12" tall) with the bails around it to protect the glass (like an old "Railroad" lantern) works nice. Hanging from a line or tree branch, it casts lots of soft light. Filled with citronella scented lamp oil, it seems to keep the mosquito's visits to a minimum during the evening! I bring an extra fuel bottle with lamp oil in it for this lantern.
---
Some Fantastic Canoe Camping Places: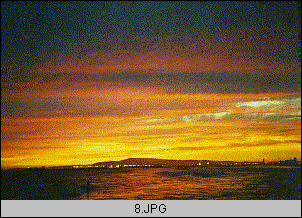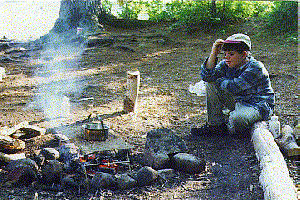 Adirondack Park (New York State, USA): Northern New York State.
Alaska's Kenai National Wildlife Refuge (USA): "The Other Boundary Waters!" Alaska's Kenai National Wildlife Refuge features: "Awesome country...huge moose...brown bears... wolves and tons of birds!" see "Some Canoe and Camping Links" below
Algonquin Provincial Park (Ontario Province, Canada): Southeastern Ontario Province. see "Some Canoe and Camping Links" below
Boundary Waters Canoe Area [BWCA] (Minnesota, USA): Northern Minnesota at Canadian border (adjacent to Quetico). see "Some Canoe and Camping Links" below
Isle Royale National Park (in Lake Superior, between USA and Canada): The highlights of Isle Royale are many moose, loons everywhere, great fishing, and very few people. The main drawback to Isle Royale is the long boat ride across Lake Superior to get to the island. (courtesy of RDZee@aol.com)
Quetico Provincial Park (Ontario Province, Canada): Southwestern Ontario Province at USA border (adjacent to BWCA). see "Some Canoe and Camping Links" below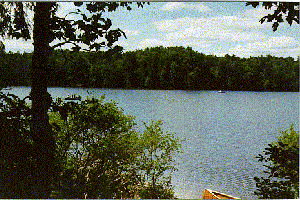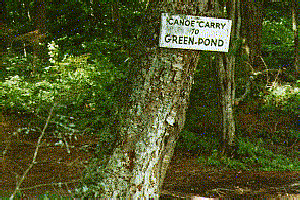 ---
Suggested Resource Books:
ADIRONDACK CANOE WATERS - NORTH FLOW, by Paul Jamieson & Donald Morris, published by The Adirondack Mountain Club
EMERGENCY MEDICAL PROCEDURES FOR THE OUTDOORS, published by Menasha Ridge Press. Complete up-to-date, how-to information in an easy to use, small paperback book. The flow chart / decision- tree format explains clear, simple, and straight- forward procedures that anyone can follow in an emergency! Written for backpackers, canoeists, climbers, hikers, hunters and fishermen.
THE AUDUBON SOCIETY FIELD GUIDE TO NORTH AMERICAN TREES, Eastern Region, by Elbert L. Little, published by Alfred A. Knopf Inc.
THE CANOER'S BIBLE, by Robert Douglas Mead, published by Doubleday. An excellent resource for the canoe camping beginner and intermediate! (I prefer the original, not the revised edition)
PETERSON FIELD GUIDES EDIBLE WILD PLANTS of Eastern & Central North America, by Lee Allen Peterson, published by Houghton Mifflin Company
WILDERNESS CANOEING & CAMPING, by Cliff Jacobson, published by E.P. Dutton (A Sunrise Book)
---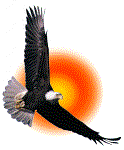 Some Canoe and Camping Links
---

Canoe & Camping Pictures
---
Thanks for stopping by Woody's Backcountry Canoe Camping Site . If you like this site, please "Bookmark" it now.
---
Questions? Comments? Suggestions?
E-Mail Woody !

canoo@juno.com

Last updated on 09/10/04. © 1997-2004 Woody