Other Special Cougars
Introduction | L-M defined models
6.5L / GT option | Dan Gurney Special option | XR7-G option | GT-E option
Sports Special option | Eliminator option | 68 R-code option | 69,70 428 CJ option | 71 429CJ option

For more information, check out the CCOA Registry Website
Throughout the Cougar years, there were many regional promotions or special cars sold through certain dealerships. Not much is known about these regional cars , but as we collect info on them, this page will grow. Here are a few examples:
From 1967 : Hollyberry Red
A very early promotion, but it's not known if this was a regional or national program.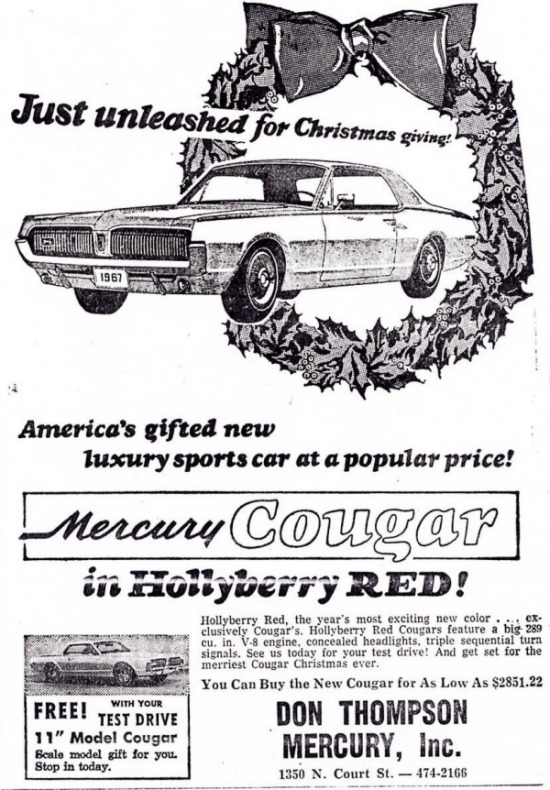 From July 1998 Mustang Monthly : Color of the Month???
For the first four months of 1968, Ford's Denver Sales District promoted certain colors on Mustangs for certain months. These colors corresponded to holidays in each month. January's color was Black Hills Gold which is believed to be for New Year's Day, Febuary and Valentine's Day claimed Passionate Pink, March with Emerald Green for St. Patrick's Day, and April's color was Eastertime Coral for odvious reasons.
These "Passionate Pink" cars are sometimes misunderstood to be Playboy Pink or Playmate Pink. It is estimated that only ten of these cars were built. On these cars, as well as other cars with "Color of the Month" colors, the paint code was left blank.
Were there any Cougars similarly painted? If anyone has any Cougar-specific Info, we'd greatly appreciate your sharing. Contact us at: registry@cougarclub.org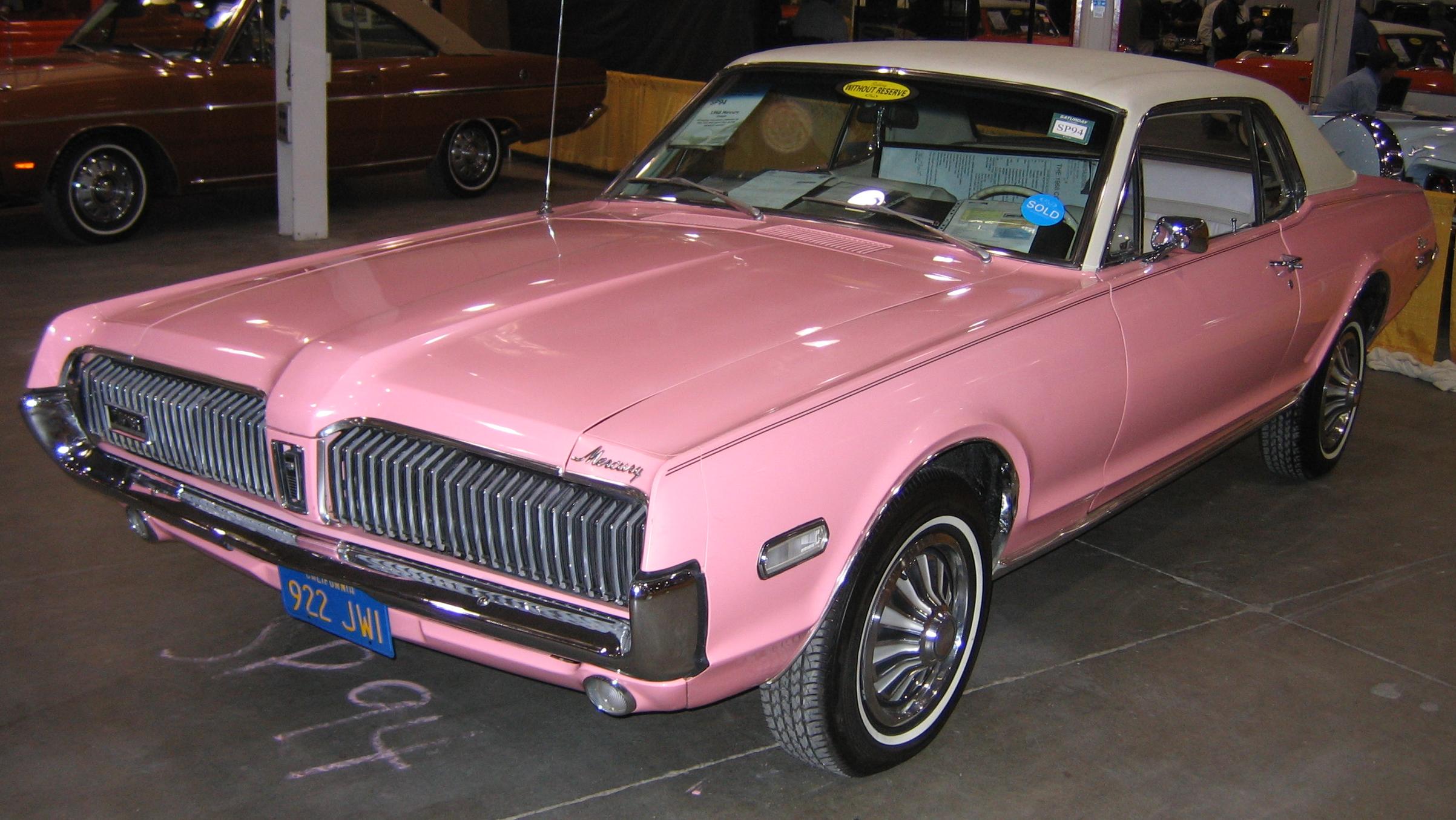 1968 Calypso Coupe
The Calypso Coupe was a regional special edition 1968 Cougar for the Kansas City and Dallas - Fort Worth, Texas areas. It featured Competition (Grabber) Orange paint, Black vinyl top and special Calypso Coupe chrome badging on the C-pillars.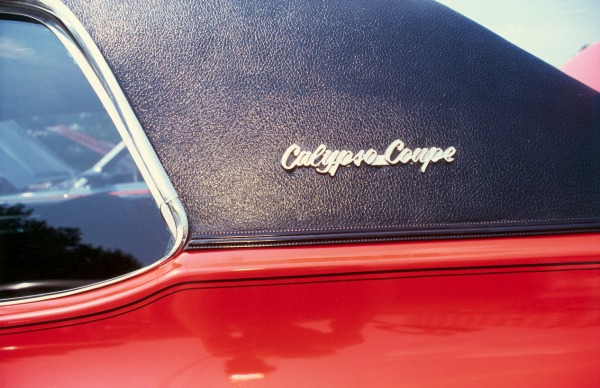 Photo courtesy of Overton Photographic

1968 Cougar 500
The 1968 Cougar 500 appears to have been a regional dealer promotion. They have Cougar script on the rear quarters followed by block 500 letters then a Cyclone style checkered flag. These cars all had white exterior color with either red or black interior. They are based on the standard Cougar. Most are R-code CJ cars: VIN 8F91R5xxxxx. Per Bill Quay, there were 54 of the Cougar 500s built, but not all were 428's. We know of the existence of one small block Cougar 500 in Tennessee: VIN 8F91C5xxxxx. They were sold in the Atlanta (DSO 21) region and the Washington, D.C. (DSO 17) region.
They were all built between May to July of 1968. We presently have one documented as White with Black Vinyl top and originally sold in the Washington, D.C. area, and the small block Cougar 500 in Tennessee. Bill has been in contact with two other people who know the whereabouts of two more of these elusive Cougars.
What may help us immensely to solve these type of mysteries is outlined in Kevin Marti's Cougars By The Numbers book. Any members who live in or around the Atlanta and D.C. areas and who frequent the Public Libraries, may want to search the newspaper archives for Lincoln-Mercury Dealer advertisements. This may shed some light on who, what and why in regard to these special Cougars.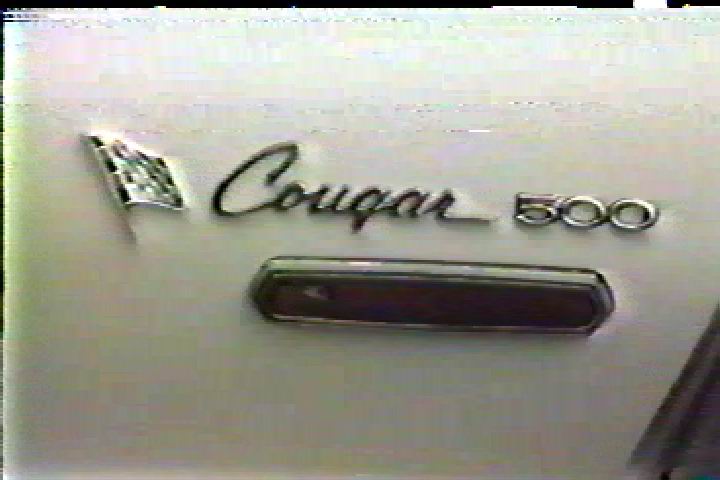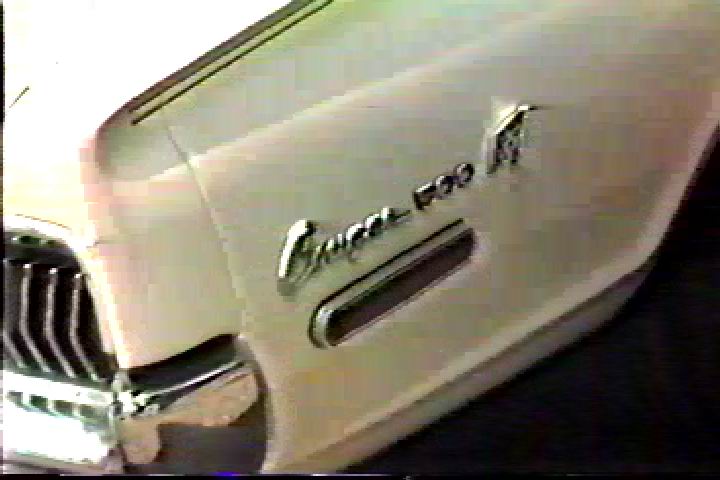 1969 Ski-Pac Special / Snow Cat
From the Denver, Colorado papers circa 1969. The "Snow Cat" shows the details the package included. Notice the 390 badge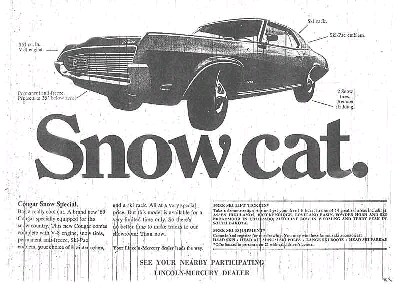 The "Ski-Pac Specials" shows the 3 cars offered in this package, including the Cougar. All known Ski-Pak specials are standard Cougars and have a blank color code and a 6-digit DSO beginning with 5151xx where the xx is different for each car.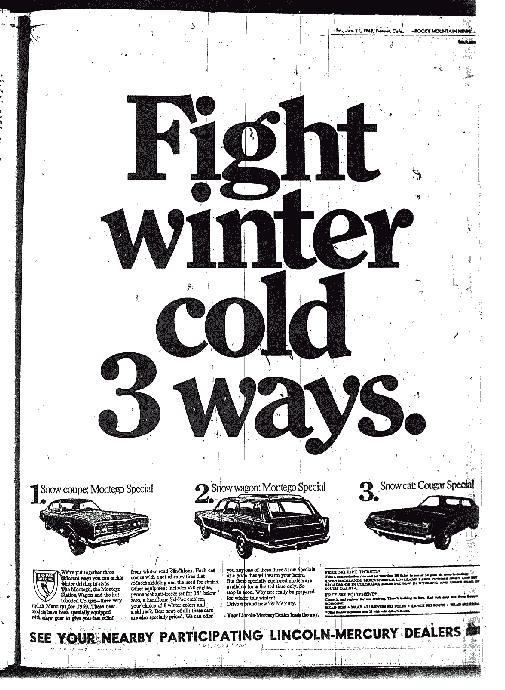 1969 Kumpf / Kenz & Leslie Special
Another 1969 special Cougar sponsored by The Kumpf Motor Company in Denver. It was a 428 car made up by a local shop called Kenz & Leslie. (They also set a land speed record using flat head V8 in a streamliner type car). Ed Leslie was the same person who drove for Team Cougar. We suppose they used Kumpf as their performance shop / supplier. They also had a '69 Cougar funny car sponsored by Kumpf and Wynns with the number 777 on the side. The dealership has since changed hands and Kenz & Leslie now sells B&G products wholesale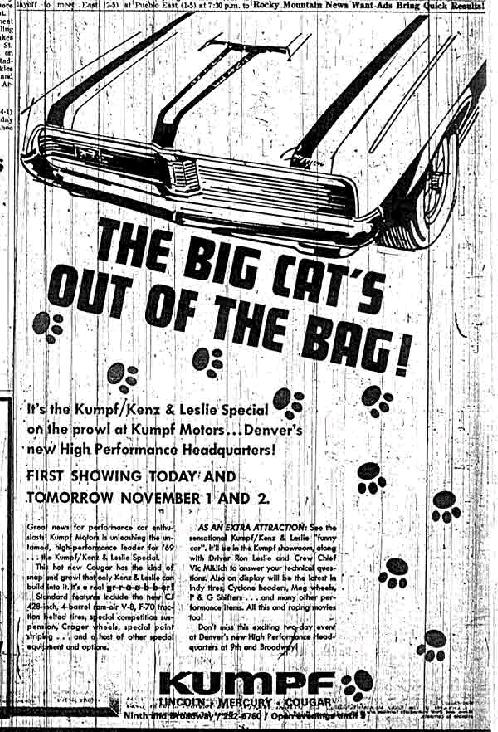 1969 Rocky Mountain Life Insurance Company Cougars
For more information, see Robert Nowland's excellent site devoted to the Rocky Mountain Life Insurance Company Cougars.

The Rocky Mountain Life Insurance Company Cougars were a package of specially prepared 1969 Cougars. There were 98 XR-7s ordered with special WT9083 paint by the Rocky Mountain Insurance Company of Calgary, Alberta Canada as a bonus for outstanding sales performance by their employees. All of these cars were sold by Universal Sales and Service of Calgary, Alberta. The cars were leased to Rocky Mountain Life Insurance Company through Hillcrest General Leasing. The color has been reported to the CCOA database as a "pinky-purple color somewhat similar to the 1970 Chrysler Pink Panther TA's". The cars were all ordered with the same options: special paint, white vinyl roof, white leather interior, bucket seats, deluxe seat & front shoulder belts, sports console, AM Stereophonic tape player, tilt away steering wheel, power steering, tinted glass all around, front power disc brakes, 351 4V Windsor, heavy duty battery, immersion block heaters, FMX transmission, door protection edge guards, front bumper guards, and wheel wire covers.
The rest of the story is that Rocky Mountain went out of business early in 1970 and the cars were recalled by the lease company and sold to the public. It is our understanding that another 12 full sized Mercurys were also built with the same paint job for the top honchos at Rocky Mountain.
Robert Nowland's Rocky Mountain Life Insurance Company Cougar is pictured below at Universal's new building in Calgary. In addition, there are 14 more documented Rocky Mountain Life Insurance Company Cougars known to the database.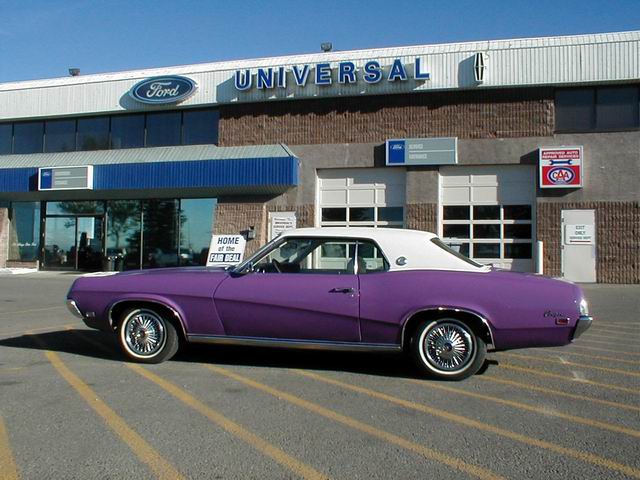 1973 Bronze Age Cougars
Here's a chance to learn about a little known 1973 marketing promotion. Similar in nature to the 1969 Sports Special package the "Bronze Age Collection" was sold nationally on more than one Mercury model.
Information appears on the car in the 3-73 Revision pages of the 73 paint and upholstery book, therefore was a spring promotion. Mercury offered Bronze Age packages on Monterey, Montego MX, Cougar, and Comet. According to the book the Cougar Bronze Age package was offered on the standard HT only.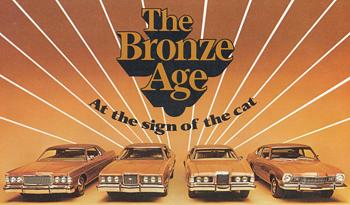 Cougar Bronze Age Features
New Laguno grain Metallic Bronze vinyl roof.
New Saddle Bronze exterior paint. Or one of the six other exterior paint colors.
New Tan seat facings and bolsters with Metallic Bronze vinyl seat inserts, and tan door trim panels. (Interior Components: Seat upholstery, door trim, headlining, floor covering, package tray, instrument panel and steering wheel are Tan.)
Decor Group including deluxe steering wheel, deluxe wheel covers, bright rocker panel molding, and higher level seat and door trim including door assist straps.
Protective bodyside molding
Front bumper horizontal rub strips.
White sidewall tires.
Available Exterior Colors
4C Ivy Glamour Met (Extra Cost)

4Q Dk Green Met

5H Med Brown Met

5M Med Copper Met

5T Saddle Bronze

6C Med Yellow Gold

9A White
A publicity photo of a Bronze Age Cougar appears in "Cougar A Source Book, edited and annotated by Thomas E Bonsall, 1967 Thru 1976" See page 118.
Introduction | L-M defined models
6.5L / GT option | Dan Gurney Special option | XR7-G option | GT-E option
Sports Special option | Eliminator option | 68 R-code option | 69,70 428 CJ option | 71 429CJ option
[ Back ]