Scenes from our Annual Meetings
First Annual Meeting January 25, 2003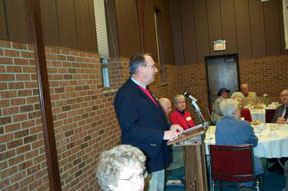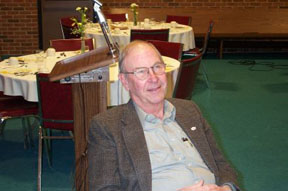 Father Steven Hall, Host, welcomed participants to St. Mark' Episcopal Church in Fort Dodge. Council President, Lee Kuhrt of Knoke led the meeting.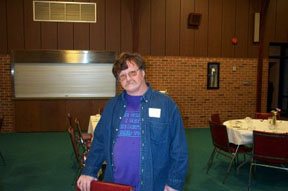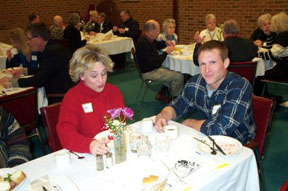 Former member at FDCF, Jeff Swearingen, was the first to arrive. Mark Haase, recently released from NCCF, brought a friend.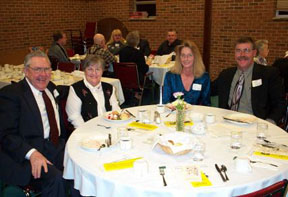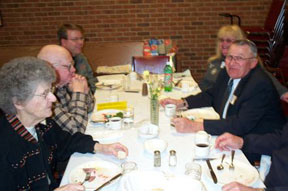 Left photo: Art Greve III, on right, former member at NCCF brought his fiancé and parents.
Right photo: faithful volunteers Fran and Andy Iverson,
former Outside Council member Michael Cormack, Outside Council Secretary Kathy Hansel and
former Outside Council member Paul Peterson shared a table and conversation.
View 2003 Annual Report
Second Annual Meeting January 24, 2004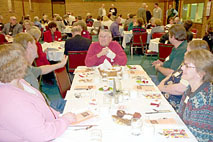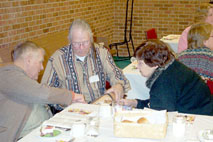 Left: There was good representation in 2004; Right: George Fox showing his leatherwork to Dr. Anneberg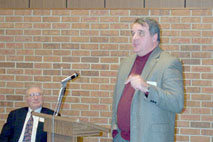 Ernie Owen, FDCF Treament Director
Third Annual Meeting January 22, 2005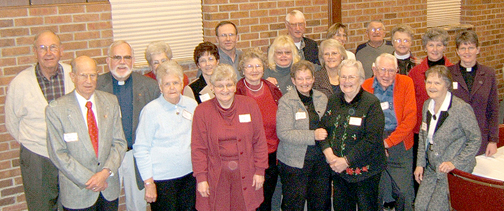 Recipients of the Governors Volunteer Award Pin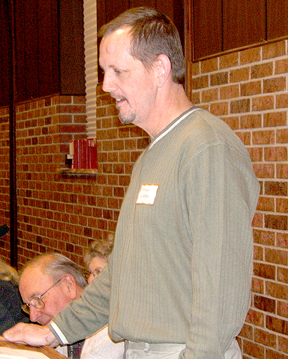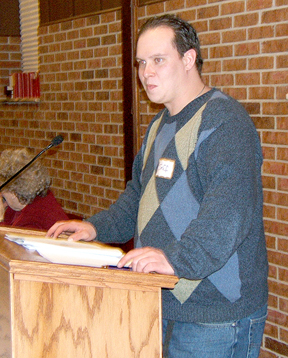 Glenn Wooten and Jeff Roberts
Fourth Annual Meeting January 22, 2006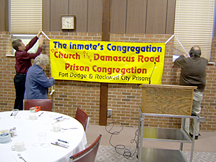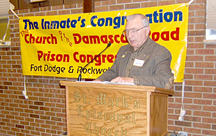 Left: Hanging the new banner ; Roght: Dick Hersom, Past President, led the meeting.

Former members: Mark Haase, Darwin VanHauen, Derek Griffith, Pastor Lang, Tom Warner, Robert L. Johnson II.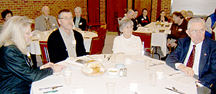 Left: Dennis and Candace Booth, Jim anf Marilyn Fevold; Right: Pam Hamilton. Art Greve III, Mary and Art Greve II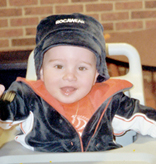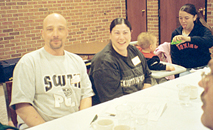 Left: Izaiah Warner, youngest attendee; Right: Tom and Regina Warner family.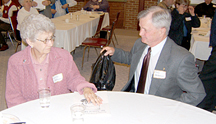 Ginny and Bub Gleason, CoDR's newest volunteers.
Fifth Annual Meeting January 28, 2007
At Our Saviour's Lutheran Church, Humboldt, Iowa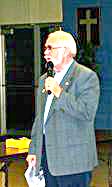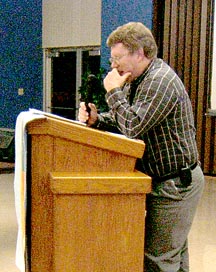 Pastor Lang and Paul Harrison speaking to the attendees.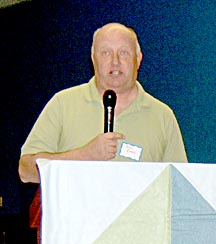 Arnie Evans, released from NCCF in 2006, living in Holstein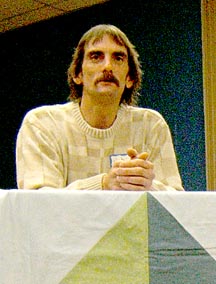 John Johnston, released from NCCF in 2006, living in Fort Dodge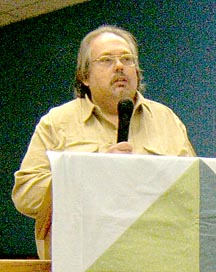 Robert L. Johnson, Prison Poet,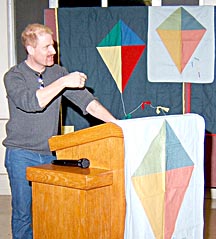 Llyd Abbey, released from NCCF in 2006, living in Spirit Lake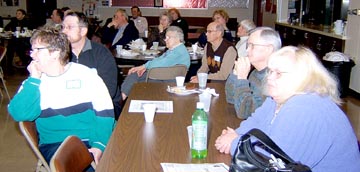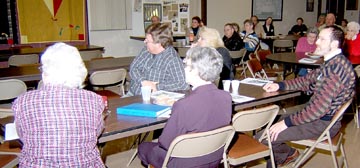 Attendees listen attentively as former members speak.

Regular visitors from Bethany Lutheran Church in Emmetsburg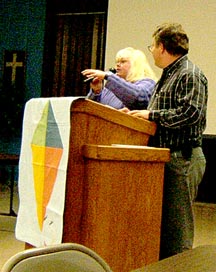 Kathy Hansel announcing the plans for a golf tournament fundraiser in Goldfield in the summer of 2007
Return to CODR Home Page

Sixth Annual Meeting 10th Anniversary November 10, 2007
St. John Lutheran Church, Pomeroy, Iowa

Many supporters and volunteers attended the celebration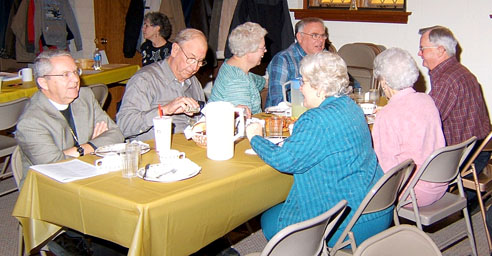 Bishop Michael Last of the Western Iowa Synod ELCA celebrated with us.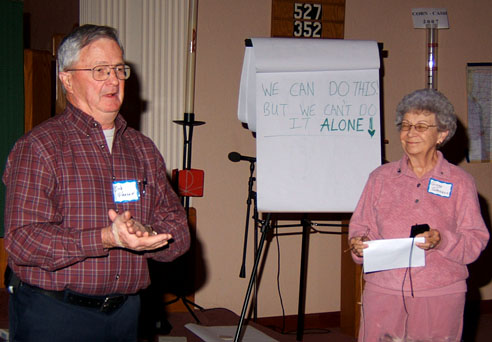 Bub and Ginny Gleason shared their experience teaching Inside/Out Dads at the prison
Paul Harrison and Arnie Evans shared how Reentry AfterCare has helped many make a successful transition back to society
See how the Bible compares with society's views on crime and punishment
Ed Nesselhuf (leather jacket), Executive Director of Prison Congregations of America helped us get started 10 years ago.
Our Kite Quilt Project is off to a good start, on the left, and on the right is our traveling display we take to churches on Sundays.

Former members with Pastor Lang
Robert L. Johnson II, Jeremiah Janes, Matt Hayes, Bill Heuton, Paul Harrison, Ray Hill, Arnie Evans, Pastor Lang, Steve Hinders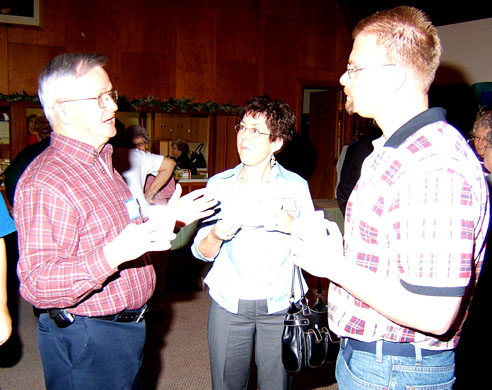 Coffee and conversation followed the Annual Meeting.
Bub Gleason, Candace Booth, and Jeremiah Janes.
View 10th Anniversary Annual Report
Seventh Annual Meeting November 9, 2008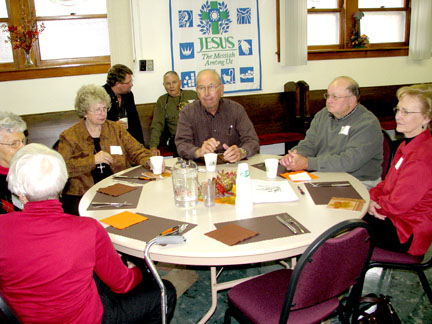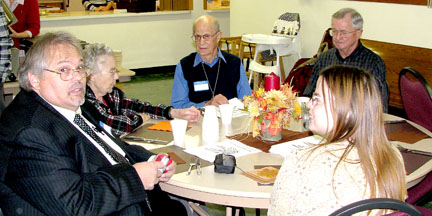 Left Table: Jean & Lee Kuhrt, Dale &Nancy Bruns; Right Table: Robert Johnson II, Cleo & Roland Swanson, Bub Gleason, Christine Johnson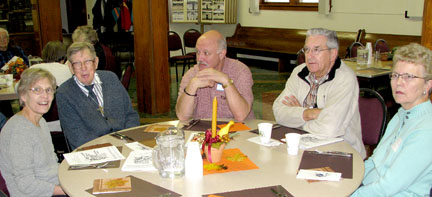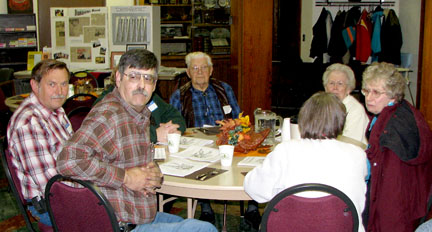 Left Table: Irene Pfannkuch, Rev. Don Wahlgren, Rev. Paul Stone, Ray & Marilyn Neilsen; Right Table: Jim Wicker, Mark Juhl, Bob & Isabelle Benjamin, Cynthia Hanks, Dorothy Zehr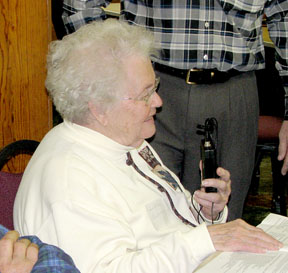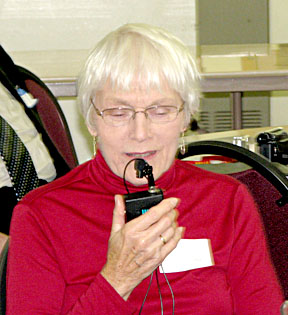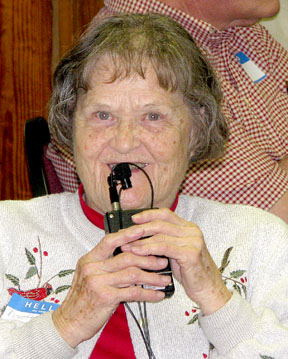 Story Teller Volunteer Coordinator, Isabelle Benjamin; Volunteer Center: Ruth Younie; Right: Dorothy Zehr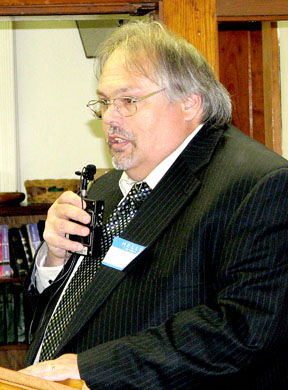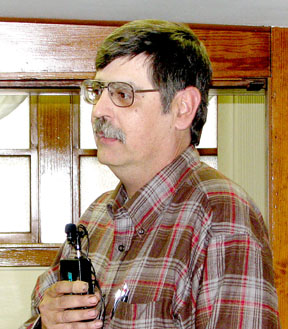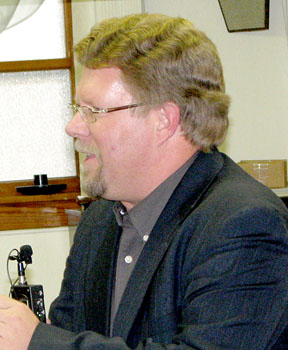 Former Members — Left: Robert Johnson II, center: Jim Wicker, Right: Paul Harrison
View 7th Annual Meeting Report