Welcome to EBBA's Website!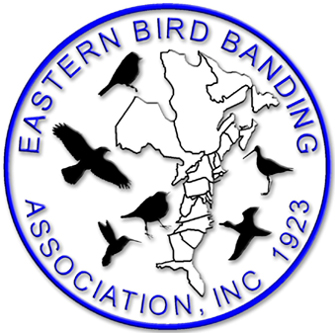 Emblem by Thomas LeBlanc
The Eastern Bird Banding Association was founded in 1923:"... to encourage investigations into the biology and migration of birds by banding.... to encourage its members and other interested persons in other ornithological studies.... to encourage the cooperation of its members in the pursuit of such purposes."
As of EBBA's 2007 annual meeting, the Association adopted the emblem above. ARTICLE III Emblem of the Association: The emblem of the Association shall be six birds in silhouette with two passerines, a hawk, a hummingbird, a shorebird, and duck in a circle with the Eastern Bird Banding Association, Inc., 1923 around the edge--displaying the outline of 17 eastern states of the United States of America (Maine, New Hampshire, Vermont, Massachusetts, Rhode Island, Connecticut, New York, New Jersey, Pennsylvania, Delaware, Maryland, West Virginia, Virginia, North Carolina, South Carolina, Georgia, and Florida) and the District of Columbia and six eastern provinces of Canada (Ontario, Quebec, Prince Edward Island, Nova Scotia, New Brunswick, Newfoundland and Labrador) symbolizing the territory of the Association.
---