Road Biking in the Whiteface Mt. Area
The routes pictured on the following maps can be biked from the Willkommen Hof B&B. For more information about other biking opportunities in the Adirondacks, please check out www.champlainbikeways.org and bert's biking blog.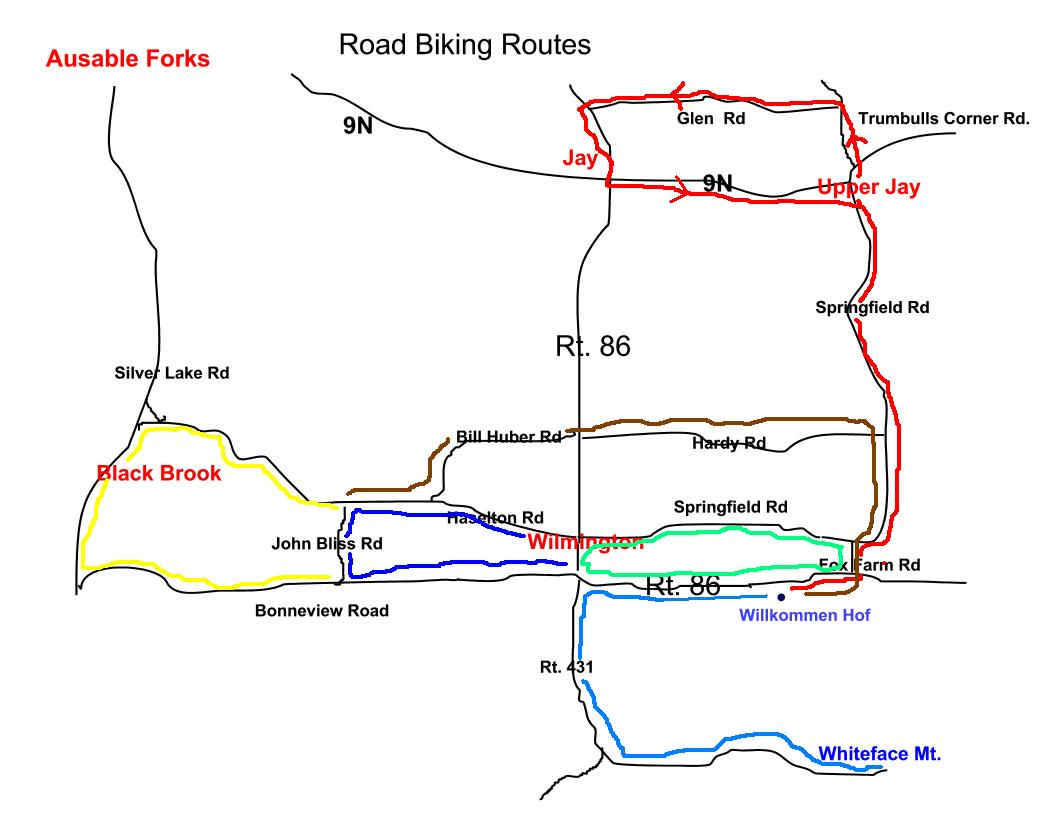 Route Descriptions

The shortest route is (
light blue

) approximately 4 miles. It is relatively easy with almost no hills. The next route-the Haselton Road Loop (

light blue

+

dark blue

) is approximately 9 miles. It is a harder loop with a few hills. The Black Brook Loop (

light blue

+

dark blue

+

yellow

) is approximately 17 miles with some hills. It is very scenic going through woods and along the river valley. Both hill loops are more difficult in one direction versus the other direction. The Hardy Rd. Loop (

brown

) adds approximately 3 miles to any of the previously described loops.
The most difficult area loop (
blue

) is the climb up the Whiteface Mt. Memorial Highway. This climb can only be done in the very early morning before the Toll road opens for business or after it closes in the evening, after 5:30 PM. The ride is approximately 18.6 miles round trip with an elevation gain of approximately 3500 ft. with an average grade of 8%. The ride back down can be very exhilarating, but also very dangerous because of the poor condition of the road.

The Upper Jay / Jay Loop (
red

) is approximately 19 or 20 miles. It is medium difficulty loop with mixed terrain including some short steep hills. The arrows define the more difficult direction. For the more physical riders, loops up to 100 miles are available upon request.
<>