| | | | | | |
| --- | --- | --- | --- | --- | --- |
| Score by Quarters | 1 | 2 | 3 | 4 | Score |
| Michigan State | 10 | 3 | 0 | 0 | 13 |
| Penn State | 0 | 7 | 7 | 3 | 17 |
Scoring Summary
1st
05:15
MSU - K. Reed 11-yard pass from Hoyer (Swenson kick)
03:19
MSU - Brett Swenson 45-yard field goal
2nd
08:40
PSU - A. Quarless 17-yard pass from Morelli (Kelly kick)
01:11
MSU - Brett Swenson 29-yard field goal
3rd
04:47
PSU - Jordan Norwood 6-yard pass from Morelli (Kelly kick)
4th
04:28
PSu - Kevin Kelly 45-yard field goal
UNIVERSITY PARK -- The season finale, in many ways, fit the season. Penn State's offense was inconsistent, mistake-prone and had trouble scoring. Its defense was stubborn, physical and aggressive. It didn't hurt that the opponent was Michigan State.
The Nittany Lions (8-4, 5-3 Big Ten) wrapped up their regular season with a hard-fought 17-13 defeat of the slumping Spartans (4-8, 1-7) before 108,607 in Beaver Stadium. It was another gritty, up-and-down performance -- one that should send Penn State to the Outback Bowl in Tampa, Fla., on New Year's Day -- from a team that has been up and down all season, often in the same game.
Twenty-three Penn State seniors, including linebacker Paul Posluszny, tailback Tony Hunt and offensive tackle Levi Brown, ran out of the Beaver Stadium tunnel for the final time.
"We wanted the seniors to go out with a win," said Lions safety Anthony Scirrotto, a sophomore. "And it's given us a little momentum going into the bowl game."
Penn State tried, on several occasions, to hand the game to the Spartans, who each time insisted on giving it right back. The Nittany Lions lost four fumbles, three in the opening quarter.
"Anytime you have four turnovers in a game, you expect to lose the game," Brown said. "But our defense played tough and kept us in it."
Stuck in a 10-0 hole, that defense dug in and withstood a flurry of Spartan passing. Quarterback Brian Hoyer, who made his first career start in place of an injured Drew Stanton, threw 61 passes Saturday, completing 30 for 291 yards and one touchdown. But the Lions punished the Spartan receivers whether they caught the ball or not. And after a missed field goal by Michigan State's Brett Swenson on the opening drive of the third quarter, the Spartans advanced into Penn State territory just once the rest of the way.
"They put up a few yards," Scirrotto said. "But they're gonna do that when they're throwing the ball that many times."
With coach Joe Paterno watching from the press box, the Lions, as they have preferred to do for most of the year, attempted to get most of their yards on the ground. Hunt carried the ball 29 times for 130 yards, half of those in the fourth quarter.
Quarterback Anthony Morelli, who completed 17 of 37 passes for 227 yards, missed receivers by several yards nearly as often as he connected with them but tossed a pair of touchdowns and did not throw an interception. But the Lions had only five drives that lasted longer than five plays.
"Offensively, we didn't do a whole lot," admitted Penn State offensive coordinator Galen Hall.
The main reason was Penn State's inability to hold onto the football.
On the Lions' second possession, Morelli was drilled by unblocked and blitzing Spartan safety Travis Key, and lost the ball in the process. Michigan State's Clifton Ryan recovered at the Penn State 11-yard line, and two plays later, Hoyer found Kerry Reed for an 11-yard touchdown pass.
On Penn State's very next play from scrimmage, the usually sure-handed Hunt put the ball on the ground after a hit from Ryan, and Key fell on it at the Penn State 44. Michigan State turned that turnover into a 45-yard Swenson field goal.
The Lions made it three in a row on the next possession. A bad exchange between Morelli and center A.Q. Shipley led to yet another fumble, and the Spartans' John Stipek grabbed it at the Michigan State 48.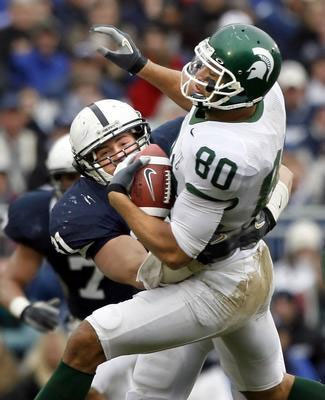 The Spartans turned the ball over on downs when Hoyer couldn't find an open receiver on 4th-and-1, and after Morelli surged across the line for a 1-yard pickup and a key fourth-down conversion of his own, the Spartans put themselves in position to put a stranglehold on the game.
Morelli was sacked for a 20-yard loss by Jonal Saint-Dic, forcing the Lions into a 4th-and-32 situation. But the Spartans roughed punter Jeremy Kapinos, which gave the Lions an automatic first down.
Morelli then connected with freshman tight end Andrew Quarless for gains of 24 and 17, the latter a touchdown pass with just under five minutes left in the half.
But on Penn State's next series, Hunt fumbled again, and the Spartans tacked on three more points when Swenson kicked a 29-yard field goal with 1:11 to play in the second quarter.
"We were very fortunate to drop the ball four times and be in the football game," Hall said.
The Lions have their defense to thank for that. Posluszny was stellar in his final home game, leading the team with eight tackles and breaking up a pair of passes. Fellow linebacker Dan Connor made seven stops, as did senior nickelback Nolan McCready, a former walk-on who saw extended action as the Spartans threw pass after pass.
Penn State took the lead on a brisk 7-play, 80-yard drive in the third, Morelli finding Derrick Williams and Hunt for gains of 23 yards apiece and Quarless for 29. Jordan Norwood grabbed a 6-yard touchdown pass with 4:47 left in the third and Kevin Kelly's extra point was all the Lions would need. Kelly would add a 45-yard field goal with 4:28 left in the fourth quarter, but Hunt and the defense took care of the rest.
"Today they never flinched," said Lions defensive coordinator Tom Bradley. "I told them when it was 14-13 (Penn State), 'If they don't score, we win.'"
The Spartans didn't, and the Lions walked away with another win that wasn't dominant, wasn't against a top team but counts as a win all the same.
"We wanted to get to a certain level," Brown said. "Whether we got there, I don't know, but we're 8-4 and looking to go 9-4."