| | | | | | |
| --- | --- | --- | --- | --- | --- |
| Score by Quarters | 1 | 2 | 3 | 4 | Score |
| Temple | 0 | 0 | 0 | 0 | 0 |
| Penn State | 21 | 10 | 10 | 6 | 47 |
Scoring Summary
1st
11:16
PSU - Tony Hunt 22-yard run (Kelly kick)
08:54
PSU - Tony Hunt 26-yard run (Kelly kick)
6:16
PSU - Derrick Williams 75-yard punt return (Kelly kick)
2nd
12:50
PSU - Kevin Kelly 19-yard field goal
00:33
PSU - Tony Hunt 11-yard run (Kelly kick)
3rd
07:18
PSU - Tony Hunt 11-yard pass from Morelli (Kelly kick)
04:19
PSU - Kevin Kelly 33-yard field goal
4th
12:15
PSU - Daryll Clark 1-yard run (Kelly kick)
UNIVERSITY PARK — His wish was that his team would, as much as possible, adhere to the routines he has worked for decades to build and maintain, the ones that had led to 360 career victories.
So much a part of that routine, though, was Joe Paterno's presence on the Penn State sideline. And Saturday, his absence was impossible to ignore.
"Joe wouldn't want us to say that we're playing for him," said wide receiver Jordan Norwood. "But he was definitely in our hearts, and we were thinking about him."
For the first time without their coach in 29 years, on a wet, miserable November afternoon, the Nittany Lions (7-4) thumped hapless Temple 47-0 before 105,950 in Beaver Stadium.
Penn State's slumping offense scored a pair of touchdowns in the game's first six minutes. The defense pitched its second shutout in three games, holding the outmatched Owls (1-10) to two first downs and 74 total yards, both Penn State defensive records in the Paterno era.
"We went out, tried to compete and we did. Things went our way, and we were very fortunate," said Lions offensive coordinator Galen Hall, who ran the team with defensive coordinator Tom Bradley in Paterno's absence. "I think we needed our confidence lifted, I think we'll have it after this week and hopefully we'll build on it for the next game against Michigan State."
Paterno suffered a broken leg and two torn ligaments in a sideline collision in last week's game at Wisconsin. He had successful surgery to repair the injuries last Sunday but remained hospitalized until Friday night.
He watched Saturday's game in his State College home, marking the first time he was not on the Penn State sideline since he missed the Syracuse game on Oct. 15, 1977 to be with his ailing son. First, Paterno addressed the squad via speakerphone. The rest of the coaching fell to his assistants.
"We're gonna go out and play 60 minutes," Bradley said he told the team during a pregame speech. "If you guys don't, then you didn't learn a darn thing from Coach Paterno and how he wants you to play."
The Lions learned enough to take control of the game quickly, something they hadn't done all season. After Tim Shaw recovered an Adam DiMichele fumble at the Temple 48-yard line, quarterback Anthony Morelli found tight end Andrew Quarless over the middle for a 29-yard gain. A terrific clearout block by fullback Matt Hahn on the next play sprung Tony Hunt for a 22-yard run to the end zone, the first of four touchdowns for the senior tailback.
On the very next series, a failed fake-punt attempt by the Owls again set up the Penn State offense in Temple territory, at the 42-yard line. Runs of 16 and 26 yards put Hunt into the end zone again.
Derrick Williams' cross-field punt return for a third touchdown covered 75 yards, prompted a Zombie Nation moment from the Penn State fans and gave the Lions a 21-0 lead with 6:16 remaining in the first quarter.
Williams dropped what would have been a 50-yard touchdown toss from Morelli (12-of-22, 159 yards, one touchdown, one interception) or the damage would have been more extensive. As it was, Penn State's 21 first-quarter points were the most it has had in the opening period since it scored 28 in the first quarter at Illinois last season. The Nittany Lions entered Saturday's game with 29 first-quarter points all season.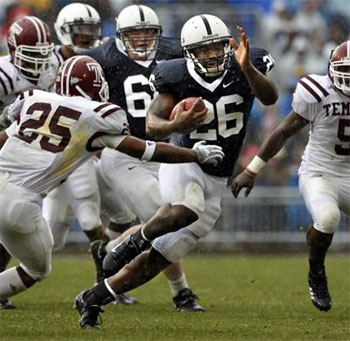 Considering the opposition, it should have come as little surprise. The Owls entered Saturday as Division I-A's worst scoring defense, allowing 40.7 points per game.
Hunt, who rumbled for 149 of his career-high 167 yards in the first half, ran through holes wide and small, busting through tackles or simply motoring around defenders.
"I think when guys really think that you're gonna run 'em over, they kind of play on their heels," said the 230-pounder. "And it's kind of easy to run around them, make a move on them."
Penn State's defense — which should also come as little surprise — was even better. Temple tailback Tim Brown picked up 21 yards on 14 carries. DiMichele, who signed a letter of intent with Penn State two years ago, completed only 7 of 17 passes for 52 yards. Dangerous return man Travis Shelton totaled 132 yards on five kickoff returns, but nothing the Owls did could get them into Penn State territory.
As the rain continued to pour down and the fans trickled into the night, Bradley and Hall replaced the first-teamers with second-teamers, then the second-teamers with third-teamers. The results weren't much different.
The Lions didn't take any more satisfaction than they should have in pounding on the Owls, who dressed just 57 players Saturday and presently have only 73 on scholarship. They felt that they way they played would have held up against most teams.
"We didn't have too many penalties today and things like that," Hunt said. "Mentally, I think we did good today. Things that didn't matter what team we were playing — jumping offsides and things like that — we did a good job on."
Penn State hosts Michigan State at noon Saturday to close out the regular season. Per the orders of team doctor Wayne Sebastianelli, Paterno won't be on the sideline. He might be in the press box, though.
Saturday, it was clear he was constantly on his players' minds. Massive left tackle Levi Brown carried a game ball into the media room. He, fellow co-captain Paul Posluszny and the team decided the game ball should go to Paterno.
Brown, who visited Paterno in the hospital this week, didn't yet realize Paterno was back at home.
"Whereever he's at," Brown said, motioning with the football, "I'm gonna take it to him."