| | | | | | |
| --- | --- | --- | --- | --- | --- |
| Score by Quarters | 1 | 2 | 3 | 4 | Score |
| Penn State | 0 | 3 | 0 | 0 | 3 |
| Wisconsin | 3 | 7 | 3 | 0 | 13 |
Scoring Summary
1st
00:01
WIS - Taylor Mehlhaff 37-yard field goal
2nd
12:17
PSU - Kevin Kelly 39-yard field goal
00:23
WIS - P. Hubbard 14-yard pass from Stocco (Mehlhaff kick)
3rd
02:42
WIS - Taylor Mehlhaff 20-yard field goal
MADISON, Wis. -- They struggled to find the right words to express their frustration, much the same way they struggled to find the big plays it would have taken to beat a fine Wisconsin team in its formidable home surroundings Saturday.
"It's real hard," said Penn State quarterback Anthony Morelli. "I don't even know what to say right now. Things don't go our way, and that's all there is to it. I don't know what to say. I'm just speechless right now. We're just having some rough times this year."
Rough patches both familiar and unforeseen haunted the Nittany Lions in Camp Randall Stadium, where they fell 13-3 to the No. 17 Badgers before a boisterous crowd of 81,777.
Penn State (6-4, 4-3 Big Ten) turned the ball over three times and totaled just 201 yards of offense, failing to capitalize on the few opportunities it had to erase a late 10-point deficit.
The Lions played the final quarter without head coach Joe Paterno, who injured his left knee in a sideline collision with a Wisconsin player and was carted off the field in the final minute of the third quarter. After the game, Paterno flew home to State College, where he was scheduled to receive an X-ray, according to team spokesman Jeff Nelson. An MRI exam is tentatively scheduled for today or Monday.
The knock on Wisconsin (9-1, 6-1) was that first-year coach Bret Bielema and the Badgers hadn't been tested by many quality opponents. Senior quarterback John Stocco, freshman tailback P.J. Hill and an aggressive Badger defense passed every test Saturday.
"Their offensive line was tough, P.J. Hill was a tough runner, all the way around I thought they were an all-around tough team, well-coached," said Penn State linebacker Sean Lee. "They came out there and tried to establish being tough."
Hill rushed for 148 yards on 31 carries, wearing down Penn State's stubborn defense in the second half. Stocco, under heavy pressure from Lion blitzes, completed 15 of 25 passes for 172 yards and the game's only touchdown -- a 14-yard strike to Paul Hubbard -- before a savage hit from Lee knocked him out of the game early in the fourth quarter.
The Badgers owned the stat sheet, out-rushing Penn State 167-36 and enjoying better than a 15-minute edge in time of possession, but couldn't translate that domination to the scoreboard. A series of plays in both the second and third quarters was the difference.
After Wisconsin's Zach Hampton recovered his own fumble of a Jeremy Kapinos punt, the Badgers drove deep into Penn State territory on the strength of four straight completions by Stocco.
On third-and-5 at the Penn State 37, Paul Posluszny stopped Travis Beckum a yard shy of the first down with his record-breaking 344th career tackle, but the Badgers went for it on 4th-and-1. Hill's carry and the officials' spot gave Wisconsin the first down by an inch, and four plays later Stocco drilled a strike to Hubbard on a slant route, putting Wisconsin up 10-3 with 23 seconds left in the half.
On the Badgers' first drive of the second half, a third-down pass from Stocco to tight end Andy Crooks was broken up by Penn State safety Donnie Johnson, who nearly intercepted the pass for what might have been six points. Instead, Ken DeBauche's punt bounced off Penn State blocker Lydell Sargeant and was recovered by Hampton at the Penn State 20-yard line. The Lions kept the Badgers out of the end zone but Taylor Mehlhaff's 19-yard field goal made it 13-3 with 2:42 left in the third.
"We had to play a little differently once they got up by 10," Penn State defensive coordinator Tom Bradley said.
For the defense, that meant trying to slow Hill, who motored his 242-pound frame for 80 yards in the second half. Penn State's struggling offense, after a 50-yard drive to open the second half, went three plays and out on four straight possessions.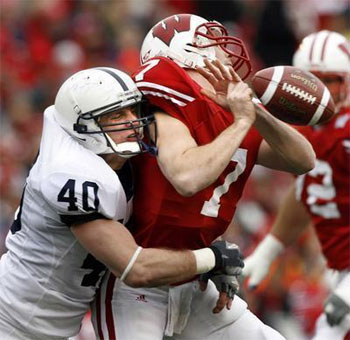 Tailback Tony Hunt, who ran for 142 yards in the previous week's win over Purdue, was taken out of the game by a stacked Wisconsin front, finishing with 35 yards on 11 carries. The Badgers, who boasted the nation's second-ranked pass defense coming in, were equally impressive against Morelli and his receivers.
"That's an awfully good defensive football team," Penn State quarterbacks coach Jay Paterno said. "We were able to do some things in the passing game, just not consistently enough. And that's kind of been how we've been; we've been able to move the ball at times, just not been able to put consistent things together back to back to back."
The Lions' red-zone struggles, a major issue all season, followed them to Madison.
Early in the second quarter, Dan Connor sacked Stocco and forced a fumble, and Lee recovered at the Wisconsin 14-yard line. On the very next play, Morelli's pass was tipped near the line of scrimmage by Joe Monty and intercepted by Roderick Rogers.
On the Lions' opening drive of the third quarter, a shovel pass from Morelli to Hunt picked up 9 yards and gave Penn State a first down at the Wisconsin 21. But a false start, an ill-fated reverse to Chris Bell and pair of incompletions -- including a catch by Derrick Williams inside the 5-yard line but just out of bounds -- forced Penn State to settle for a field goal try. Instead, Kevin Kelly tried a pooch punt, which rolled harmlessly into the end zone.
The frustration peaked with eight minutes left in the third quarter. A Morelli scramble on 3rd-and-14 set Penn State up with a 4th-and-1 at the Wisconsin 31-yard line. After a Badger timeout, the Lions pitched it to Hunt, who was stuffed in the backfield for a 4-yard loss. It was the story of the day -- if not the season -- for the Lions, wrapped up in one play.
"You've got to make a play in the clutch when it counts," Bradley said. "Today, we needed a play and we just couldn't come up with it."
Because of that, Penn State is winless in four games against ranked teams. The Badgers, who needed to look no further than last season's 35-14 loss in Beaver Stadium for fuel, were the superior team and proved it.
"We were really motivated," said Wisconsin cornerback Jack Ikegwounu. "They embarrassed us last year. I can't think of any word to describe it better. They came out and dominated us last year. We had a little chip on our shoulder coming into this game."
Penn State closes its season with home games against Temple and Michigan State. The Lions must deal with the injuries to Paterno and to right tackle John Shaw, who limped off the field late in the fourth quarter. They also hope the mental wounds haven't gone too deep.
"We're such a better team that what we're showing right now," Morelli said.