| | | | | | |
| --- | --- | --- | --- | --- | --- |
| Score by Quarters | 1 | 2 | 3 | 4 | Score |
| Penn State | 3 | 3 | 0 | 6 | 12 |
| Purdue | 0 | 0 | 0 | 0 | 0 |
Scoring Summary
1st
09:39
PSU - Kevin Kelly 29-yard field goal
2nd
00:00
PSU - Kevin Kelly 44-yard field goal
4th
12:36
PSU - Tony Hunt 2-yard run (pass failed)
WEST LAFAYETTE, Ind. -- It was bound to happen, sooner or later. No matter how hard Penn State's defense kept coming, no matter how hard the late autumn wind whipped through Ross-Ade Stadium, no matter that the game had already been decided. Purdue would eventually score, somehow, some way. Except, the Boilermakers didn't.
"We always think about a shutout," said Penn State defensive tackle Jay Alford. "But I think it came into play when it was the middle of the fourth quarter, and we knew we could get it"
On a day when they needed a win perhaps more than they ever have this season, the Nittany Lions (6-3, 4-2 Big Ten) got precisely that Saturday, stunning a crowd of 58,025 and the Boilermakers (5-4, 2-3) with a 12-0 win, marking both Penn State's first shutout in four years and the first time a Joe Tiller-coached team had ever been blanked.
"That's an unbelievable accomplishment for our defense" said linebacker Dan Connor, who led the Penn State charge with a game-high 12 tackles and added an interception. "We should have a lot of pride in that."
The defense, which held the nation's fourth-ranked passing offense to just 178 yards and the Big Ten's top total offense to 240, about 200 yards less than average, earned that pride Saturday. But it also had some help -- if it wasn't entirely evident on the scoreboard -- from its beleaguered offense.
Behind 178 total yards and a touchdown from senior tailback Tony Hunt, the Nittany Lion offense chewed up 35 minutes and 22 seconds of the clock, giving Purdue just seven possessions through the first three quarters. The Penn State defense, special teams and a persistent bluster did the rest.
"A lot of things went our way," said Penn State coach Joe Paterno, whose team is now bowl eligible for the second straight season.
Hunt's 2-yard touchdown run with 12:36 to play put the game out of reach, but it turned out all the Lions needed was the 29-yard field goal Kevin Kelly made on the game's opening drive. The Lions forced three turnovers and were fortunate enough -- despite four fumbles and several dropped would-be Purdue interceptions -- to commit just one of their own. Penn State also racked up 80 yards on nine penalties, but the defense simply wouldn't break.
"It just builds our confidence" said Penn State safety Anthony Scirrotto, who made his third interception in two weeks. "We've got a lot of momentum going right now. We're playing with a lot of intensity, and that's what you need for a successful defense."
The Lions took the opening kickoff and, into a wind that at times gusted up to 40 miles per hour, drove 74 yards in 12 plays. Derrick Williams dropped what would have been a first-down reception on 3rd-and-5 from the Purdue 12-yard line, but Kelly's 29-yarder was true.
Penn State wouldn't score again until Kelly made a 44-yard field goal as the first half expired, but Connor's interception of Curtis Painter at Penn State's 18-yard line late in the first quarter stalled one Boilermaker drive, a missed 37-yard field goal try by Chris Summers another, and a 17-play Penn State drive that covered just 46 yards (and, when Kelly missed a 50-yard attempt, earned no points) ate up nearly seven minutes of the second quarter. That drive neatly summed up Penn State's offensive approach on the day - run Hunt, control the clock and take the wind out of the game.
"Right from the first quarter, we controlled the line of scrimmage," said right tackle John Shaw. "We kept that positive attitude going into the fourth quarter and kept pounding it down their throat."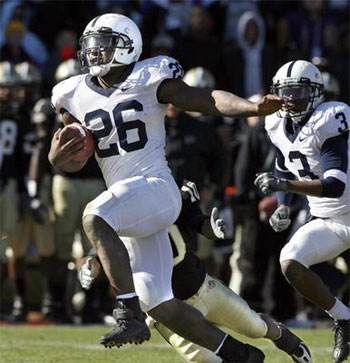 The Lions, who had rushed for minus-14 and 40 yards, respectively, in their last two games, churned out 240 against Purdue. Hunt was again the workhorse, with 142 yards on 31 carries, but Rodney Kinlaw, Williams and fullbacks BranDon Snow and Matt Hahn combined for 106 more.
Purdue tailbacks Kory Sheets and Jaycen Taylor had just seven carries apiece, and though Painter hit his average of 39 passing attempts, he completed just 22. Dorien Bryant, the Big Ten's leading receiver entering the game, had 5 yards on five catches, and the Boilermakers dropped several passes while going both with and against the wind. With a firm breeze tugging at every deep ball, Purdue shortened its routes, and the Penn State defensive backs took advantage.
"They played a lot tighter coverage than we saw on film," Painter said. "It wasn't anything we shouldn't have been able to handle, but when a team does play tight coverage, our passing windows close up a lot more quickly."
Penn State quarterback Anthony Morelli (14-of-31, 182 yards, no touchdowns or interceptions) was the victim of several early dropped passes from his own receivers and the beneficiary of several dropped interceptions by the Boilermakers.
Instead of faking the run to set up the pass, Morelli often faked a throw before sticking the ball into Hunt's midsection. He did that eight times during a 12-play, 80-yard drive that bridged the third and fourth quarters. Plunging through tacklers every time, Hunt picked up 58 of those yards, including the final two into the end zone.
Morelli overthrew Jordan Norwood on the 2-point conversion attempt, but Penn State had a two-score lead and the wind, and the defense only got hungrier.
"We did take a chance with the wind in the fourth quarter," said Penn State defensive coordinator Tom Bradley. "Joe said, 'Let's kick it so they have to go into the wind, and you guys take care of it.'"
They did. It was the Lions' first shutout since a 49-0 win on Oct. 19, 2002 against Northwestern and their first road shutout since a 31-0 blanking of Iowa on Sept. 18, 1993. Purdue was shutout for the first time since a 35-0 loss to Notre Dame on Sept. 14, 1996, the season before Tiller came to West Lafayette.
Afterward, a reporter asked Paterno why the Lions, who played so conservatively throughout, went to a hurry-up offense in the final minutes of the second quarter.
"I wanted to score," Paterno said, laughing. "That's the object of the game, isn't it?" Stopping the other guy works too.