| | | | | | |
| --- | --- | --- | --- | --- | --- |
| Score by Quarters | 1 | 2 | 3 | 4 | Score |
| Illinois | 3 | 6 | 0 | 3 | 12 |
| Penn State | 3 | 0 | 14 | 9 | 26 |
Scoring Summary
1st
11:59
PSU - Kevin Kelly 49-yard field goal
02:29
ILL - Jason Reda 41-yard field goal
2nd
12:13
ILL - Jason Reda 21-yard field goal
09:20
ILL - Jason Reda 40-yard field goal
3rd
07:33
PSU - Kevin Darling 3-yard pass from Morelli (Kelly kick)
06:36
PSU - Ton Davis 6-yard fumble recovery (Kelly kick)
4th
13:34
ILL - Jason Reda 36-yard field goal
01:20
PSU - Dan Connor Safety
01:14
PSU - Anthony Scirrotto 29-yard kickoff return (Kelly kick)
UNIVERSITY PARK -- You listened to the curt, frustrated comments from the coach. You talked to the weary, somber players. Then, you checked the score again. Did Penn State really win this game?
The Nittany Lions scored 26 points Saturday, 14 more than visiting Illinois. In the literal sense, the only one that counts in the Big Ten standings, it was a win -- Penn State's fifth of the season. Joe Paterno, his players and the announced 108,112 who watched on a cool Beaver Stadium afternoon seemed only partially convinced.
"We didn't win that game today," Paterno said. "Illinois lost it. ... Our defense kept us in the game until Illinois made a couple of mistakes. We've got a long way to go."
Penn State's defense and special teams set up or scored 23 of its 26 points on a day when the offense, despite starter Anthony Morelli back at the controls at quarterback, had trouble converting first downs, let alone establishing lengthy scoring drives.
The Nittany Lions (5-3, 3-2 Big Ten) totaled 184 yards of offense on 58 plays. On kickoff, punt, interception and fumble returns (11 plays in all), Penn State totaled 194 yards.
The Illini, who had lost 63-10 to the Nittany Lions the previous year, had 358 yards.
Was it a Penn State letdown after a hard-fought, prime-time home loss to nemesis Michigan the week before? Was it a glimpse of the future from the young but talented Fighting Illini?
Paterno had a simpler explanation. "We're just lousy, OK?" the coach said during a brief postgame session with reporters. "I don't want to get into an examination of why. We were lousy today. I've got to go home and take a look at some tapes and look at some things and evaluate some people. We were lousy. What else can I say?"
Down 9-3 at the half, Penn State regained the lead on a 3-yard touchdown toss from Morelli to seldom-used tight end Kevin Darling, set up by a clutch third-down catch from seldom-used wideout Terrell Golden.
A clipping penalty on the ensuing kickoff return pinned the Fighting Illini (2-6, 1-3) at their own 4-yard line. On third down, linebacker Paul Posluszny (a game-high 13 tackles) stripped freshman quarterback Juice Williams as he tried to escape the backfield. The ball bounced into the waiting hands of corner Tony Davis, who trotted 6 yards into the end zone and momentarily woke the slumbering Homecoming crowd.
But with just over three minutes remaining and Penn State clinging to a 17-12 lead, Williams, speedy tailback Rashard Mendenhall and the Illini had the football and a chance to pull out a game that they had dominated everywhere but on the scoreboard.
Dan Connor dragged Williams down in the end zone for a safety, though, and safety Anthony Scirrotto capped off a sensational afternoon by running back the ensuing onside kick attempt 29 yards for a touchdown.
The Lions had waited for that kind of scoring contribution from their defense. They just didn't know how much their offense would need it.
Penn State's longest drive of the afternoon was a 10-play, 42-yarder that ended when Kevin Kelly pulled a 44-yard field goal try wide right. Eight Penn State drives netted 20 yards or fewer, including five three-and-outs.
"We definitely need to tweak some things," said Morelli, who completed 18 of his 34 attempts for 144 yards, one touchdown and one interception one week after suffering a concussion against Michigan. "We're a lot better football team than we showed today."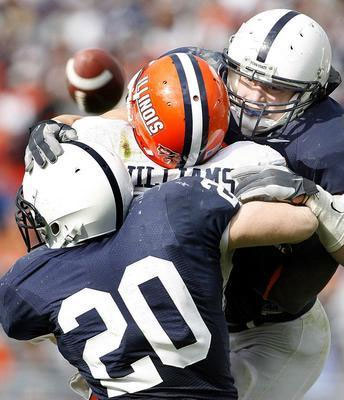 The Illini, who lost 63-10 to Penn State last year in Champaign, had dropped five of their last six games but gave the Lions plenty to handle early. The versatile Williams and tailbacks Pierre Thomas and Mendenhall pounded the edges of the Penn State defense with heavy doses of the option, racking up 202 net yards rushing.
"We weren't expecting that much option," Connor said. "They hadn't run that much option all year. It just kind of caught us off guard."
"I'm not really sure what it was," said Mendenhall, who piled up 161 yards on 14 carries. "We ran a couple of options and they were working for big gains, so we kept doing it."
On the first play of the second quarter, Mendenhall took a pitch from Williams, burst up the right sideline, broke a Scirrotto tackle and seemed destined for the end zone. Cornerback Justin King ran him down from behind at the Penn State 10, but not before Mendenhall had picked up 79 yards.
Penn State's defense held, though, and Illinois had to settle for a 40-yard field goal from Jason Reda, who also connected from 41 and 21 yards in the first half and a 36-yarder in the fourth quarter.
Illinois, which out-gained Penn State 124-12 on the ground in the first half, took the second-half kickoff and went right back to work, driving from its own 23 to its own 49 in just five plays. Then Williams, who completed 13 of 33 passes for 156 yards, lofted a pass over the middle for tight end Jeff Cumberland. Instead, Scirrotto burst in and made a leaping grab and a 30-yard return.
The Lions went three-and-out, but A.J. Wallace downed Jeremy Kapinos' 48-yard punt at the Illinois 2. The defense and an 18-yard Derrick Williams punt return got the Lions the ball back at the Illinois 34, which set up Darling's touchdown catch.
Soon after came the flurry of big plays that put away Penn State's third straight defeat of Illinois. But such plays were the exception Saturday, not the rule.
"I don't have anything good to say, guys, so we're all wasting our time," Paterno said. "Why don't you wait and go see the kids. I'm not a very happy warrior. I'll see you all later."
With that, Paterno alighted from his chair and hurried out. His players, who indicated that he hadn't been much cheerier in his postgame meeting with the team, expect they'll find out just how happy Paterno is during Monday's practice. Penn State visits Purdue this Saturday.
"We've got to get ready for Monday right now," Hunt said, smiling wryly. "It's gonna be rough."