| | | | | | |
| --- | --- | --- | --- | --- | --- |
| Score by Quarters | 1 | 2 | 3 | 4 | Score |
| Michigan | 0 | 10 | 7 | 0 | 17 |
| Penn State | 0 | 3 | 0 | 7 | 10 |
Scoring Summary
2nd
11:13
MICH - A. Arrington 25-yard pass from Henne (Rivas kick)
05:08
MICH - Garrett Rivas 23-yard field goal
00:15
PSU - Kevin Kelly 22-yard field goal
3rd
00:19
MICH - Mike Hart 1-yard run
4th
03:18
PSU - Tony Hunt 43-yard pass from Cianciolo (Kelly kick)
UNIVERSITY PARK -- They made it a game, after many of the fans had abandoned their posts and wandered out into the cold night. After Michigan, with its stubborn offense and relentless defense had threatened to blow the doors open all evening.
But all the Nittany Lions could do, in the end, was count up their chances. They had made it a game on one of the rowdier nights in Beaver Stadium history, but this game, like too many others in this series, belonged to Michigan.
The No. 4 Wolverines (7-0, 4-0 Big Ten) knocked Penn State's top two quarterbacks out of the game and had its way with the rest of the Nittany Lions' offense Saturday in a physical 17-10 triumph before an announced 110,007, the second-largest crowd in Beaver Stadium history.
"We made one or two mistakes," coach Joe Paterno said quietly after the game. "They didn't make any."
Michigan wasn't flashy, simply effective. Lloyd Carr's team built leads of 10-0 and 17-3, then held off a late -- and largely unexpected -- Nittany Lion rally.
Third-string quarterback Paul Cianciolo tossed a screen pass to tailback Tony Hunt, who broke a couple of tackles and hot-footed it to the end zone from 43 yards out, cutting Michigan's lead to 17-10 with 3:18 to play. The Penn State defense, despite a tough, clock-eating, 23-yard run from tailback Mike Hart, got its offense the ball back with 1:44 to play.
But Cianciolo, in relief of the injured Anthony Morelli and Daryll Clark, hadn't thrown a career pass at Penn State until Saturday. Limping after yet another hit from the Michigan defense, the redshirt sophomore misfired on three of his final four pass attempts, the last over the head of Jordan Norwood. Michigan put a knee down twice and went home with its eighth straight defeat of the Nittany Lions (4-3, 2-2).
Michigan had its defense to thank. The nation's best unit against the run coming in, allowing just 40.3 yards per game, the Wolverines held Penn State to an eye-popping minus-14 net yards on 25 attempts, a number greatly skewed by Michigan's seven quarterback sacks.
The Nittany Lions, who had allowed just six quarterback sacks in their first six games, had no answer for Michigan defensive ends LaMarr Woodley and Rondell Biggs, who recorded two sacks apiece, or for mammoth defensive tackle Alan Branch, who was sackless but broke up the pocket all evening and delivered the hit that sent Morelli to the sidelines with a concussion midway through the third quarter.
Penn State's offensive line, despite the return of starters Levi Brown and Robert Price, couldn't do much against the best defensive line it has faced in quite some time.
"We knew it would be tough going in," Paterno said. "We thought we'd do a little better than that."
When given time, Morelli did fine, completing 11 of 18 passes for 133 yards. His receivers didn't help him out, dropping several well-thrown passes.
But there was often no place to go for the quarterback, and no daylight for Hunt, who had been averaging 111.5 yards per game but was held to 33 on 13 carries. The senior had 85 yards on five receptions but the Penn State offense could not establish any rhythm.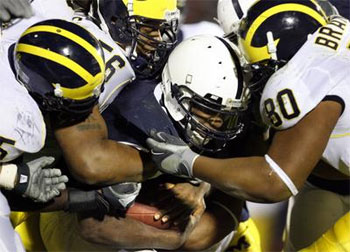 It was a different story for Hart, quarterback Chad Henne and Michigan. Hart had 112 yards rushing and a touchdown on 26 carries, always falling forward and almost always breaking at least one tackle.
Apparently unnerved by the raucous crowd, Henne was cool, calm and, most importantly, well-protected against a wave of Penn State blitzes. The junior from Wyomissing was just 15-of-30 for 196 yards in his return to Pennsylvania but never put his team in a bad position. Adrian Arrington made up for the loss of injured wideout Mario Manningham, providing a big-play presence with 83 yards and a touchdown on five catches.
Penn State failed to capitalize on its first possession. Freshman A.J. Wallace returned the game's opening kickoff 46 yards to midfield, but the drive stalled at the Michigan 29-yard line when the usually sure-handed Jordan Norwood dropped a third-down pass.
Kevin Kelly, who has struggled with field goals all season long, missed a 46-yard attempt wide left, and the Nittany Lions quickly handed over whatever momentum they had. Penn State picked up 4 yards on three plays on its next possession, then committed the game's only turnover when Derrick Williams fumbled a punt return and Michigan's Obi Oluigbo recovered the ball at the Penn State 48-yard line.
Michigan opened the second quarter with a 10-play, 75-yard drive. Henne completed passes to Arrington (15 yards), Steve Breaston (11 yards) and a 25-yard dart between two Penn State defenders to Arrington for the game's first touchdown. After another Penn State three-and-out, a 27-yard completion to Arrington set up a 23-yard field goal by Garrett Rivas
A pass interference call finally sparked the Penn State offense on the final possession of the first half. Key third-down passes from Morelli to Hunt (31 yards) and Norwood (16 yards), got the Nittany Lions inside the red zone. Penn State had a second-and-goal at the Michigan 5-yard line, but Morelli threw a pair of incompletions and Penn State had to settle for Kelly's 22-yard field goal with 15 seconds left in the half.
Linebacker Sean Lee led Penn State with nine tackles, but the best player on the field for the Nittany Lions was defensive end/linebacker Tim Shaw, who made six tackles and a sack and broke up two passes.
Paterno was proud of the way his defense played and proud of the effort his team showed but frustrated that the Lions, for the third time this season, couldn't put it together against a top-five foe. The Nittany Lions host Illinois at noon Saturday.
"We probably did play as good as we can play," he said, not really sounding convinced. "I don't know."