| | | | | | | |
| --- | --- | --- | --- | --- | --- | --- |
| Score by Quarters | 1 | 2 | 3 | 4 | OT | Score |
| Penn State | 7 | 7 | 0 | 7 | 7 | 28 |
| Minnesota | 7 | 0 | 0 | 14 | 6 | 27 |
Scoring Summary
1st
11:56
MINN - M. Spaeth 30-yard pass from Cupito (Giannini kick)
03:19
PSU - Tony Hunt 6-yard run (Kelly kick)
2nd
00:28
PSU - Tony Hunt 15-yard pass from Morelli (Kelly kick)
4th
12:55
MINN - Amir Pinnix 4-yard run (Giannini kick)
05:30
PSU - Matt Hahn 7-yard pass from Morelli (Kelly kick)
01:02
MINN - Amir Pinnix 1-yard run (Giannini kick)
OT
15:00
MINN - Eric Decker 25-yard pass from Cupito (kick failed)
15:00
PSU - Tony Hunt 2-yard run (Kelly kick)
MINNEAPOLIS -- Even with its amplifying ceiling and obnoxious loudspeakers, even with 45,227 fans camped in its plastic blue seats, the Hubert H. Humphrey Metrodome can be, as it was for much of Saturday afternoon, an eerily quiet place during Minnesota football games.
During the last few minutes of the fourth quarter and all but one play of overtime, however, the Metrodome was suddenly abuzz with crazed Golden Gopher fans, who watched their team march down the field against a tough Penn State defense, tie the game, take the lead and put the Nittany Lions on the brink of a crushing loss.
It was only later, when Kevin Kelly's extra point fluttered through the uprights, giving the visitors a 28-27 win, that silence returned.
Penn State (4-2, 2-1 Big Ten) won on the road for the first time this season, snatching back a game that the Gophers (2-4, 0-3) had very nearly stolen away in the final minutes when Tony Hunt plunged into the end zone from two yards out, his third touchdown of the day, to tie the score. Thanks to a missed extra point from Minnesota's Jason Giannini after the Gophers' overtime touchdown, a 25-yard pass from Bryan Cupito to Eric Decker, Kelly's kick ended a breathtaking finish.
"We were lucky to win it," said Penn State coach Joe Paterno, "but we'll take it."
After knotting the score at 21-21 Minnesota scored first in the first conference overtime of 2006, when Decker made a sensational grab in the corner of the end zone to beat Penn State cornerback Tony Davis.
On Penn State's possession, the Lions faced a fourth-and-9 at the Minnesota 24-yard line. Anthony Morelli's pass to Deon Butler was broken up by Gophers corner Trumaine Banks, but the officials called pass interference, keeping the drive and Penn State's hopes alive. Replays showed Banks appearing to have made a play on the ball without bumping Butler, but the game marched on.
"It was a close call," Butler said. "But if you want to get nit-picky, he definitely pushed me in the back when the ball was in the air."
Wideout Derrick Williams, breaking tackles, raced 11 yards to the 2-yard line. And two plays later, Hunt, who carried Penn State on his back all afternoon, plunged over the goal line.
"He had an awful lot of tough yards on his own," Paterno said of his senior tailback. "He broke out of tackles, knocked guys back. I don't know how many yards he had, but I'll tell you, all of them were hard-earned."
Hunt had 144, to be exact, on a season-high 31 carries. He also made his first career touchdown reception, a 15-yarder from Morelli just before halftime, and had 47 yards during a 13-play, 72-yard drive that ended in a 7-yard touchdown toss from Morelli to Matt Hahn.
"I was telling them, 'We're coming at you. Stop us,'" said center A.Q. Shipley. "They knew we were gonna run the ball, and we ran the ball the whole way down the field."
The drive chewed up 7:25 in the fourth quarter and put Penn State up 21-14 with 5:30 to play and in good position to close out the Gophers, who until then hadn't done much consistently against the Lion defense.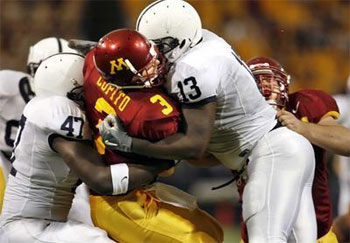 Sure enough, Minnesota went three-and-out on the next series, but Penn State -- with Hunt limping off the field after slightly injuring his left ankle -- did on its next possession. Jeremy Kapinos struck a beautiful 59-yard punt, pinning Minnesota at its own 15 with 2:33 to play, but Cupito, who threw for 347 yards and two touchdowns on 25-of-36 passing, wasn't finished. On fourth-and-2, he found his favorite target, Logan Payne, on a slant pattern, and Payne raced by several Penn State defenders for a 42-yard gain before finally being dragged down by Paul Posluszny.
A 30-yard dart over the middle to tight end Matt Spaeth, who had a huge afternoon (six catches, 99 yards, one touchdown), put Minnesota at the 1, and tailback Amir Pinnix, stifled for most of the game, scored on the next play.
"Something like that can really take the air out of a team," Hahn said, "but I think we showed how tough we were, being able to come back and win a tough game."
Penn State put its defense in position to win the game, and the defense, which had been sensational the past three weeks and hadn't blown a fourth-quarter lead since the Orange Bowl, couldn't do it. Instead, the Lions' beleaguered offense stepped up. Morelli, who played with his dislocated left middle finger taped to his index finger, turned in his best performance of the season, throwing for 281 yards and two touchdowns on 20-of-34 passing. Wideouts Williams, Butler and Jordan Norwood combined for 237 yards on 15 catches.
The offensive line, without starters Levi Brown and Robert Price, more than held its own.
But this day -- like most of those this season -- belonged to Hunt, who answered the call at every turn, keeping the chains moving and the clock running. Fifty-seven of his yards came in the fourth quarter and overtime.
"Later in the game, we run the ball more, and I know how critical it is to get tough yards," he said. "The defense is worn out, so when I'm tired, I just like to think the defense is a little more tired."
The Lions, who improved to 2-3 in overtime games, knew the importance of pocketing a win, and establishing some offensive confidence, before Saturday's game against No. 6 Michigan. Thanks to Hunt, they escaped the Metrodome with both.
"He's our leader," Hahn said. "He might not be too vocal, but he leads by example, with the way he plays, how he plays, how tough he is. If everybody plays like him, we're gonna be pretty good at the end of the season."