| | | | | | |
| --- | --- | --- | --- | --- | --- |
| Score by Quarters | 1 | 2 | 3 | 4 | Score |
| Northwestern | 0 | 7 | 0 | 0 | 7 |
| Penn State | 6 | 10 | 17 | 0 | 33 |
Scoring Summary
1st
07:25
PSU - Kevin Kelly 34-yard field goal
02:53
PSU - Kevin Kelly 22-yard field goal
2nd
11:04
PSU - Kevin Kelly 33-yard field goal
07:31
NU - Tyrell Sutton 1-yard run (Howells kick)
00:37
PSU - Tony Hunt 1-yard run (Kelly kick)
3rd
10:43
PSU - Kevin Kelly 36-yard field goal
02:21
PSU - Tony Hunt 14-yard run (Kelly kick)
00:15
PSU - Tony Hunt 6-yard run (Kelly kick)
UNIVERSITY PARK -- The offense, a 50-yard reception at a time, is coming along. As it proved on several occasions Saturday against a Northwestern defense ripe for the picking, however, it does not seem to be in any hurry to do so.
"When you blow as many chances as we did the first half," Penn State head coach Joe Paterno said, "unless your defense really plays a heck of a football game you're probably gonna get licked."
The Nittany Lions -- as they have for the majority of the last three seasons -- played that kind of defense for Paterno in a 33-7 smothering of the Wildcats before an announced 108,837 in Beaver Stadium.
Tony Hunt ran for 137 yards and three touchdowns, Kevin Kelly was flawless in four field-goal tries and Anthony Morelli and Deon Butler got the deep ball working for Penn State (3-2, 1-1 Big Ten), which bounced back from a frustrating 28-6 loss at Ohio State.
But once again, the Lions' swarming, playmaking defense carried the day, refusing to allow Northwestern (2-3, 0-1) to take advantage of another afternoon of red-zone breakdowns from the Penn State offense.
"We're a group that ... it's going to be tough sometimes, the offense sometimes starts slow," said defensive tackle Ed Johnson. "We understand that. It's our job to keep them up, to keep them going."
That's precisely what they did until a pair of third-quarter touchdown jaunts by Hunt gave Paterno some breathing room and the cold, wet crowd -- the seventh-largest in Beaver Stadium history -- some reason to cheer.
Penn State forced three-and-outs on each of Northwestern's first two possessions.
The Lions, with Butler pulling in rainbows from Morelli and Hunt breaking tackles at every turn, racked up yardage but had to settle for three field goals from Kelly.
After the third, the Lions tried an onside kick, which Northwestern's Chris Malleo recovered at his own 49-yard line.
This only seemed to incense the Penn State defense. On first down, safety Donnie Johnson hammered intended receiver Rasheed Ward on an incomplete pass. On second down, linebacker Paul Posluszny knifed into the backfield and dragged ballcarrier Terrell Jordan for a 5-yard loss. The Wildcats were forced to punt again.
Northwestern finally got on the board after linebacker Nick Roach intercepted a Morelli pass and returned it to the Penn State 16-yard line.
Even from there, the Wildcats needed five plays (and a personal foul against the Lions) to punch in their only score of the game, a 1-yard option run in which tailback Tyrell Sutton (eight carries, 40 yards) stretched the ball just over the goal line.
On their final drive of the half, with Penn State dropping back into a prevent defense, the Wildcats picked up 25 yards on a Sutton run and 36 yards on an Andrew Brewer pass to Ross Lane, giving them 127 total yards for the half. Penn State had 329 at that point.
"We had our opportunities. You can't play from down against anybody in the Big Ten, especially that team," said Brewer, who made his first career start in place of an injured Mike Kafka. "I had confidence our guys could do it and we kept coming up short each time."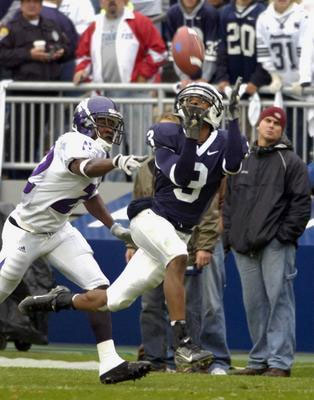 The Wildcats managed just 111 yards more in the second half. As the Lions wore Northwestern's offense down, they picked their own up.
"You just want to go out there and make plays," said wide receiver Derrick Williams. "The defense set the momentum, and we just try to go out there and make plays right after them."
Many of the biggest plays, though, came from the defense. Backup linebacker Andy Kubic flattened dangerous kickoff returner Sherrick McManis on the first play of the second half. Linebacker Sean Lee made a terrific interception near the sideline and combined with freshman defensive end Maurice Evans to bring Brewer down for what was nearly a safety.
In only 58 plays, the Lions made three sacks against a team that had allowed just five all season.
Which is not to say the offense, which was without left tackle Levi Brown for just the second time in 40 games, didn't pitch in.
Hunt ran for 100 yards for the third straight week, putting in all of his work in the first three quarters. Morelli completed three passes for 40 yards or more, all to Butler.
"I think everybody in Beaver Stadium today saw that we can march up and down the field on people," said Butler, who set the Penn State receiving yardage record with 216 yards on a career-high 11 catches.
They also saw how tough it is for opponents to march on Penn State's defense. Since the 41-17 loss at Notre Dame, the Lions have allowed just three offensive touchdowns and 4.1 yards per play in the last 12 quarters. If nothing else, they made believers out of the Wildcats.
"We knew this defense was going to be really good," said Northwestern left tackle Dylan Thiry. "Every year they have good defense. I played against the same guys last year and they have gotten better."