| | | | | | |
| --- | --- | --- | --- | --- | --- |
| Score by Quarters | 1 | 2 | 3 | 4 | Score |
| Penn State | 0 | 3 | 0 | 3 | 6 |
| Ohio State | 0 | 0 | 7 | 21 | 28 |
Scoring Summary
2nd
00:00
PSU - Kevin Kelly 21-yard field goal
3rd
09:06
OSU - Antonio Pittman 12-yard run (Pettrey kick)
4th
12:56
OSU - Brian Robiskie 37-yard pass from Smith (Pettrey kick)
07:33
PSU - Kevin Kelly 23-yard field goal
02:31
OSU - M. Jenkins 61-yard interception return (Pettrey kick)
01:07
OSU - A. Smith 55-yard interception return (Pettrey kick)
COLUMBUS, Ohio - This was, for nearly 58 minutes, the game that Penn State wanted to play in the house of the nation's top-ranked team.
Tight and conservative. Defense, special teams and the running game leading the way. Old-school football.
The Nittany Lions kept their big-play weapons in storage Saturday against No. 1 Ohio State, instead choosing to grind it out and forcing the Buckeyes to do the same. And, for nearly 58 minutes, the plan went to perfection.
The final two minutes revealed precisely why the Penn State coaches wanted to keep things tight.
The Buckeyes (4-0, 1-0 Big Ten) ran back a pair of late Anthony Morelli interceptions for touchdowns, turning the tight battle into a 28-6 romp before 105,266 in soggy Ohio Stadium and maintaining their home-field mastery of the Lions (2-2, 0-1). Penn State is now 0-7 in Columbus since joining the Big Ten in 1993, though none of the previous six meetings were this contested.
"I thought we played hard,'' said Penn State coach Joe Paterno, who had an unusual afternoon on - and away from - the sideline. "We were very competitive until the end, when we made those two major mistakes.''
Penn State's rapidly maturing defense neutralized Heisman Trophy candidates Troy Smith and Ted Ginn, Jr., holding the Buckeyes' high-octane offense to 253 total yards and two touchdowns. Tailback Tony Hunt was marvelous, with 135 hard-earned yards on 24 carries. But playing conservatively only works if you have a lead, and the Lions' offense couldn't capitalize on numerous chances.
"We still have got to learn how to make some plays,'' Paterno said. Red-zone breakdowns - which have haunted the young offense all season - kept Penn State out of the end zone. The miscues were even more frustrating for an offense that was decidedly throttled down Saturday. Most of Morelli's 25 pass attempts (a season low) were inside of 10 yards, and multi-purpose weapons Derrick Williams and A.J. Wallace touched the football a combined four times.
"We thought we could come in and run the ball. It was in the game plan,'' Morelli said. "It was what the coaches planned for us to do - run the ball a little bit, open up the pass.''
The running game didn't really blossom until the fourth quarter, when Hunt piled up 82 of his yards. Combined with Penn State's ballhawking defense and a big day from punter Jeremy Kapinos, though, it was enough to give the Nittany Lions a 3-0 halftime lead.
In the end, though, with less than three minutes remaining and the potentially tying score more than 65 yards away, the Lions had to make something happen. And the Buckeyes were waiting.
"At the end, they were dropping everybody into coverage,'' said Morelli, who completed 64 percent of his passes but threw a season- and career-high three interceptions. "And they know we have to put points on the board.''
Meaning, put the ball in the air. Ohio State's Malcolm Jenkins grabbed a pass intended for Kevin Darling and made a sensational return up the left sideline for his first career touchdown. On the ensuing series, fellow cornerback Antonio Smith jumped a slant route and took the ball back 55 yards for his first career score.
In the last three games against the Lions in Columbus, the Buckeyes have returned four interceptions for touchdowns - twice as many touchdowns as the Penn State offense has managed in those games.
Troy Smith, the Ohio State senior quarterback who entered the afternoon with a completion percentage of 69.1, didn't fare much better than he had in a 17-10 loss to Penn State in Beaver Stadium last fall. Smith was 12-of-22 for 115 yards and his first two interceptions of the season. He wasn't sacked but was hurried on several throws and had three passes tipped at the line of scrimmage.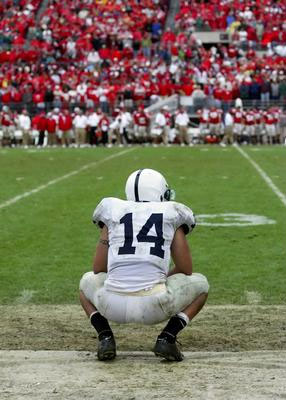 "We wanted to put a little pressure on him, keep him worried a little bit back there,'' said Penn State linebacker Dan Connor, who made eight tackles and an interception. "And we did a good job.''
Ginn, who Penn State held to three catches and 40 yards last season, caught only two balls for 15 yards Saturday, and Lions corner Justin King picked off the first pass that went Ginn's way.
The Buckeyes, who got 110 yards and a touchdown from tailback Antonio Pittman, stayed patient, though, and got a big play from Smith and an unlikely hero early in the fourth quarter.
Smith avoided the rush of Penn State's Tim Shaw, rolled to his left and fired a 37-yard strike to sophomore receiver Brian Robiskie, who pulled it in a half second before Penn State's Tony Davis arrived. Ohio State led 14-3 with just under 13 minutes to play.
"I did something the coach says not to and that is reverse field,'' Smith said. "Robiskie stayed with me. We need moments like that when things aren't going the way you want it to.'' "That was a big play in the ball game,'' Paterno said.
Penn State responded with a 10-play, 74-yard drive that was almost all Hunt. The 6-foot-2, 225-pounder carried the ball eight times for 60 yards, rumbling 34 yards to the Ohio State 5-yard line. "If it wasn't for him,'' Morelli said, "who knows where we'd be.''
Hunt pushed the pile to the 1, but fullback BranDon Snow was stuffed for no gain on third down. Penn State was ready to punch it in on 4th-and-1, but right guard Rich Ohrnberger jumped early, inflicting a 5-yard penalty, and the Lions had to settle for a 23-yard Kevin Kelly field goal.
The Buckeyes, who hurt themselves with six penalties for 51 yards and their first two turnovers of the season, were happy to escape with a win. The Nittany Lions took some solace in the fact that they looked very little like the team that Notre Dame pounded 41-17 two weeks ago.
"I think we showed that we're a more mature team,'' Connor said. Their coach, who spent parts of the game in the locker room as he battled a virus that plagued him all week, is still searching for ways to get his talented offense to produce the same kind of big plays that lifted Penn State to 11 wins last year.
"We've got to do a little something with that, yeah,'' Paterno said. "Until we started to run the football, it was going to be tough passing the ball. We were fine as long as we were ahead, but then in the second half, we got behind and we had to throw the football.'' Which, at least in this game, wasn't the plan.